FedEx Named 'Best SME Partner' in Hong Kong for Third Consecutive Year
FedEx recognized for its continuous efforts to support the growth of SMEs in Hong Kong during challenging times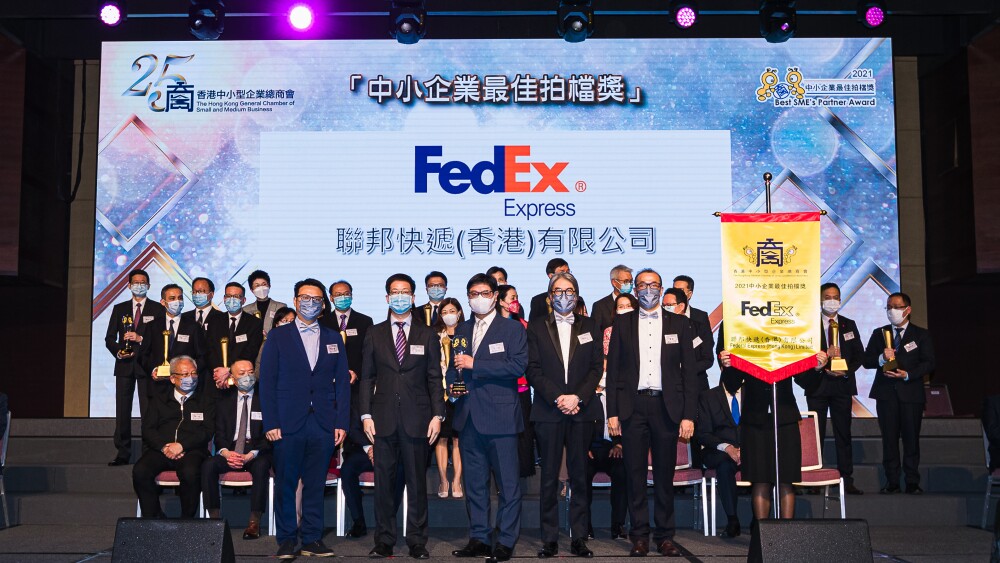 Hong Kong SAR, China, 7 February 2022 — FedEx Express (FedEx), a subsidiary of FedEx Corp. (NYSE: FDX) and one of the world's largest express transportation companies, has been recognized as the Best SMEs Partner by the Hong Kong General Chamber of Small and Medium Business (HKGCSMB) for the third consecutive year. The award recognizes organizations' long-standing commitment and contribution in supporting the growth of local small- and medium-sized enterprises (SMEs).
"We are honored to be recognized again with the Best SMEs Partner Award. This award is a testament to FedEx's continuous commitment of delivering outstanding services for our customers, especially the SMEs," said Anthony Leung, managing director, Hong Kong and Macau of FedEx Express. "We have been constantly innovating our products and services to meet the evolving needs of local businesses and SMEs. Moving forward, we will continue to connect more local businesses to the global marketplace, especially during the COVID-19 pandemic."
FedEx has been continually strengthening its operational capabilities and innovating its products and services to help local businesses and SMEs navigate the complex supply chain landscape. Last year, FedEx added six new intercontinental flights on high-demand lanes, connecting the Asia Pacific with the United States and Europe. Also, FedEx launched several new services that support cross-border e-commerce. This includes an international day definite, e-commerce shipping service named FedEx® International Connect Plus (FICP), plus the Compatible and Alliance programs to provide e-tailers with instant access to enhanced and affordable shipping solutions through the integration with e-commerce technology platforms. Additionally, earlier this year, FedEx launched a new time-definite delivery option, FedEx International Priority® Express (IPE), offering customers who ship internationally the flexibility to schedule delivery by 10:30 am or noon to selected markets.
Click here to learn more about the thank-you note from Anthony Leung, managing director, Hong Kong and Macau of FedEx Express.