FedEx marks 30 years of operations in Taiwan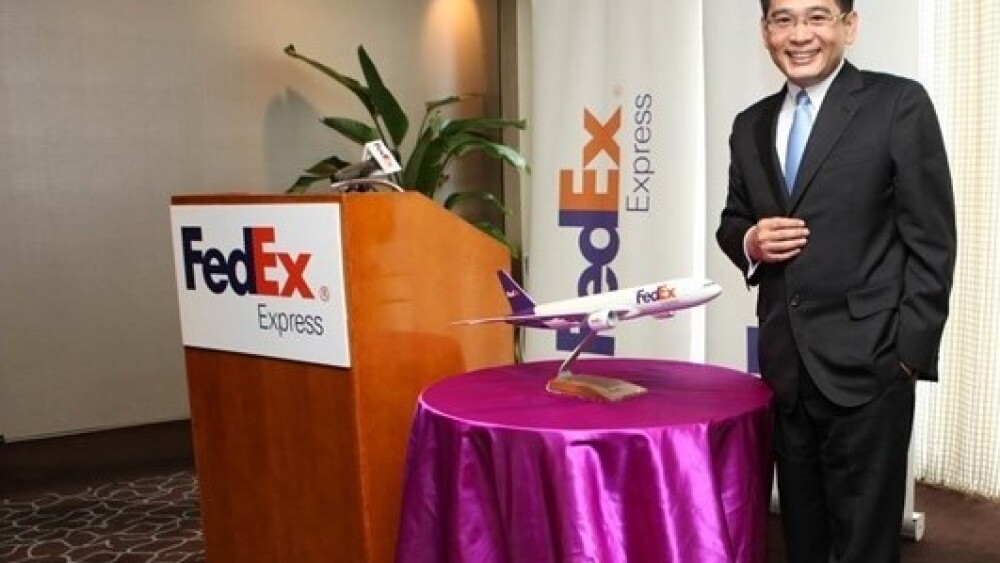 Taipei, Dec. 30, 2020 — FedEx Express, a subsidiary of FedEx Corp. (NYSE: FDX) and one of the world's largest express transportation companies, marks 30 years of operations in Taiwan. Over the past three decades, FedEx has been connecting people and possibilities in Taiwan by enabling Taiwanese businesses, including small and medium-sized enterprises (SMEs), to capitalize on global business opportunities and expand their international footprint.
FedEx began its operations in Taiwan in 1990 at the Taoyuan International Airport with its first station on Jianguo North Road, Taipei. Today, FedEx has grown into one of the largest international express logistics providers in Taiwan, employing more than 1,200 team members with a fleet of more than 400 motorized vehicles, eight FedEx stations, 10 FedEx world service centers and over 7,000 authorized shipping centers across Taiwan.
Over the past 30 years, FedEx has continued to invest in its Taiwan operations in order to stay ahead of and meet the changing needs of customers in the near and long-term development of the market. FedEx has played a significant role in facilitating Taiwan exports, which accounts for approximately 70% of Taiwan's total GDP[1]. In addition to its expansive global network, FedEx has invested in its domestic network to give local businesses in Taiwan reliable access to more than 220 countries and territories. At present, FedEx operates approximately 44 flights a week in and out of Taiwan, including daily direct flights to the U.S. To meet the evolving demands of its customer, the FedEx Transshipment Center at the Taoyuan International Airport is equipped with advanced customs clearance systems and sorting capabilities, processing 6,000 parcels and documents per hour at all times even during peak seasons.
"This is a momentous milestone for FedEx in Taiwan that we are very proud of," said Michael Chu, managing director, FedEx Express, Taiwan. "The industry dynamic in Taiwan has undergone a major shift in the last few decades, from traditional industries to electronics and high-tech industries[2]. This is also true for trade patterns which have become increasingly diversified. With the pandemic, we expect that new trade patterns will emerge, such as increased demand for information and communications products driven by the stay-at-home economy boom, and companies shifting their supply chain models "just-in-case" to tackle disruptions due to lockdown measures to contain the pandemic. In response to these trends, we remain agile so our network is ready to flex when needed and our products and solutions remain innovative to better support our SME customers."
"This has been a challenging year for all of us. As the COVID-19 pandemic continues to impact the globe, we are impressed to see how Taiwanese businesses are embracing challenges and turning them into opportunities for growth by adjusting their supply chains and shifting their businesses from brick-and-mortar stores to e-commerce. At FedEx, we have been expanding our operations to manage the increased demand from our customers. We are all in to support Taiwanese businesses in their recovery and ultimately emerge stronger from the pandemic," Chu added.
Leveraging its global transportation network and resources, FedEx is committed to help communities heal, learn and thrive, especially in times of crisis. Since the beginning of the pandemic, globally, FedEx has delivered more than 55 kilotons of personal protective equipment (PPE), including more than two billion face masks, and more than 9,600 humanitarian aid shipments around the world. In Taiwan, FedEx has also been working with local authorities and healthcare customers to transport PPE and other critical supplies from Taiwan to different parts of the world.
[1] https://tradingeconomics.com/taiwan/exports
[2]https://ws.ndc.gov.tw/Download.ashx?u=LzAwMS9hZG1pbmlzdHJhdG9yLzEwL3JlbGZpbGUvNjIwOS8yMDU3OS8wMDE5ODIyXzEucGRm&n=MjAxM%2BWPsOeBo%2Be2k%2Ba%2Fn%2BeZvOWxleatt%2Beoi%2BiIh%2BetlueVpS5wZGY%3D&icon=..pdf