FedEx Launches SenseAware in Japan, Providing Real-Time Data of Shipments in Transit
Sensor-based technology gives customers real-time access to the current location and shipping conditions of their packages.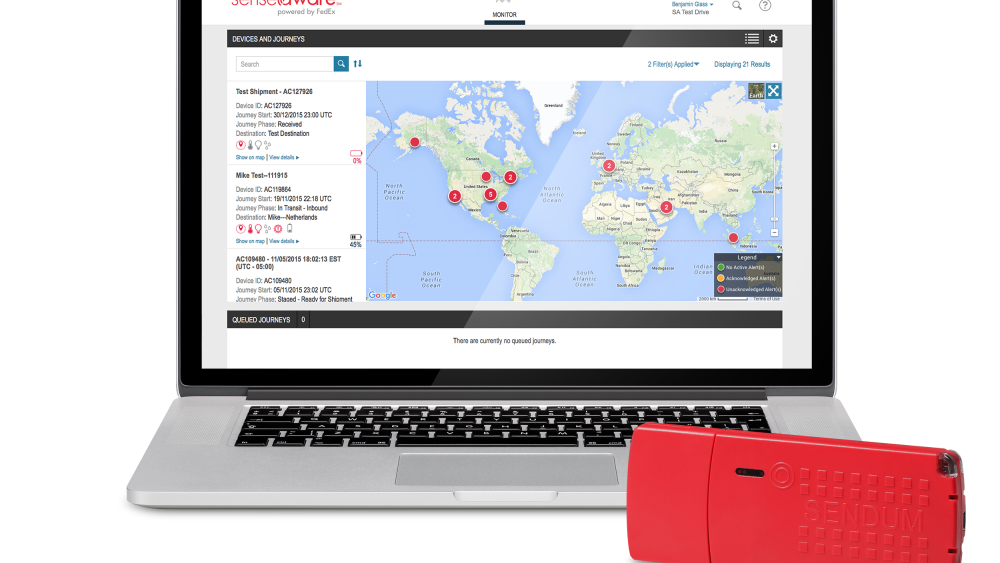 Tokyo, Japan, August 5 2020 – FedEx Express (FedEx), a subsidiary of FedEx Corp. (NYSE: FDX), launched SenseAware® in Japan, an innovative solution that enables customers to monitor location and conditions of their shipments in real time[1].
SenseAware provides customers the ability to monitor data online using signals transmitted from a multi-sensor SenseAware device, which is included in the package. Customers[2] can check shipment data pertaining to six key aspects: current location, temperature, humidity, light exposure, barometric pressure and shock thresholds[3].
This level of visibility and service is best suited for transporting high-value, irreplaceable temperature-sensitive items, such as specimens and samples from health care customers or drugs that are under research and development. Customers can set their preferred reporting frequency throughout the delivery journey and receive alerts of any unusual conditions such as temperature changes. Additionally, the data can be shared with third parties. If they receive an alert of any unexpected condition changes, customers may contact FedEx to take appropriate measures while their packages are in transit and ensure their requested temperature zones and conditions are maintained.
The service is also effective for custodial controls by using location and light exposure measurements. While reporting on the transportation routes for valuable items such as prototypes and jewelry, SenseAware can provide visibility into whether packages were opened during transit.
"There is a tremendous difference between knowing the condition of packages in real time and accessing the data accumulated by temperature loggers after receipt of the packages. If customers and FedEx share real-time data effectively, measures can be taken to maintain ideal shipping conditions for packages during transit," said Masamichi Ujiie, senior vice president North and South Pacific, FedEx Express. "The data provided through SenseAware can serve as a trigger for proactive action for the safe and quality delivery of shipments."
SenseAware is provided as an option for shipments in Japan using FedEx International Priority (IP), which is a time-definite delivery solution to many markets around the world, or FedEx International Priority Freight (IPF). SenseAware devices are lent to customers upon application submission, following which FedEx sets up an online monitoring account for the customer, and the customer can then proceed to set the journey and ship.
SenseAware service is available in approximately 50 countries, including Japan. The devices can be included[4] in packages transported by more than 120 airlines, including FedEx Express. For details about SenseAware and related services, visit: https://www.senseaware.com/.
[1] The SenseAware device stops transmitting data and continues to log data while the device is on an aircraft.
[2] Customers are required to separately apply for monitoring by FedEx personnel.
[3] Shock thresholds is not available for the SenseAware service contracted in Japan. A separate application is required for monitoring shock thresholds of packages import into Japan according to the SenseAware service contracted outside Japan.
[4] Certain models of the SenseAware device may be unavailable in certain countries or may not be loaded onto the aircrafts of certain airline companies.