FedEx Launches Second Phase of AnQ Awakening Cloud Classroom Joint CSR Program
Combining forces to advocate for child safety through innovative online classes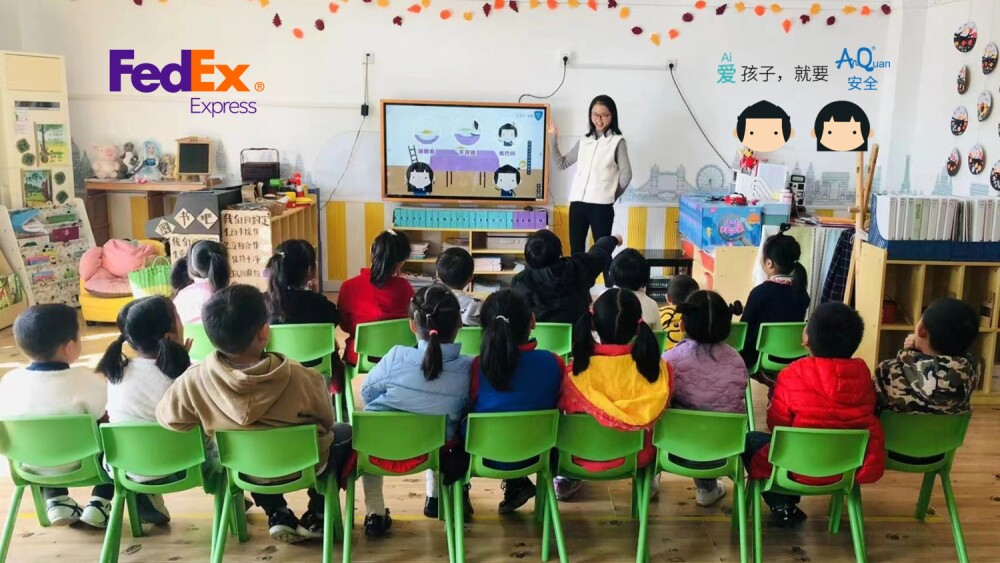 SHANGHAI, December 22, 2021 – FedEx Express (FedEx), a subsidiary of FedEx Corp. (NYSE: FDX) and one of the world's largest express transportation companies, recently launched the second phase of the AnQ Awakening Cloud Classroom, a joint CSR program in collaboration with Tongdao, a non-profit organization. The program advocates for child safety and health, targeting children aged 3 to 9. Building on last year's program, this year's program involves a more comprehensive and diverse curriculum, with a stronger lineup of lecturers and wider coverage. Volunteers comprised of FedEx employees, customers and college students from all over the country will share information about safety and environmental protection to more children via edutainment digital teaching modules.
Launched in 2020, the AnQ Awakening Cloud Classroom is the first internet-based joint CSR initiative for FedEx. Following its first phase in 2020, FedEx and Tongdao upgraded the 2021 curriculum with six modules of content covering a variety of potential everyday safety risks associated with public waters, high in-car temperatures, hot liquids at home, travelling by private car, using gas in winter and epidemic prevention. Through these courses, FedEx strives to awaken children's awareness and strengthen their ability to manage trauma prevention and self-protection from all facets of risk. This year's program also incorporates a special After School Bonus of Popular Science, a light-hearted and subliminal way of helping children understand the concept of carbon neutrality.
The program involves a wide lineup of social forces including strong communicators and collaborators who are child advocates and are willing to team up with FedEx volunteer's from across the country to promote child health and safety. A star lecture team incorporating FedEx employees, partners, customers and college students leverage online joint CSR platforms and innovative education models to provide 30-minute cloud classes. The program is implemented via four sessions that are tailored for families, schools, customers and universities, and helps children easily learn about health, safety and environmental protection.
Additionally, the "AnQ Safety Awakening Mini Classroom" recently launched to collect creative theme names for the online mini classes until January 20, 2022. During the AnQ Awakening Cloud Classroom, which will be broadcast live, more than 20,000 students will vote on the collected names. The most popular names will be announced at the end of the event.
"It takes the combined efforts of families, schools and society to advocate for and protect children's safety and health," said Eddy Chan, senior vice president of FedEx Express and president of FedEx China. "As an integral part of FedEx Cares, the AnQ Awakening Cloud Classroom innovatively adopts an internet-based joint CSR model, which mobilizes FedEx volunteers in various cities in China, but motivates the collective forces from enterprises, philanthropic organizations and communities. In this way, AnQ Awakening establishes a sound public welfare ecosystem that effectively helps children identify dangers and avoid risks. We welcome more like-minded individuals and organizations to join us to help children improve safety knowledge and skills as well as adopt a sustainable mindset."
"The AnQ Awakening Cloud Classroom was created with strong support from FedEx to advocate for child health and safety under the new normal," said Xiulan Tang, head of Tongdao. "Using flexible formats, the classes aim to improve children's safety and health awareness in a wider range. We hope to encourage more children and their parents to join us in order to awaken and enhance their safety consciousness and correct unsafe behaviors."
Through community engagement and volunteer services such as the AnQ Awakening Cloud Classroom, FedEx continues to create a positive impact in the communities where the company operates, and ultimately achieve its goal set by FedEx Cares 50 by 50 — to deliver hope, change and new possibilities to 50 million people around the world by the company's 50th anniversary in 2023.