FedEx Launches 'Prevent Distracted Walking Behavior' Campaign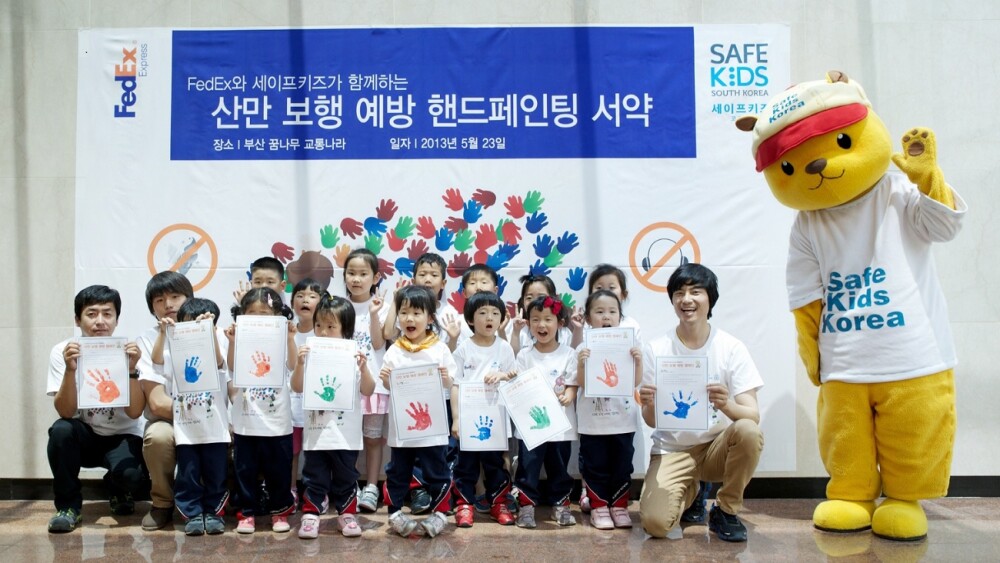 SEOUL, May 24, 2013— FedEx Express (FedEx), a subsidiary of FedEx Corp. (NYSE: FDX) and the world's largest express transportation company, in conjunction with Safe Kids, a global network of organizations promoting child safety, launched the 'Prevent Distracted Walking Behavior' campaign at the Dream Traffic Center in Busan on May 23.
The initial campaign involved educating 160 children about pedestrian safety precautions through a quiz and a hand painting ceremony. All the children participated in a pledge to practice safe walking behavior. Special safety sessions for children, teachers and parents were also held to increase awareness on how environmental conditions affect pedestrian safety.
"Safety is the number one priority at FedEx, and our aim is to spread this value throughout our communities," said Eun-Mi Chae, managing director, FedEx Express, Korea. "Today, we are proud to expand our long-running Walk This Way program with Safe Kids. We hope this effort will inspire more schools to create safer environments for young pedestrians."
The 'Prevent Distracted Walking Behavior' campaign was initiated by FedEx Express, Korea and Safe Kids Korea as part of the Walk This Way global program to promote the safety of child pedestrians worldwide. During the partnership, Safe Kids and FedEx Express in Korea have conducted a number of safety activities including child education sessions, distribution of teaching materials for community centers and schools, and special initiatives such as the 'Drive Under the 30km/h Speed Limit in School Zones' program.