FedEx Launches Integrated Logistics Facility in Penang To Enhance Customer Experience for Importers and Exporters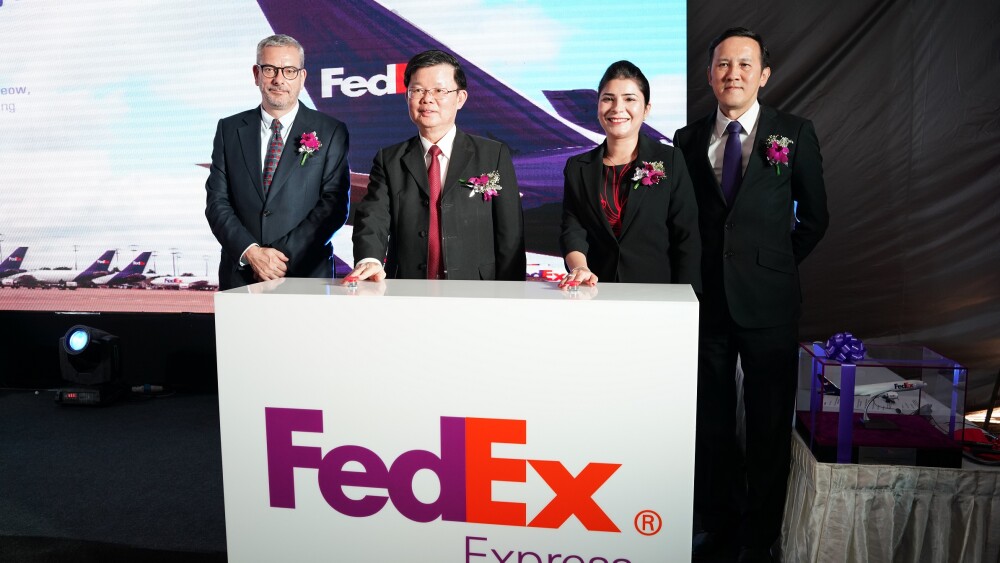 PENANG, Malaysia, January 10, 2019 — FedEx Express (FedEx), a subsidiary of FedEx Corp. (NYSE: FDX) and the world's largest express transportation company, today officially opened its FedEx Penang Gateway facility, the largest integrated logistics facility of its kind in Penang. The launch ceremony was officiated by Yang Amat Berhormat Tuan Chow Kon Yeow, chief minister of Penang, and Kawal Preet, senior vice president, Operations, FedEx Express (North & South Pacific).
The FedEx Penang Gateway facility is an integrated warehouse and sorting facility for both FedEx and TNT operations in the region, serving as a major hub in Malaysia's northern states and a key gateway for FedEx Asian and Trans-Asian flights.
The warehouse, measuring 4,830 square meters (52,000 square feet), is also the first facility of its kind in Malaysia to feature x-ray scanning for 100% of all outbound packages. This is made possible with the use of advanced conveyor belts and sorting systems as well as outbound x-ray scanning equipment capable of handling more than 2,700 packages per hour.
"The logistics sector continues to be an important economic driver for Penang, supporting the continuous growth of our local industries, especially the manufacturing sector. The FedEx enhanced facility will play an essential role in turning Penang into a logistics hub for Malaysia's northern region, as well as a gateway enabling cross-border trade and attracting foreign investments," said Yang Amat Berhormat chief minister of Penang, Tuan Chow Kon Yeow.
"The Penang Gateway facility represents our continuous efforts at FedEx to better serve our customers, support infrastructure development, and help the local economy," said Kawal Preet. "This is a significant investment on our part to connect Malaysia's northern region to the world. At FedEx, we are committed to the growth of Penang's logistics infrastructure, optimizing both our regional and global connectivity to support local businesses and creating more possibilities for large, medium and small enterprises to import and export."
Apart from being an investment location of choice for global electronics, medical device and aerospace companies, Penang has been recognized as a cost-competitive location by the Organization for Economic Cooperation and Development.
The facility will have two dedicated Boeing 767 freighters capable of next-business-day delivery flights to major cities in the U.S. and Asia Pacific, as well as 71 ground operations vehicles covering more than 60 local routes in Penang and neighboring mainland states, such as Kedah and Perak. This facility also supports the FedEx Asia Road Network, a unique and extensive road system that spans more than 7,000 km and connects all key markets in South East Asia and China, from Singapore to Guangzhou. The facility will be operated by approximately 350 team members.
"With this integrated facility, our customers in Penang and other Northern Malaysian states can enjoy a one-stop logistics hub for better connectivity locally, across Asia Pacific and beyond," said S.C. Chong, managing director, FedEx Express Malaysia. "Customers can benefit from access to more routes and a smoother custom clearance processes as we continue to improve our capabilities to better support the customer experience."
With the inclusion of Penang, FedEx now has 12 stations across Malaysia in the states of Negeri Sembilan, Perak, Kuantan, Johor, Sabah, Sarawak and the federal territory of Kuala Lumpur. In the pipeline for 2019, FedEx also plans to launch two more stations—in Penang and Johor—to further bolster its logistics network.