FedEx Korea Successfully Hosts 'FedEx Career Camp' for Female Students from Universities outside of Seoul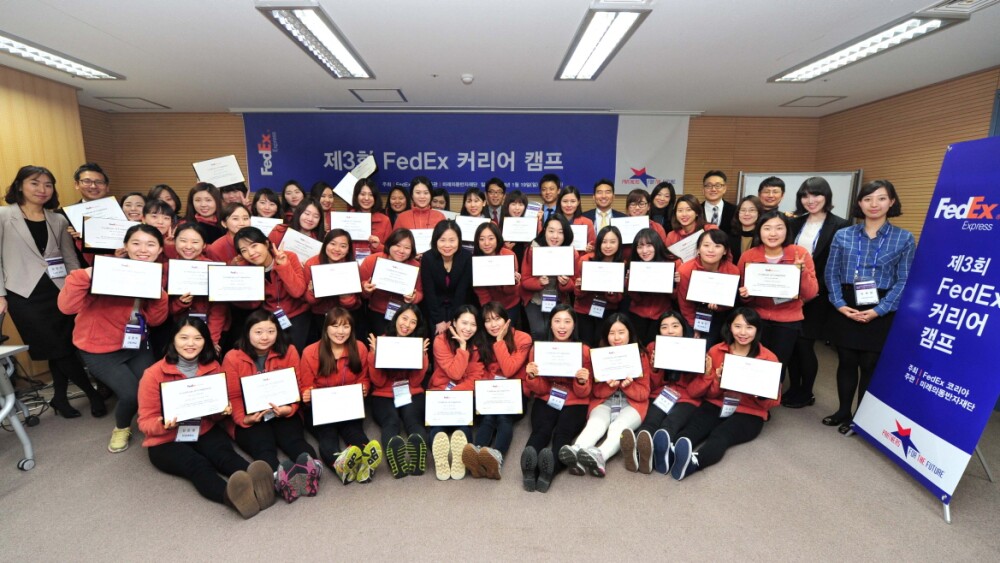 SEOUL, January 22, 2014 — FedEx Express (FedEx), a subsidiary of FedEx Corp. (NYSE: FDX) and world's largest express transportation company, successfully held the third 'FedEx Career Camp' from January 19th to 21st with the Partners for the Future Foundation, a charity arm of the American Chamber of Commerce in Korea at Hi Seoul Youth Hostel in Yeongdeungpo-Gu, Seoul.
Four outstanding students at the camp were selected and awarded winter internship opportunities at FedEx Express in Korea.
A total of 40 female students with interest in global business from universities outside of Seoul took part in the three-day camp. During the camp, participants engaged in various programs designed to provide practical assistance for female students applying for jobs, including a one-on-one résumé clinic, mock interviews, English skills for job interviews, group projects and introduction of female-oriented career paths and career strategy seminar.
"This program was very practical. I was impressed with the mentoring session in which female seniors working at global companies talked about career paths," said So-yeon Park from Chonnam National University who received an internship opportunity. "As I have been interested in global business, it is pleasure to have an internship opportunity at FedEx, a leading global company."
"FedEx initiated this program to help tackle the social issue of unemployment among young people.," said Eun-Mi Chae, managing director of FedEx Express, Korea. "Our young people with ability and potential are an important driver of our success in today's business. As a result, FedEx will continue to support the Career Camp to provide practical guidance for our future leaders."