FedEx Korea Launches "Drive under 30 km/h Speed Limit in School Zones" Campaign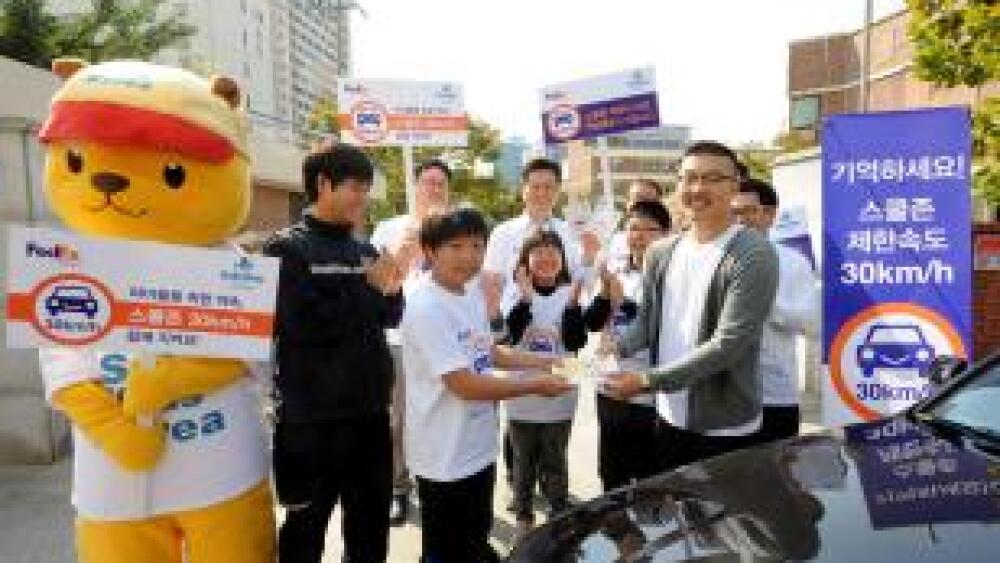 SEOUL, Oct. 6, 2011 — FedEx Express, a subsidiary of FedEx Corp. (NYSE: FDX) and the world's largest express transportation company, launched a traffic safety campaign October 5 in major cities in Korea, including Seoul, Daejeon and Busan, to raise awareness of the safety of children when walking to and from school.
The "Walk This Way" campaign was launched as part of a global traffic safety program for children. FedEx Korea has been operating in a relationship with Safe Kids, a global network of organizations which promotes child safety, and this year FedEx Korea volunteers promoted safe speed limits in school zones by measuring the speed of cars driving through school zones around Seoul Doosan Elementary School and providing gifts to drivers who drove under the limit.
Prior to this test, FedEx Korea volunteers also measured the speed of cars driving around school zones in five different cities across Korea from September 26 to 30. Results found that 46% of drivers drove in excess of the 30km/h speed limit and one driver even travelled at 76 km/h. The results demonstrated how important it is for FedEx and its employees to continue supporting traffic safety programs for children on a regular basis.
"Children are our future. Therefore, FedEx Korea believes child safety should be a high priority especially in school zones. This campaign serves as an opportunity to raise awareness about the importance of child traffic safety and FedEx Korea will continue to promote awareness of safety as it is an important value for us as an express transportation company," said Eun-Mi Chae, managing director of FedEx Korea.
According to the National Police Agency, the number of traffic accidents in school zones in 2010 was over seven hundred, incrementally increased from 2006 which showed over three hundred of traffic accidents. Most traffic accidents occur between 2 pm and 4 pm, when children go to and from school. The leading causes of accidents are in the order of unsafe driving, failure of obligation to protect pedestrians, and traffic signal violation.