FedEx and Junior Achievement Hold International Trade Challenge 2017 for Young Entrepreneurs
Three Teams to Represent Japan at International Finals in August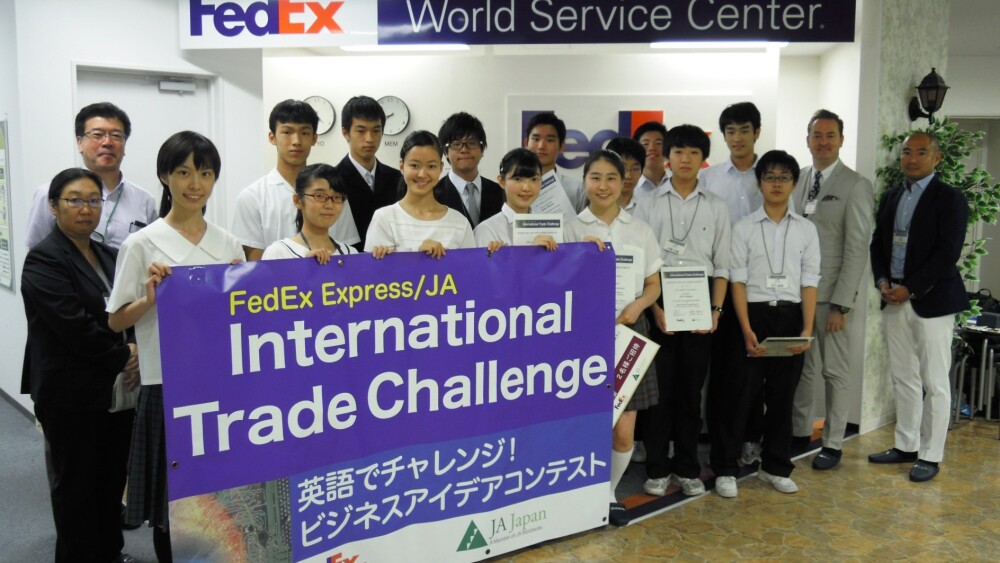 TOKYO, July 18, 2017 – FedEx Express (FedEx) and Junior Achievement, an organization dedicated to inspiring and preparing young people to succeed in the global economy, hosted the qualifying round for the Japan teams of the FedEx Express/Junior Achievement International Trade Challenge (FedEx/JA ITC) 2017 on July 17.
This year's challenge was to create a market entry strategy for a household product targeting the Indian market. The contest challenged students to consider the culture and characteristics of the target market and come up with appropriate ideas for customizing, promoting and selling innovative products and services in India. A record 57 teams (two students per team) submitted applications, and seven teams were invited to present in front of a panel of judges at the local competition.

The three winning teams selected to represent Japan at the FedEx/JA ITC regional finals held August 20 – 24 in Singapore and their proposed products are:
Team Tatsuki Kikugawa (Eiko Gakuen High School) and Keisuke Ebihara (Seiko Gakuin High School): Herb-based mosquito repellent and a mosquito repelling fragrance.
Team Taishi Nishizawa and Satoki Shimamune (Kaisei Senior High School): Tablet that can provide fast and reliable Internet access in areas without high-speed connectivity.
Team Kyoka Miura (SKG Shibuya Senior High School) and Yuka Motoda (Shoei Girls High School): Mini-fridge that runs on energy generated by stepping on pedals attached to the device for areas lacking reliable electricity.
This year's regional finals will feature a change from the previous competition format. To further promote cross-border collaboration, finalists will not be competing in the same groups but will instead go through a random shuffle to form a mixed team of two team members from different countries.
"At FedEx, we are committed to helping develop future business leaders and are very proud to sponsor this exciting student program together with Junior Achievement," said Ken McMahon, managing director, Worldwide Account Management, FedEx Express, and a judge at the local competition. "More than 50 student teams from across Japan took part in the International Trade Challenge, where they developed business plans that highlighted both creative thinking skills and strong entrepreneurial spirit. We were very impressed with the high level of teamwork, innovation, and enthusiasm demonstrated by all of the participants."
Held annually since 2007, this year marked the 11th FedEx/JA ITC program, which aims to help young people understand how entrepreneurship can improve the quality of their lives and the communities where they live. Student teams from ten countries and regions, namely Japan, Hong Kong, South Korea, China, Malaysia, the Philippines, Singapore, Thailand, Vietnam and Australia, will participate in the FedEx/JA ITC Regional Finals in August.