FedEx Inspires Business Innovation in Thai Students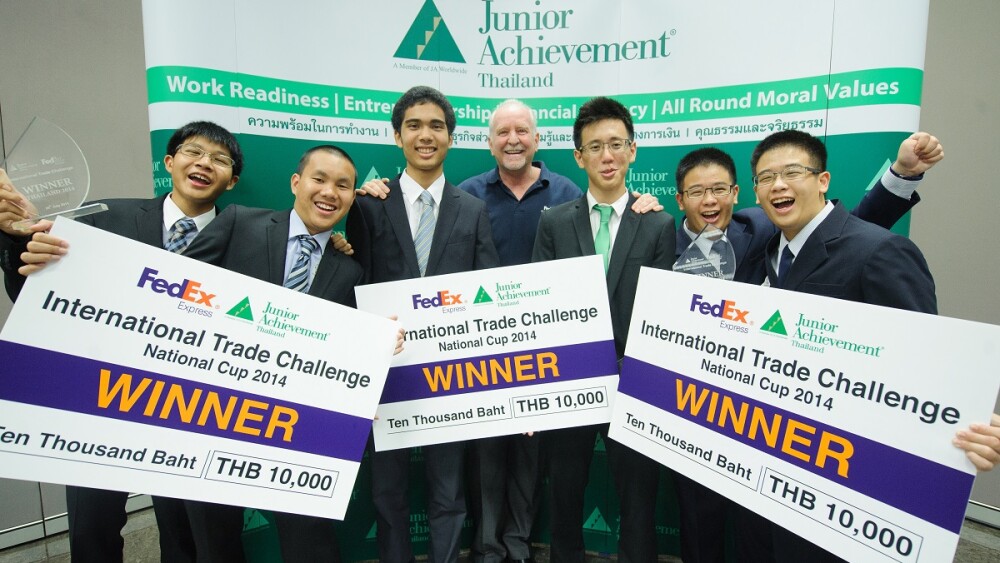 BANGKOK, July 28, 2014 – FedEx Express, a subsidiary of FedEx Corp. (NYSE: FDX), and Junior Achievement Worldwide® (JA), announced the top three winning teams at the 2014 FedEx Express/Junior Achievement International Trade Challenge (FedEx/JA ITC) in Bangkok on July 26.
The three winning student teams will represent Thailand to compete with another 24 teams from eight other Asia Pacific markets, namely Hong Kong, Japan, Korea, Malaysia, New Zealand, the Philippines, Singapore and Vietnam, at the Regional Finals to be held in Hong Kong on August 17-21.
This year, sixteen students on eight teams were shortlisted to present an innovative business plan to bring a product or service to an overseas market. The judging panel selected the following three winning teams, based on their understanding of market research, creativity, planning and entrepreneurial skills.
· Ivan Jayapurna and Tian Udomsuk of Bangkok Patana developed an innovative proposal for recycling plastic for Three-D printers in ASEAN countries.
· Pete Sukanjanajtee and Chanad Ladavalya of Harrow International proposed a robust B-2-B solution for converting rice straw into environmentally appealing toilet paper for the Singapore hospitality market.
· The twins Kan and Karn Rongrueangkul of Thewphaingarm School won their place in the regional final with another environmentally friendly proposal to manufacture a dynamo connected to a power bank mounted on bicycles.
"As a passionate supporter and enabler of global trade, FedEx is delighted to help nurture Thailand's next generation of entrepreneurs through the FedEx/JA ITC program," said David Carden, managing director of FedEx Express Thailand and Indochina. "With the rapid rise of digital economies and expected closer trade cooperation among Asian nations, we believe it's a great time for the young entrepreneurs in Thailand to explore the international trade opportunities."
"Based on the high levels of creativity, research and business expertise shown by the teams this year, we have many emerging entrepreneurs ready to make their mark in the business world," said Nadon Chaichareon, program manager, Junior Achievement Thailand.
Now in its eighth year, the FedEx/JA ITC has inspired more than 9,900 students in Asia Pacific to understand entrepreneurship from a global perspective by providing an opportunity to set up a mock business and develop a plan to export a product or service to an overseas market.