FedEx Inspires Business Innovation in Korean Students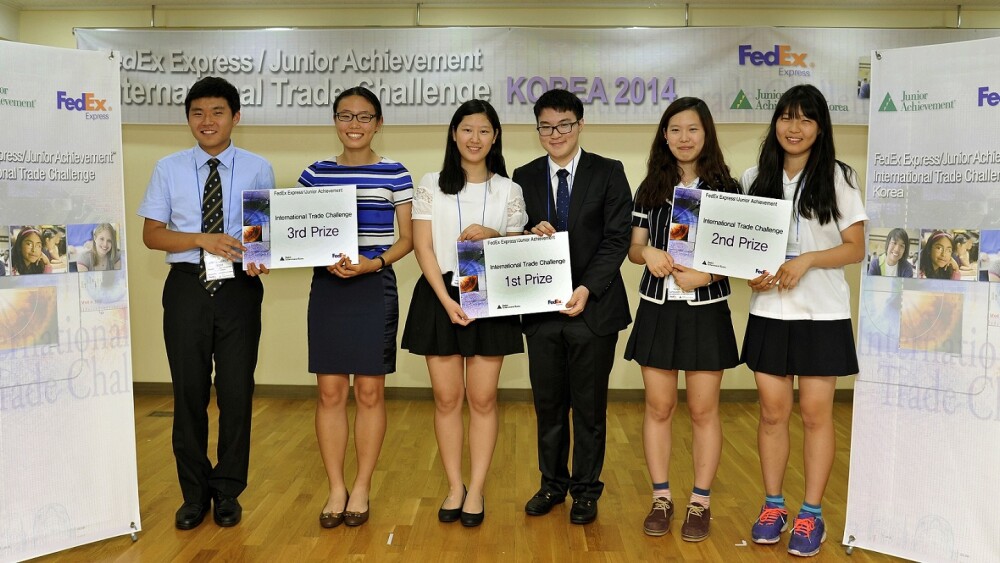 SEOUL, June 23, 2014 — FedEx Express, a subsidiary of FedEx Corp. (NYSE: FDX) and the world's largest express transportation company, and Junior Achievement Worldwide® (JA), the world's largest organization dedicated to empowering young people to own their economic success, held the local competition of the 2014 FedEx Express/ Junior Achievement International Trade Challenge (FedEx/ JA ITC) in Seoul on June 21. The top three student teams will represent Korea to compete against eight other Asia Pacific markets – Hong Kong, Japan, Malaysia, New Zealand, the Philippines, Singapore, Thailand and Vietnam – at the Regional Finals to be held in Hong Kong, August 17-21.
This year at the Korea Finals, twenty-four students on twelve teams were shortlisted to present their strategies to bring a health product or service to Russia. They were required to provide details of marketing, promotion, pricing, inventory and product distribution plans. The judging panel selected the following three winning teams, based on their understanding of market research, creativity, planning and entrepreneurial skills in entering new markets.
· The 1st place: team 'Salubri', Jaewon Huh and Jaewon Choi from Seoul International SchoolJaewon presented a complementary healthcare device using rejuvenation acupressure linked with application.
· The 2nd place: team 'Imagine', Jiwoo Lee and Minju Kang from Hankuk Academy of Foreign Studies presented V-health, a vending machine selling Hutgae, Korean traditional fruit.
· The 3rd place: team 'E', Myungrok Doh and Jeong-yeon Park from Hankuk Academy of Foreign Studies introduced a curtain purifier for indoor air pollution.
"FedEx believes in the power of global trade, and we know the development of future business leaders is essential to successful trade practices," said Eun-Mi Chae, managing director of FedEx Express Korea. "The FedEx/ JA ITC provides an excellent opportunity for the next generation entrepreneurs and business leaders to gain great insight about how business thrives in the global market."
Now in its eighth year, the FedEx/ JA ITC has inspired more than 9,900 students in nine Asia Pacific markets to understand entrepreneurship from a global perspective by providing an opportunity to set up a mock business and develop a plan to export a product or service to an overseas market.