FedEx Inspires Business Innovation Among High School Students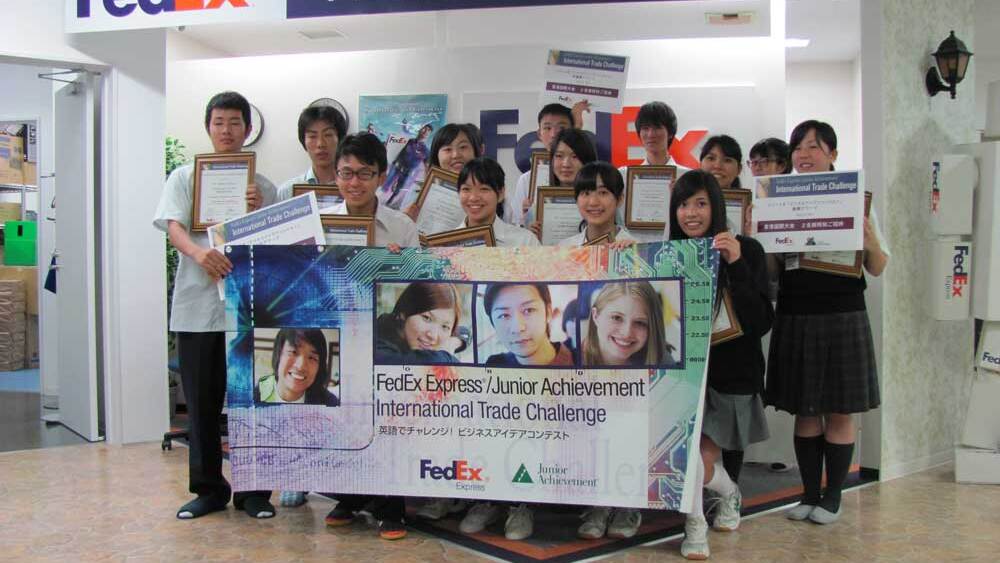 TOKYO, August 9, 2013 - FedEx Express, a subsidiary of FedEx Corp. (NYSE: FDX) and JA Worldwide® (Junior Achievement™), the organization dedicated to inspiring and preparing young people to succeed in a global economy, held the local competition of the "FedEx Express/Junior Achievement 2013 International Trade Challenge" in Tokyo on July 21.
This year, 33 teams in Japan, comprised of two students per team, submitted an "International Market Entry Strategy" paper on "introducing a product or service to improve the health of people in Russia." Seven teams were shortlisted to participate in the local competition during which they presented their strategy. Three winning teams will now move on to represent Japan at the regional finals to be held in Hong Kong, August 19-22.
The three selected teams include the winning team from Hiroo Gakuen Senior High School in Tokyo, the runner-up team from Hongo Senior High School in Tokyo, and the third place team from Koryo Senior High School in Yamanashi prefecture.
"At FedEx, we believe in the power of trade to change our world and are committed to expanding global access to create greater economic opportunity," said Ken McMahon, managing director, Global Account Management, FedEx Express, who served as a judge at the local competition. "Encouraging the development of future business leaders is an important part of these efforts, and we are proud to partner with Junior Achievement. The students in this year's challenge showed tremendous insight and creativity in analyzing real-world opportunities, adapting to the destination market culture, and creating impressive plans to develop their business ideas. We are very pleased to be able to support the development of next-generation entrepreneurs and business leaders from Japan through this powerful and unique program."
Junior Achievement Japan's Takeo Shiina commented, "I hope the students can experience what it is like to be an employee at a global company and create a presentation from scratch about an issue, which has no clear cut answer, just as they would be in the business world."
Held annually since 2007, the FedEx/JA ITC program aims to help young people in Asia Pacific understand how entrepreneurship can improve the quality of their lives and the communities where they live. This program will see participation by nine countries, namely Japan, Hong Kong, Korea, Malaysia, New Zealand, Singapore, Thailand, the Philippines and Vietnam.
Junior Achievement Japan
The world's largest economic education organization was founded in the U.S. in 1919 and conducts educational activities on a non-profit making basis. Since it was founded in Japan in 1995, an increasing number of schools nationwide have purchased its educational materials. It offers support for nurturing the capability of children to actively adapt to society so that they can correctly understand social systems and how the economy functions; it encourages them to choose and design the future with their own strong decisions no matter how drastically social conditions change. For detailed information, please refer to its website www.ja-japan.org.
About the FedEx/Junior Achievement International Trade Challenge
Started in 2007, the FedEx/Junior Achievement International Trade Challenge is a business idea contest in which high school students give a selected product added value for sales to specified countries. It is an opportunity for students to compete with their market entry strategy and presentation skills.