FedEx Honored with Several Awards as Excellent Employer in China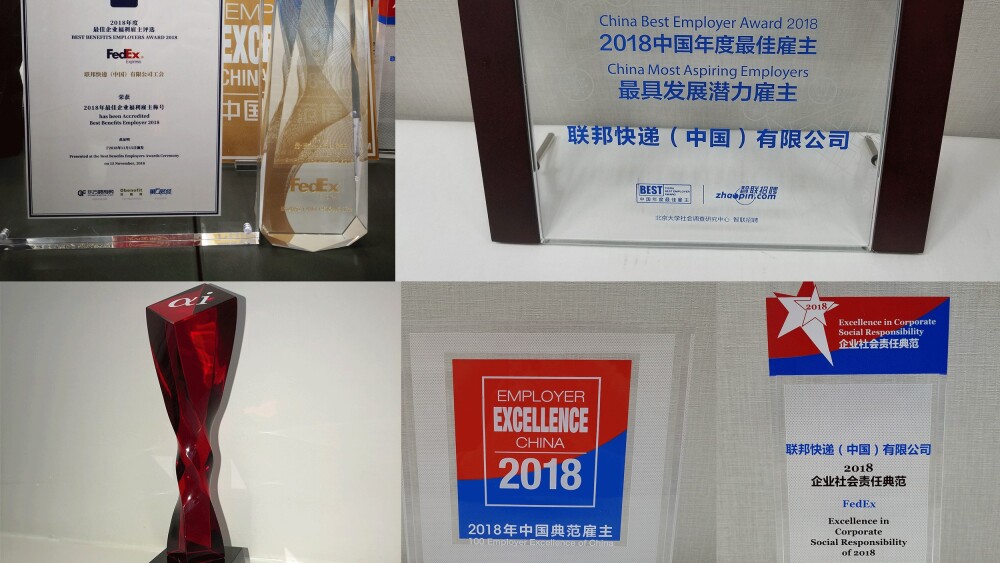 SHANGHAI, January 3, 2018 — FedEx Express (FedEx), a subsidiary of FedEx Corp. (NYSE: FDX) and one of the world's largest express transportation companies, has recently been recognized as an excellent employer by several authoritative human resources agencies and news media outlets in China. The awards include:



"Employer Excellence China 2018" and "Excellence in Corporate Social Responsibility of 2018" by 51job


Top 30 of "China Most Aspiring Employers 2018" by zhaopin.com


Ai Quality Workplace 2018 for "Privilege Sharing Section" by the Elite Program of China Business News


"Best Benefits Employer Award 2018" by Dongfangfuli.com and China Business News
With the rigorous review processes involving qualification screening, multi-standard grading and expert evaluation, the authority and credibility of the national awards have been guaranteed. It is worth mentioning that this is FedEx's seventh recognition from 51job and the second from Zhaopin.com and China Business News.
"Receiving these multiple accolades from organizations at the same time is not only an acknowledgement for our previous achievements, but also an incentive for our future growth," said Eddy Chan, senior vice president and head of FedEx China. "FedEx attaches great importance to personnel training as part of the company's strategy. We have done our utmost to provide employees with an open and inspiring work environment and with opportunities for personal development so they can make progress along with the company's growth."
FedEx now has approximately 12,000 team members in China. With a successful strategy of talent localization, the company has developed an effective management and service team, which is essential to FedEx's success in the China market. In the future, FedEx will continue to implement and improve its talent recruitment, training and incentives to enhance the overall quality of the employees and the competitiveness of the company, thus providing customers with better service.
About FedEx Express
FedEx Express is one of the world's largest express transportation companies, providing fast and reliable delivery to more than 220 countries and territories. FedEx Express uses a global air-and-ground network to speed delivery of time-sensitive shipments, by a definite time and date supported by a money-back guarantee[1].
About FedEx Corp.
FedEx Corp. (NYSE: FDX) provides customers and businesses worldwide with a broad portfolio of transportation, e-commerce and business services. With annual revenues of $69 billion, the company offers integrated business solutions through operating companies competing collectively and managed collaboratively, under the respected FedEx brand. Consistently ranked among the world's most admired and trusted employers, FedEx inspires its more than 450,000 team members to remain focused on safety, the highest ethical and professional standards and the needs of their customers and communities. To learn more about how FedEx connects people and possibilities around the world, please visit about.fedex.com
[1] Subject to relevant terms and conditions