FedEx Helps Refurbish School Facilities in Hong Kong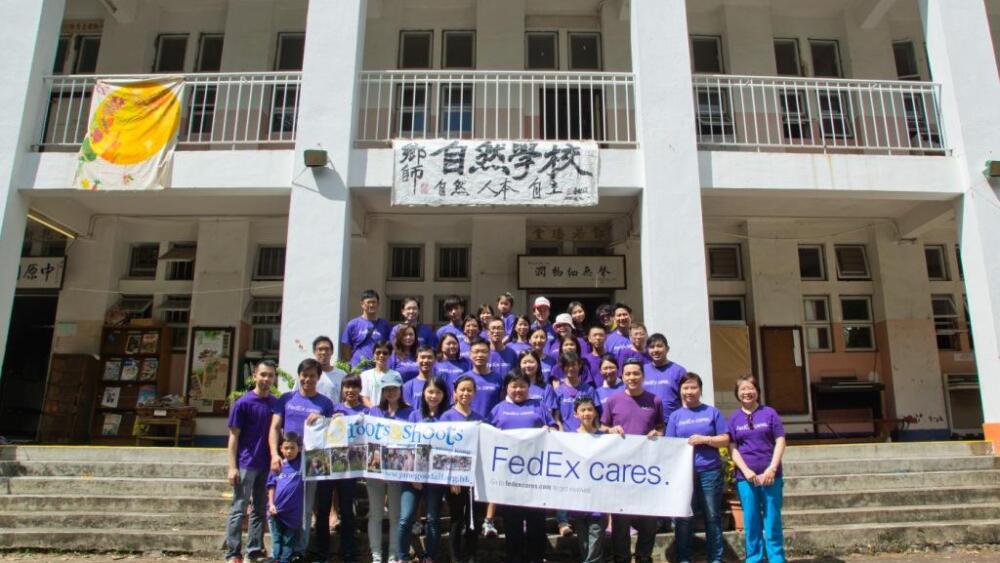 HONG KONG, September 16, 2013—In partnership with Jane Goodall Institute Hong Kong ("JGI"), 29 FedEx Express ("FedEx") volunteers dedicated more than 110 hours to educate students about environmental conservation by refurbishing school facilities. The event was part of the sixth annual FedEx Cares Week, a worldwide initiative where FedEx employees in 11 Asia Pacific markets[1] give back to their communities between September 7 and 15.
Sponsored by FedEx, the event provided an opportunity for primary school students from the RTC GAIA School to learn more about how reusing old resources benefits the environment. To get ready for the new school year, FedEx volunteers repainted a school classroom and weeded a basketball court.
"At FedEx, we believe access to knowledge and opportunities improves people's lives," said Anthony Leung, managing director, FedEx Express, Hong Kong and Macau. "We must not only focus on environmentalism, but education for the next generation as well. This can be difficult to do alone, but when our FedEx team gets together, our purple power spirit makes things happen. I take pride in our FedEx volunteers who dedicate their efforts to bring a positive impact on children and society as a whole."
FedEx is an ongoing supporter of JGI. In 2011/12 and 2012/13, FedEx and JGI organized the "FedEx We Deliver Green! Classroom". This is an education program aimed at promoting environmental awareness and sustainability among students in Hong Kong through classroom teachings and practical exercises.
Across the region, FedEx Cares Week activities will have a strong sustainability focus. More than 1,000 FedEx volunteers in Asia-Pacific are expected to commit over 4,000 hours in 36 community activities. This is part of a global FedEx initiative involving employees all around the world.
For more information about FedEx Cares Week and FedEx commitment to volunteerism and the Asia Pacific communities it serves, please visit facebook.com/FedExAPAC or news.van.fedex.com/int/asia-pacific.
---
[1] Australia, China, Hong Kong, Japan, Korea, Malaysia, New Zealand, Singapore, Taiwan, Thailand and Vietnam