FedEx Fosters the Next Generation of Korean Entrepreneurs at the 2022 FedEx/JA International Trade Challenge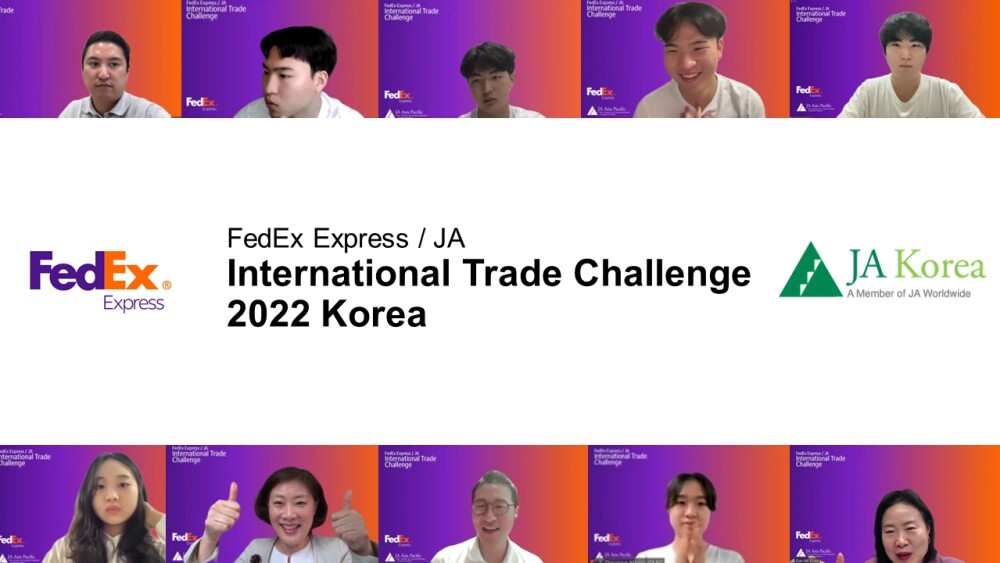 SEOUL, June 8, 2022— FedEx Express, a subsidiary of FedEx Corp. (NYSE: FDX) and one of the world's largest express transportation companies, together with Junior Achievement (JA) announced the six winners of this year's Korea FedEx Express/Junior Achievement International Trade Challenge (FedEx/JA ITC).
Six aspiring student entrepreneurs from three winning teams will go on to represent Korea in the Asia Pacific, Middle East and Africa (AMEA) finals in August where they will compete against students from nine other AMEA markets. To foster cross-cultural collaboration at the AMEA finals, frontrunners will be grouped at random into new teams comprising participants from all ten different markets: China, Hong Kong, India, Indonesia, Japan, South Korea, Malaysia, the Philippines, Singapore and Vietnam. This team grouping encourages participants to share experiences with students from other markets, gain global perspectives and brainstorm ideas to include collaborative thinking.
The six students from Korea who will advance to the AMEA FedEx/JA ITC are:


Brothers
Lee, Kun-hee and Lee, Seung-hee, North Dallas Adventist Academy
Product presented: Bodyguard, a health product combined with hand sanitizer and mosquito repellent



Blue Value Creators
Mark An and Andy Baik, Chadwick International
Product presented: Frostea, a natural energy drink tea with no sugar and low calories



GMG
Ha, Ji-min and Kwak, Do-yeon, Korean Minjok Leadership Academy
Product presented: Protein Sparkling, a combination of soda and protein drinks
This year's competition was held virtually due to COVID-19 and included a workshop held in May 2022, in which 130 students participated. The 9 teams with the most promising ideas and market entry strategies then moved on to the national finals where they presented their business plans for a health product for the Cambodia market to a panel of judges. Representatives from FedEx Express and Victor Ching, CEO of Miso, served on the panel of Judges to assess the presentations of the business proposals on the originality of concept, feasibility of strategy and thoroughness of research.
South Korean students have achieved great results in previous FedEx/JA ITC competitions. In the 2020 Regional Finals, Chaeyoon Park received the first runner-up prize for a smart bike idea that helps track a user's mental wellbeing. In 2021, Chaerin Park won first place with an aromatic seeded greeting card idea that helps the elderly relax and feel connected during the COVID-19 lockdown. That same year, the team that included Seojin Ahn took third place with their idea of an AI-powered educational teddy bear that helps support young children with distance learning.
"Each year, I am filled with pride to see young minds impressing us with fresh innovative ideas. Through the FedEx/JA ITC challenge, we are working to prepare tomorrow's leaders for what's next. Fostering students in Korea to be future leaders is very important to us and through this annual competition, we connect them with opportunities to build leadership skills and participate in unique experiences," said Eun-mi Chae, managing director, FedEx Express Korea, who also served as one of the judges.
Since its launch in Korea 2007, the FedEx/JA ITC has attracted more than 2,712 students nationwide with 90 students representing Korea at the Regional AMEA Finals. The FedEx/JA ITC program provides aspiring young entrepreneurs with the opportunity to gain a solid foundation on which to build future careers in business.
More information about the 2022 FedEx/JA International Trade Challenge can be found on the JA Korea website www.jakorea.org.