FedEx Forecasts Record Volume This Holiday Season
More Than 17,000 Team Members in Asia Pacific Ready to Deliver a Bumper Holiday Season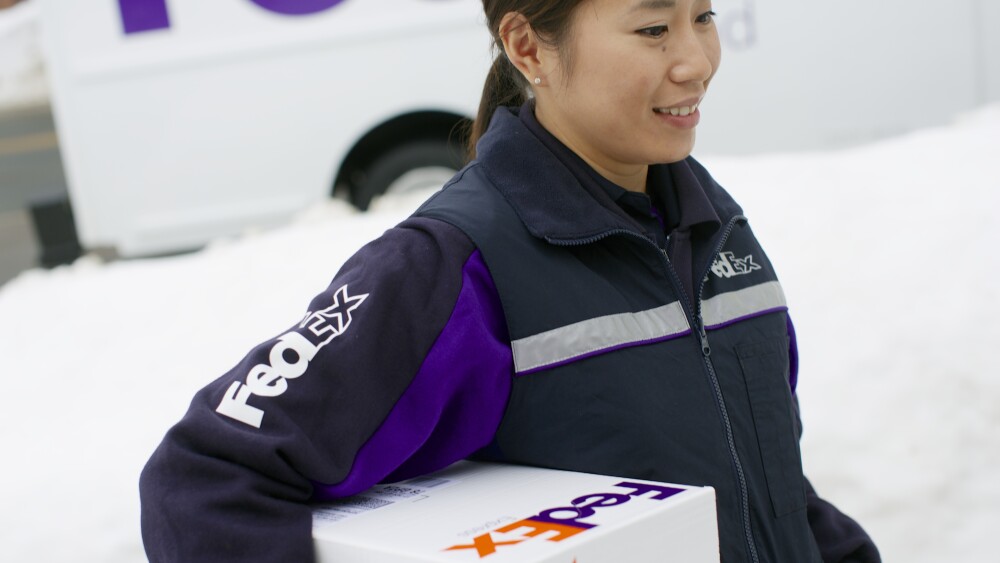 HONG KONG, November 2, 2015 — FedEx Corp. (NYSE: FDX) predicts it will move a record-breaking 317 million shipments between Black Friday (November 27) and Christmas Eve. This forecast marks a 12.4 percent increase in year-over-year seasonal volume.
The season is expected to be bolstered by three volume spikes, including Cyber Monday (November 30) and the first two Mondays in December, when the company expects to move more than double its average daily volume. Peak projections are included in FedEx earnings guidance for FY16. In the Asia Pacific region, different 'spikes' are anticipated. One notable example is China's 'Singles' Day' on November 11. Due to the huge popularity of the occasion in recent years, China's State Post Bureau anticipates that this year will see a maximum of 140 million packages being handled per day on the days immediately following Singles' Day – an increase of 40% compared to the same period last year.
"The rise of e-commerce is particularly pronounced in our region, and this translates into ever-increasing volumes of shipments at this time of year," said Karen Reddington, president, FedEx Express Asia Pacific. "Our strategic investments, operational strength of our network, and more than 17,000 dedicated team members across the region – backed by more than 300,000 of their colleagues worldwide – are poised to deliver a holiday season to remember."
Gearing up for the Holiday Season
FedEx has taken several measures to prepare for the busy Peak season.



The company has continued its strategic investment in network growth and capacity.




FedEx Express has enhanced the capabilities of its global network through a fleet modernization program that saw 30 more reliable and efficient aircraft added over the past year (2 B777Fs, 18 B767Fs and 10 B757Fs).

FedEx Express added Enhanced Vision Systems to 250 aircraft, which will greatly improve pilots' ability to land in low visibility conditions and mitigate potential weather delays. The company is the only U.S. carrier with FAA approval to use the technology as low as 100 feet on instrument approaches.

FedEx Express is modernizing its ground fleet by adding over 7,000 new, fuel-efficient vehicles in fiscal years 2015 and 2016 combined.

FedEx Express offers FedEx® Global Returns in the Asia Pacific region. It is a shipping solution designed to simplify the worldwide returns process. It helps online retailers to manage their customers' product returns experience, including editable return labels, customs documentation and flexible return destinations.

The company is adding more than 55,000 positions throughout its network to help the holidays arrive this year. This includes package handlers, drivers and other support positions.
# # #
About FedEx Express
FedEx Express is the world's largest express transportation company, providing fast and reliable delivery to more than 220 countries and territories. FedEx Express uses a global air-and-ground network to speed delivery of time-sensitive shipments, by a definite time and date with a money-back guarantee[1].
About FedEx Corp.
FedEx Corp. (NYSE: FDX) provides customers and businesses worldwide with a broad portfolio of transportation, e-commerce and business services. With annual revenues of $48 billion, the company offers integrated business applications through operating companies competing collectively and managed collaboratively, under the respected FedEx brand. Consistently ranked among the world's most admired and trusted employers, FedEx inspires its more than 325,000 team members to remain "absolutely, positively" focused on safety, the highest ethical and professional standards and the needs of their customers and communities. For more information, visit news.fedex.com.
[1] Subject to relevant terms and conditions.