FedEx Extends Service Footprint With New Khon Kaen Station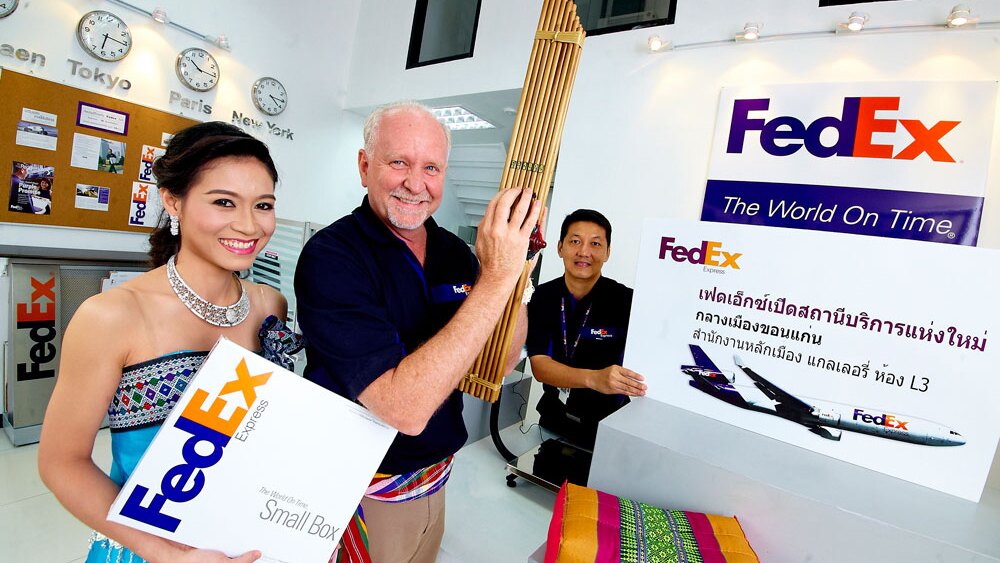 KHON KAEN, Thailand, March 11, 2013—FedEx Express (FedEx), a subsidiary of FedEx Corp. (NYSE: FDX) and the world's largest express transportation company, is increasing its service footprint in Thailand with today's opening of the FedEx Khon Kaen Station.
With the new station, customers in Khon Kaen will have later cut-off times until 6.00pm. Additionally, customers will be able to have their packages reach their destination faster with shipments collected before 13:00 being uplifted to Bangkok the same day.
Located in the middle of the city, meters away from the famous "Luk Muang" pillars, the new FedEx station offers a full range of convenient and secure international express delivery services to local businesses and households. The FedEx Khon Kaen station is open from Monday to Friday (9.30 a.m. to 6 p.m.) and Saturday (10 a.m. to 3 p.m).
"We are delighted to open our newest station in Khon Kaen, a major commercial city in Thailand's second largest province," said David Carden, managing director, FedEx Express, Thailand and Indochina. "Through the FedEx Khon Kaen Station, we look forward to better serving customers in this vibrant part of the country—a district that is poised to grow and thrive as a business and industrial hub for both the region and neighboring countries."
To celebrate joining the Khon Kaen community, FedEx employees presented new cafeteria hall furniture to Ban Kamin Non Hua Na Primary School as part of its Adopt-a-School Program—a FedEx initiative designed to support underserved rural Thai schools.
About FedEx Express
FedEx Express is the world's largest express transportation company, providing fast and reliable delivery to more than 220 countries and territories worldwide. FedEx Express uses a global air-and-ground network to speed delivery of time-sensitive shipments, by a definite time and date with a money-back guarantee[1].
About FedEx Corp.
FedEx Corp. (NYSE: FDX) provides customers and businesses worldwide with a broad portfolio of transportation, e-commerce and business services. With annual revenues of $44 billion, the company offers integrated business applications through operating companies competing collectively and managed collaboratively, under the respected FedEx brand. Consistently ranked among the world's most admired and trusted employers, FedEx inspires its more than 300,000 team members to remain "absolutely, positively" focused on safety, the highest ethical and professional standards and the needs of their customers and communities. For more information, visit news.fedex.com.
For further information please contact:
Benjarat Limpasurat or Gatenipa Chantem of Grayling (Thailand)
Tel:+66 2635 7151, Fax: +66 2635 7155
Emails: benjarat@grayling.com or gatenipa@grayling.com
# # #
---
[1] Subject to relevant terms and conditions