FedEx Express Supports Safe Kids' Safe School Zone Project
Collaboration Addresses Road Safety Issues for Students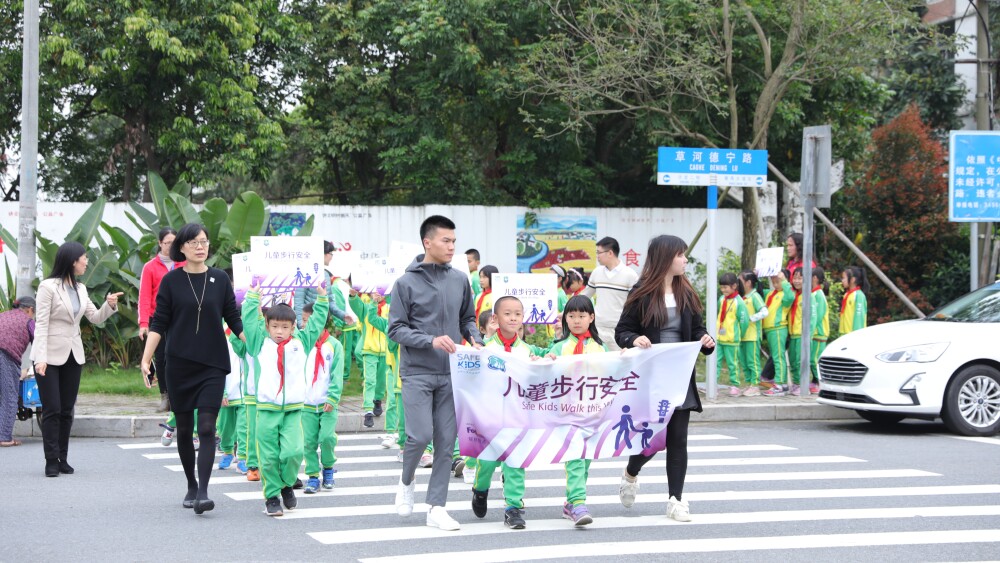 GUANGZHOU, March 25, 2019—FedEx Express, together with Safe Kids Worldwide, an international non-profit organization, recently completed a joint Safe School Zone project around Caohe Primary School in Guangzhou.
Guangzhou Caohe Primary School is the fourth school in China to carry out the Safe School Zone project. The project aims to improve road traffic conditions and eliminate potential traffic hazards around primary and secondary schools in order to reduce traffic accidents in school zones, using standardized processes from research, assessment, intervention and post-intervention assessment.
The project was also supported by the Guangzhou Center for Disease Control and Prevention, the Shiqiao Caohe Primary School in the Shiqiao Subdistrict of the Panyu District, the Chronic Disease Control and Prevention Station in the Panyu District, the Education and Instruction Center of Shiqiao in the Panyu District, and the Caohe Village Committee of Qiaonan Street in the Panyu District.
Since 2011, FedEx has been supporting Safe Kids in the rollout Safe School Zone projects in 10 countries, including China.
"FedEx has been working together with Safe Kids for years to promote road safety for children and teenagers across China through media campaigns, education outreach and practical intervention," said Eddy Chan, senior vice president and head of FedEx China. "Rooted in China, FedEx has an extensive service network across the country. We are committed to using our expertise and resources to improve the communities and people we serve through collaboration with organizations like Safe Kids, and our nearly 15-year relationship with the organization is one of the best examples."
To address the road safety issues around Caohe Primary School, Safe Kids, in collaboration with multiple government organizations, improved road safety by adding speed bumps, pedestrian strips, bollards and some auxiliary police to handle illegal parking issues. At the same time, a Crossing the Road Safely course was held for both students and parents.
"Road traffic accidents are the second leading cause of death for children aged 1-14," said Monica Cui, chief representative, Safe Kids China. "Every year, the number of deaths and injuries caused by road traffic accidents among children and teenagers under the age of 18 reaches around 20,000. To reduce children's road traffic injury, we need to educate children about how to walk safely, but it's equally important to create a safe road environment from children's point of view, particularly in school zones. With the support of local authorities, we improved the road environment around Shiqiao Caohe Primary School in five major ways, including adding speed bumps, "zebra"-stripe crossings and planned parking areas so that road safety for students in school zones was effectively enhanced."
Before the project in Guangzhou, FedEx and Safe Kids worked to improve school area road safety in three primary schools in Shanghai: Huamu Central Primary School, Haitong Road Primary School and Xinshi School.
A number of safety enhancements were implemented for Huamu Central Primary School and Haitong Road Primary School, including setting up a waiting area for parents, removing obstacles in front of the zebra crossings, setting up temporary parking spots for non-motorized vehicles, and increasing on-site traffic police. At Xinshi School, a waiting area for parents was established and safety railings were placed in the lane outside the school to prevent motor vehicles and non-motor vehicles from entering the school zone.
For more information on the Safe School Zone project for Guangzhou Caohe Primary School may be found at "A Report on School Zone Intervention in Guangzhou" .
About the Safe School Zone Project
Since 2011, FedEx has been supporting the Safe Kids Safe School Zone project in China, Canada, the United States, Mexico, Brazil, India, South Korea, the Philippines, Thailand and Vietnam. Through standardized processes from research, assessment, intervention and post-intervention assessment, this project establishes effective interventions based on data and evidence to improve road safety for children. These schools can be promoted as models for other schools around the world.
About FedEx Express
FedEx Express is one of the world's largest express transportation companies, providing fast and reliable delivery to more than 220 countries and territories. FedEx Express uses a global air-and-ground network to speed delivery of time-sensitive shipments, by a definite time and date supported by a money-back guarantee[1].
[1] Subject to relevant terms and conditions