FedEx Express Launches New Beijing, China – Osaka, Japan – Anchorage, U.S. International Cargo Flight
Increases Shipping Capacity Between North China and North America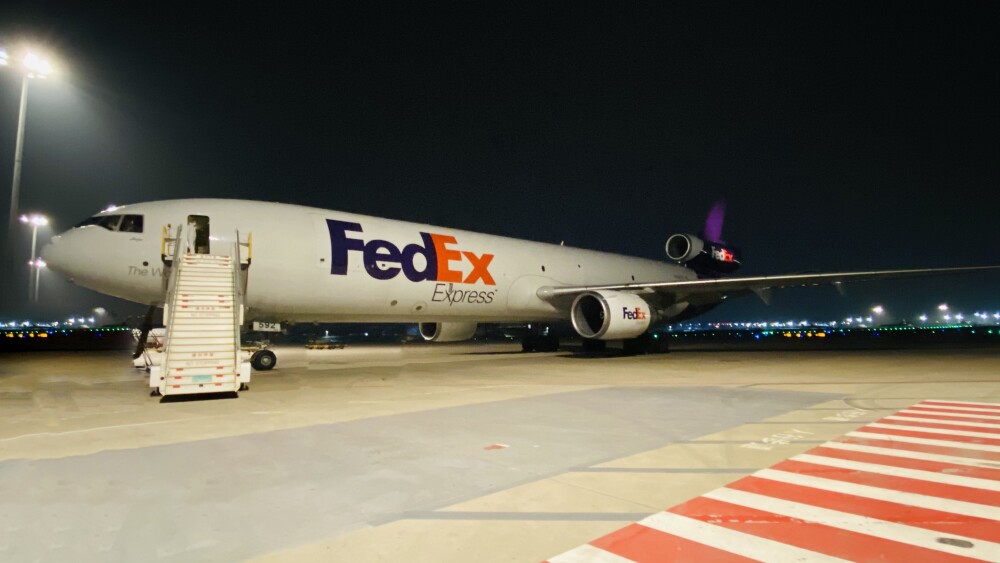 SHANGHAI, CHINA, July 15, 2021 – FedEx Express, a subsidiary of FedEx Corp. (NYSE: FDX) and one of the world's largest express transportation companies, recently launched a new intercontinental cargo flight between Beijing, China, and Anchorage, Alaska, U.S. This FedEx route departs from Beijing, and stops in Osaka before arriving at Anchorage, which has connecting flights to the FedEx World Hub in Memphis, U.S.
With 12 flights per week in and out of Beijing from Monday to Saturday, the new route offers customers in northern China access to more connectivity between APAC and North American markets. The new flights also increase access to more reliable capacity which facilitates regional trade and global circulation.
"At FedEx, we are committed to the China market, as seen through our continuous network expansion to support our customers with more efficient, reliable connections to the global market," said Eddy Chan, senior vice president & president FedEx China. "Our new route propels trade in northern China and increases the competitiveness of local enterprises, while also benefiting the China market as a whole as well as APAC and North America markets."
Since the onset of the COVID-19 pandemic, FedEx has been operating on the front lines to ensure supply chain continuity for the global market through flexing its operational network and owned fleet. FedEx has consistently operated its routine flights in and out of China, providing Chinese enterprises with reliable transportation services.
The new flight underscores FedEx confidence in the China market. While the COVID-19 pandemic challenged the global sphere and resulted in an economic downturn, China maintained its critical role in international trade. The rapid development of new forms and models of foreign trade represented by cross-border e-commerce has enabled China to become the world's largest B2C (business to consumer) cross-border e-commerce trading market, with 26% of all global transactions[1].
According to China's General Administration of Customs, the country's foreign trade rose 27.1% year-on-year to RMB 18.07 trillion in the first half of 2021. Exports jumped 28.1% from a year earlier to RMB 9.85 trillion while imports climbed 25.9% to RMB 8.22 trillion[2]. Compared with the same period in 2019, exports, and imports increased by 22.8%, 23.8% and 21.7% respectively. As of June, imports and exports have been increasing for 13 consecutive months. The foreign trade for the whole year is still expected to maintain rapid growth[3].
Beijing is a key gateway that connects northern China and the world. In addition to the new flight, FedEx operates international cargo flights from Beijing, connecting Incheon, South Korea, and Anchorage, Alaska, U.S. Representing another significant milestone for FedEx development in China, the new route will double the company's international cargo flights in and out of Beijing and further expand its network and capacity in northern China.
FedEx currently operates more than 300 weekly flights in and out of China. It connects its Chinese customers to the company's extensive global network, and provides them efficient and reliable shipping services, leveraging its Asia-Pacific Hub in Guangzhou; its International Express and Cargo Hub in Shanghai; and four major international gateway operations in Beijing, Shanghai, Guangzhou and Shenzhen.
[1] http://www.jjckb.cn/2021-07/05/c_1310043060.htm
[2] http://www.scio.gov.cn/m/xwfbh/xwbfbh/wqfbh/44687/46233/index.htm
[3] http://www.scio.gov.cn/m/xwfbh/xwbfbh/wqfbh/44687/46233/index.htm