FedEx Express, Korea Hosts Third 'FedEx Career Camp' For Students at Universities Outside Seoul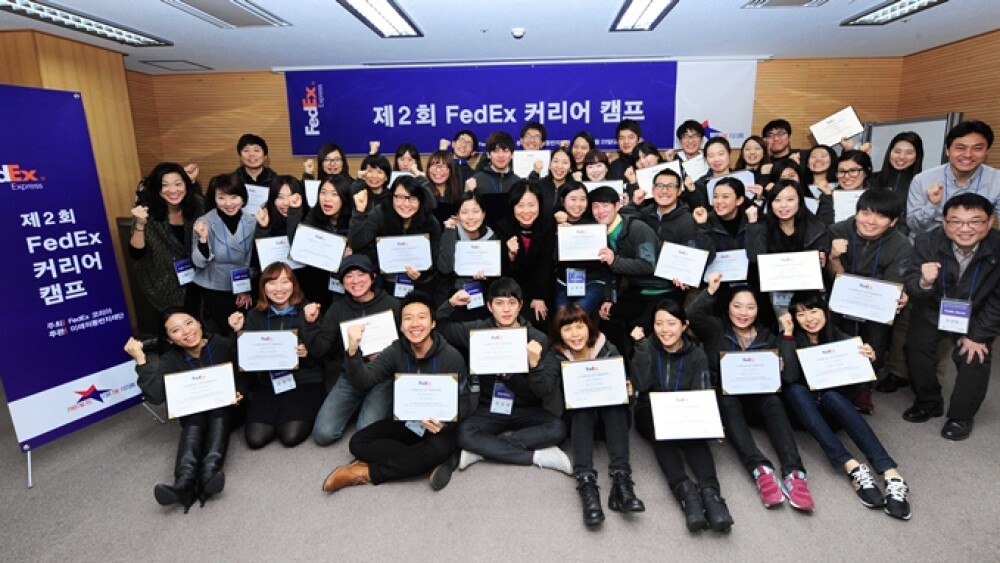 SEOUL, December 3, 2013— FedEx Express, a subsidiary of FedEx Corp. (NYSE: FDX) and world's largest express transportation company, is recruiting participants for its third FedEx Career Camp. The three-day camp, jointly organized with the Partners for the Future Foundation, will provide female students at universities outside Seoul with practical career guidance and training.
This year's Career Camp program is especially designed to support female students in planning their career path. Female students who are interested in global business, and are from universities located in areas outside Seoul, including Gangwon, Gyeongnam, Gyeongbuk, Jeonnam, Jeonbuk, Chungnam and Chungbuk provinces, are eligible to apply for the camp.
Recruitment will take place between December 2-20, 2013. Propsective participants can download the application form from the Partners for the Future Foundation homepage (www.partners-korea.org) and submit the completed form along with a cover letter and résumé in both Korean and English via email (foundation@amchamkorea.org). A total of 40 students will take part in the FedEx Career Camp, which will be taking place from January 19 -21, 2014 at Hi Seoul Youth Hostel in Yeongdeungpo-Gu, Seoul.
During the camp, participants will take part in various programs designed to provide practical assistance in applying for jobs, including a one-on-one résumé clinic, mock interviews, group projects and female-focused career strategies. Three outstanding students at the camp will be awarded an internship opportunity at FedEx Express in Korea.
"This Career Camp is a program to support university students, who will be our next generation of leaders," said Eun-Mi Chae, managing director of FedEx Express, Korea. "As this year's camp is specifically tailored to female students at Universities outside Seoul, we hope many female students will take the opportunity to participate in the camp."