FedEx Express Joins eTrade hub Taipei to Help SMEs Expand to Overseas Markets
FedEx Cooperates with Taipei City Government to Provide SMEs with Professional Cross-border Logistics Consulting Services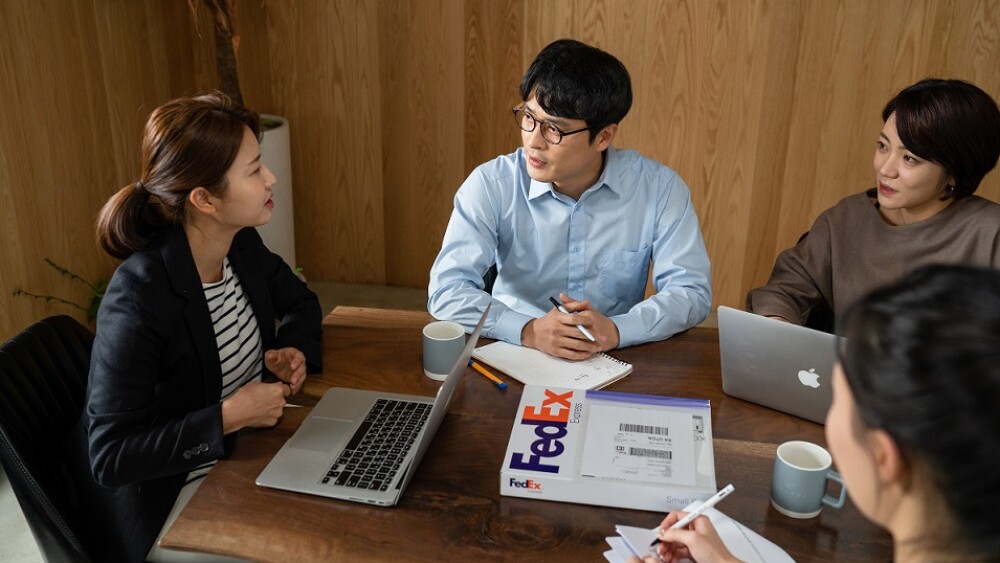 Taipei, July 4, 2022 – FedEx Express (FedEx), a subsidiary of FedEx Corp. (NYSE: FDX) and one of the world's largest express transportation companies, is collaborating with the upgraded eTrade hub Taipei. Through the agreement, FedEx will provide professional cross-border logistics consulting services for enterprises in Taipei City and work with the Taipei City Government Industrial Development Bureau to help small- and medium-sized enterprises (SMEs) expand to overseas markets.
In its fifth year of operation, the Taipei City Industry and Development Bureau provides enterprises online or one-on-one consultations about developing cross-border information flow, cash flow and logistics systems. More than 700 SMEs in Taipei City have sought advice through the service center.
This July, the Taipei Cross-border E-commerce Service Center will be fully upgraded to eTrade hub Taipei, which aims to guide the upgrading and transformation of enterprises, with cultivating talents and improving the industrial environment as the approach. It is the only development platform in Taipei that integrates industry, government and academia, and has both enterprise implementation and industrial think tanks. "Corporate Counseling Center", "Industrial Talent Center" and "Policy Research Center" will be eTrade hub Taipei's three cores.
FedEx will be eTrade hub Taipei's logistics advisor. The company will provide professional international logistics consulting services to SMEs in Taipei City that intend to enter overseas markets.
"FedEx is very honored to be a part of eTrade hub Taipei," said Michael Chu, managing director of operations, FedEx Express, Taiwan. "Helping more Taiwan SMEs enter overseas markets is our development goal. Through our cooperation with eTrade hub Taipei, we will share our professional customs knowledge and practical experience handling cross-border delivery in order to help SMEs quickly grasp cross-border logistics trends in the ever-changing international business environment."
According to a report published by the Importers and Exporters Association of Taipei (IEAT), close to 65% of Taiwan companies agree with the need to boost cross-border e-commerce[1], showing that local retailers have noticed the importance of risk diversification. That said, the system enabling cross-border e-commerce is not easy for businesses to develop. It takes time and effort to find suitable markets, international marketing channels and reliable logistics partners.
To help SMEs get ahead in the global market, FedEx has long been committed to offering a variety of simple and innovative sales solutions and enhancing the consumer experience of the last-mile delivery. For example, FedEx recently released a white paper, "E-commerce Megatrends to Watch" about the digital age that will help retailers grasp new e-commerce trends and opportunities.
To help enterprises in the Asia-Pacific (APAC) region enter the international market, FedEx continuously optimizes and updates its service options. In April, FedEx expanded its break-bulk shipment service, FedEx International Priority DirectDistribution® (IPD), by shortening the transit times from 2-4 days to 1-3 days for shipments from Australia, Hong Kong, New Zealand, Singapore, South Korea and Taiwan. The launch of FedEx International Priority® Express (IPE) in January offers customers the flexibility to schedule delivery by 10:30 a.m. or noon to select destinations worldwide.
With FedEx International Connect Plus, e-tailers in Taiwan are empowered to provide their customers with an international shipping solution with prices that offer value-for-money, while ensuring shipments will be delivered within 1 to 5 business days within Asia Pacific, Middle East, and Africa (AMEA). FICP capabilities include tracking, sending out notifications to receivers and flexibility to change delivery options via FedEx Delivery Manager®, which gives e-tailers' customers more visibility, control and convenience over their online orders.
About FedEx Express
FedEx Express is one of the world's largest express transportation companies, providing fast and reliable delivery to more than 220 countries and territories. FedEx Express uses a global air-and-ground network to speed delivery of time-sensitive shipments, by a definite time and date.
[1] https://www.ieatpe.org.tw/magazine/ebook366/e-commerce-2.html