FedEx Express in Korea Organizes Nature Conservation Activities at the national heritage Gyeongbokgung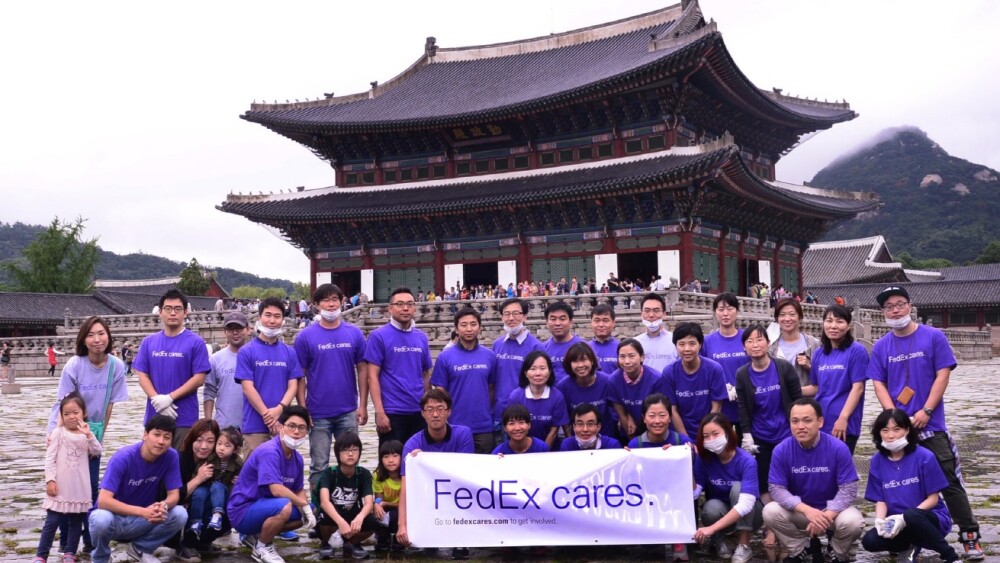 SEOUL, September 16, 2013— FedEx Express (FedEx), a subsidiary of FedEx Corp. (NYSE: FDX) and the world's largest express transportation company, organized a nature conservation program titled "We deliver the past to the future" at the royal palace Gyeongbokgung in Seoul on September 14, as a part of FedEx Cares Week, which is an annual initiative where FedEx employees in 11 Asia Pacific markets participate in community projects between September 7 – 15.
35 FedEx volunteers and their family members rolled up their sleeves and participated in the environmental clean-up activities at the garden, palace interiors, and visitor paths in the Gyeongbokgung.
Since 2005, FedEx has chosen one week per year for its global FedEx Cares Week to encourage its participants to volunteer in their local communities. In Asia Pacific, this is the seventh year FedEx Cares Week is being held. Activities with an environmental theme were chosen to promote the sustainability of heritage and highlight the corporate commitment to environmental concerns.
"FedEx Cares Week demonstrates how we endeavor to connect the world in a responsible manner by volunteering to give back to the local communities and making a positive difference," said Eun-Mi Chae, managing director of FedEx Express, Korea.
Across the region, around 1,000 FedEx volunteers in Asia-Pacific are expected to support local organizations through 36 community activities.
For more information about FedEx Cares Week and FedEx commitment to volunteerism and the Asia Pacific communities it serves, please visit news.van.fedex.com/int/asia-pacific.