FedEx Express Facilitates 80 Student Entrepreneurs to Run Their Own Business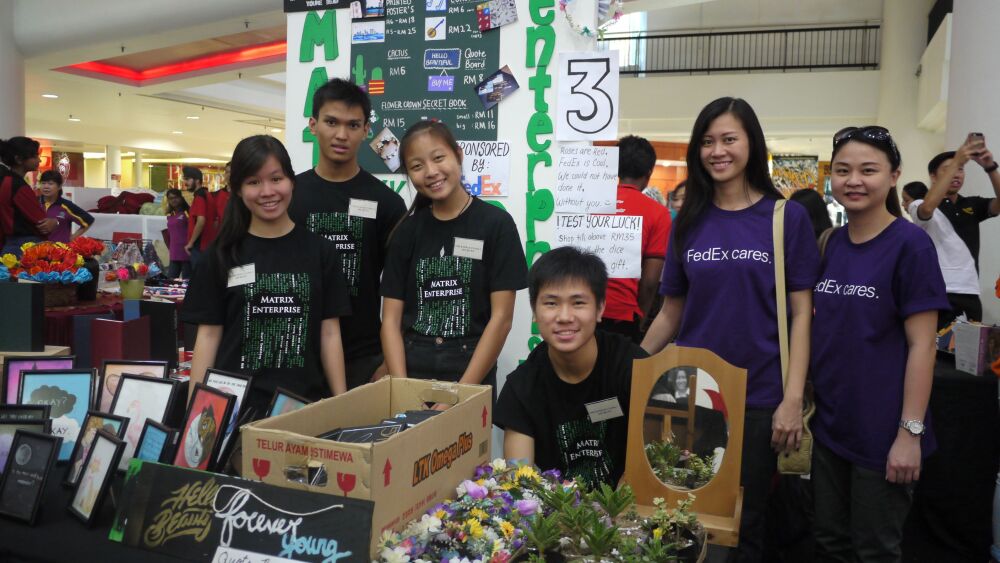 KUALA LUMPUR, August 11, 2014 – FedEx Express, a subsidiary of FedEx Corp. (NYSE:FDX) gave 80 students from Petaling Jaya and Penang a hands-on opportunity to test their business and entrepreneurial skills at the recent 2014 Young Enterprise Junior Achievement (YE/JA) Achievers' Sales Fair.
The business novices from Matrix Enterprise of SMK Bandar Utama Damansara 3 in Petaling Jaya, and Bryture Enterprise of SMK Bukit Jambul in Penang, conceptualized, manufactured and marketed a range of trendy, handmade products to the public at Subang Parade in Petaling Jaya and First Avenue Mall in Penang.
Matrix Enterprise brought to market keepsake boxes made out of recycled books; hand- and spray-painted hipster art posters, and chic flower crowns made of realistic looking synthetic flowers for teenage girls in Petaling Jaya.
Based on a marketing survey on the popularity of accessories, Bryture Enterprise retailed handmade bracelets and necklaces as well as hand-drawn recyclable bags in Penang.
FedEx volunteers representing various functions of the company including sales, marketing, customer service, finance and operations, mentored students from both schools.
"At FedEx, we have seen how educating and empowering young people with the right business knowledge and tools can help them own their future economic success," said Ramesh Kumar Singam, managing director, FedEx Express Malaysia and Brunei. "We hope this inspiring program will help our local students develop valuable skills in creativity, business acumen, teamwork and critical thinking as they encounter real world situations and make real world business decisions."
The Young Enterprise Junior Achievement Achievers' Sales Fair is a component of the nine-month long Young Enterprise Junior Achievement Program, which will end in October this year.
Through the YE/JA program, budding entrepreneurs, also known as Achievers, are given the opportunity to experience a full business life-cycle, from capitalization to voluntary liquidation. With start-up capital of RM800, the Achievers create and manage their own companies as well as raise capital for their business through the sale of shares. Each enterprise is required to operate a real corporate bank account. At the end of the program, each student company must submit a record of their finances for an independent audit. This is the 14th year that FedEx has lent its support for this program in Malaysia.
First introduced in 1989, the YE/JA program is organized by the American Malaysian Chamber of Commerce (AMCHAM) and supported by the Ministry of Education. Eight awards will be presented at the end of the program for the best product, best annual report, best Achiever, best use of Information and Communications Technology (ICT), best company, best CSR, best marketing strategies, and best share growth.