FedEx Express Donates B-727 Aircraft to Civil Aviation University of China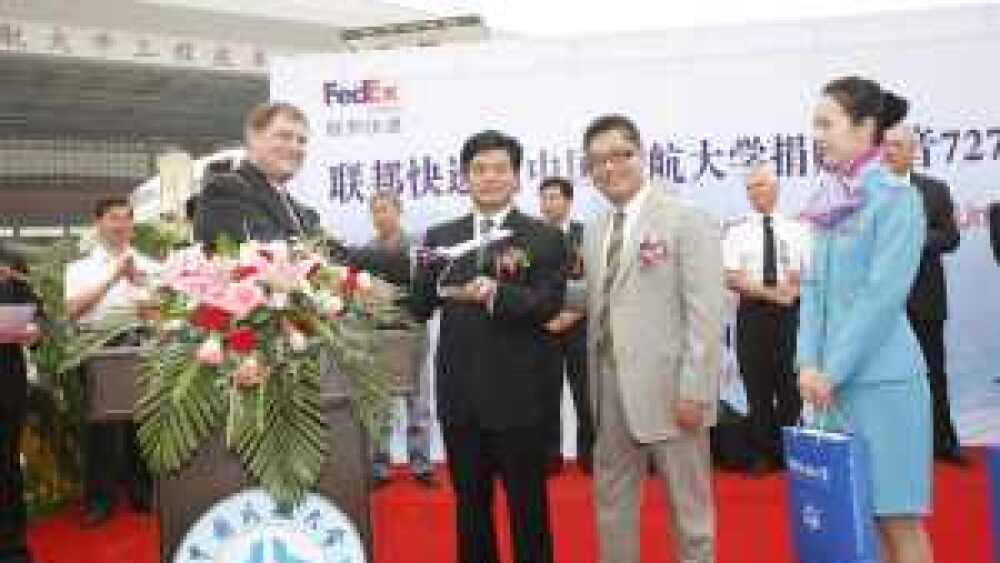 TIANJIN, September 10, 2009 — FedEx Express, a subsidiary of FedEx Corp. (NYSE: FDX) and one of the world's largest express transportation companies, today donated a retired Boeing 727-200 freighter to the Civil Aviation University of China (CAUC) where it will be used to provide hands-on educational experiences for aviation students.

Greeted by local dignitaries, university and airport officials and FedEx representatives, the aircraft made its final touch down at Tianjin Binhai International Airport . Aircraft 727-200F Registration Number N219FE put in more than 25 years of service with FedEx transporting packages to destinations around the world.

Traditionally, all FedEx aircraft are named after the children of FedEx employees. This aircraft is named "Jakob", after the son of Rodger Finley, a manager at the Anchorage Hub, who recently retired after 30 years of FedEx service. "Jakob" will begin its second life on the ramp of CAUC, where it will be used to train future mechanics

The donation to CAUC is part of the FedEx retirement program for its 727-200F fleet. Since 2000, 40 727 aircraft have been donated to various aviation technical schools, museums and other institutions to help educate and train the next generation of aviation professionals. This is the first aircraft donation for FedEx in China .

"We are very proud to be making this donation to CAUC," said Eddy Chan , head of FedEx China . "We have worked with CAUC over many years, providing scholarships, internships and benefiting from their quality graduates joining our workforce. We hope that our aircraft will enhance CAUC's education program and will help their students—who are the future of our aeronautics industry—learn and develop."

"The ability to supplement our students' advanced aircraft hands-on training with this type of aircraft is a dream come true," said Wu Tongshui, president of CAUC. "We are grateful that FedEx is giving this opportunity to our students. Experience working on a real aircraft provides our students with a competitive advantage when they graduate."