FedEx Expands SenseAware Service to Taiwan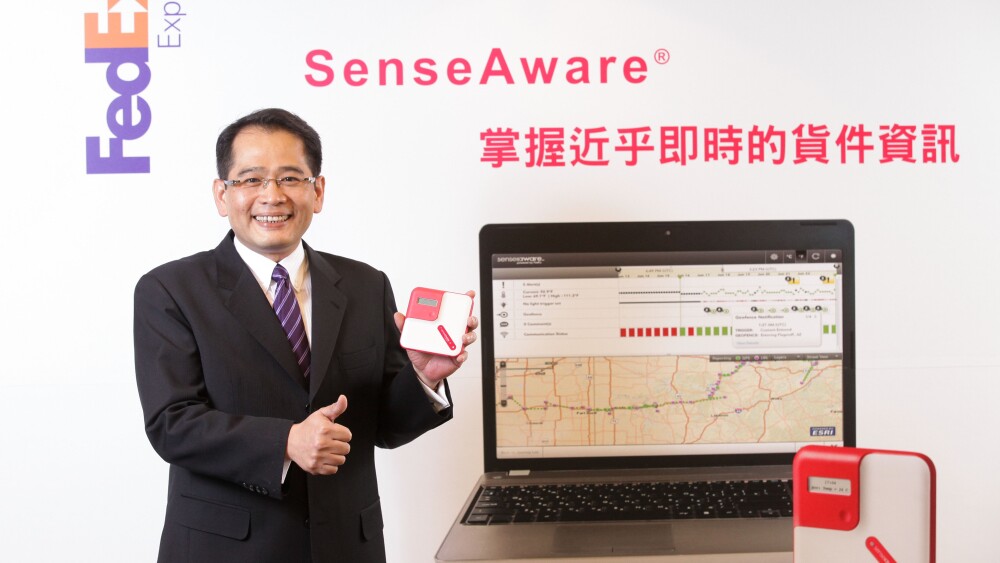 TAIPEI, April 29, 2014 — FedEx Express ("FedEx"), a subsidiary of FedEx Corp. (NYSE: FDX), today announced the expansion of its awarding-winning SenseAware® service to Taiwan. SenseAware powered by FedEx is the next-generation information service that empowers customers to have better control of their supply chains, enjoy an extra layer of security, and stay connected to their most critical and environmentally-sensitive shipments in near real-time.
As a transshipment hub in Asia Pacific, Taiwan plays a pivotal role in ensuring the security and consistent flow of highly valuable and extremely time-sensitive shipments, from high technology components to life-saving medical equipment to confidential documents to jewelry to art and antiques. With this SenseAware monitoring service, customers from the healthcare, life sciences, high technology, aerospace, the arts, high-end merchandise and financial industries can have more actionable intelligence at their fingertips.
"Supply chain in this age of Internet of Things (IoT) is no longer just about cost and speed, but also information," said Michael Chu, managing director of FedEx Express, Taiwan. "With SenseAware, we are redefining shipment monitoring by providing unmatched and near real-time visibility into shipments at every step of the way. This access to information is of particular importance as it empowers our customers to make smarter and timelier decisions against today's increasingly global and complex supply chains."
Innovated by FedEx, SenseAware is a state-of-the-art sensor technology that combines a multi-sensor device with a powerful web-based application. Not only does it enable customers to access data of shipments while in transit and receive customizable alerts in near real-time, it also allows them to share such information collaboratively with business partners across supply chains. In addition to current location, it can also monitor precise temperature, relative humidity, barometric pressure readings, light exposure and shock events. The SenseAware 2000 device supports a dry ice probe which monitors temperatures ranging from -80°C to +60°C (-112°F to +140°F) and a cryogenic probe which can monitor shipments from -195°C to +60°C (-319°F to +140°F), particularly useful in the life sciences industry.
Initially available in the U.S. only, the SenseAware service has expanded to 20 markets worldwide, including Australia, Hong Kong, Singapore and Taiwan in Asia Pacific. The service is also available on a growing list of air and ground transportation carriers, giving more transportation options to customers in order to better fit their specific needs, while still delivering the peace of mind and quality assurance provided by SenseAware.
In 2013, SenseAware won the Supply Chain Integrity Innovator of the Year category at the Cool Chain Logistics Europe Excellence Awards in Basel, Switzerland. And in 2012, it earned two awards at the World Mail Awards in the innovation and security category.
About SenseAware
SenseAware is a first-of-its-kind service that provides near real-time access to a package's vital statistics within the in-transit supply chain or stationary inventory and enables customers to share that information across global supply chain stakeholders. A multi-sensor device, deeply integrated with a powerful web-based application, makes it possible for customers in a broad range of industries to stay connected to their high-value, critical shipments.
SenseAware is a contract-only service that can be easily adopted without infrastructure or large managed-service commitments. The added flexibility of the SenseAware service enables it to be used for monitoring of inventory, single shipments, or large palletized shipments, as well as for conducting targeted experiments for supply chain development. Customers simply set up a shipment in the SenseAware application and place the activated device in the package before shipping. For customers wishing to utilize SenseAware without a longer-term contract, FedEx Custom Critical offers ShipmentWatch – a new monitoring solution offering the SenseAware service on an as-needed basis.
For more information, visit www.senseaware.com.