FedEx Expands Largest Operation Station in China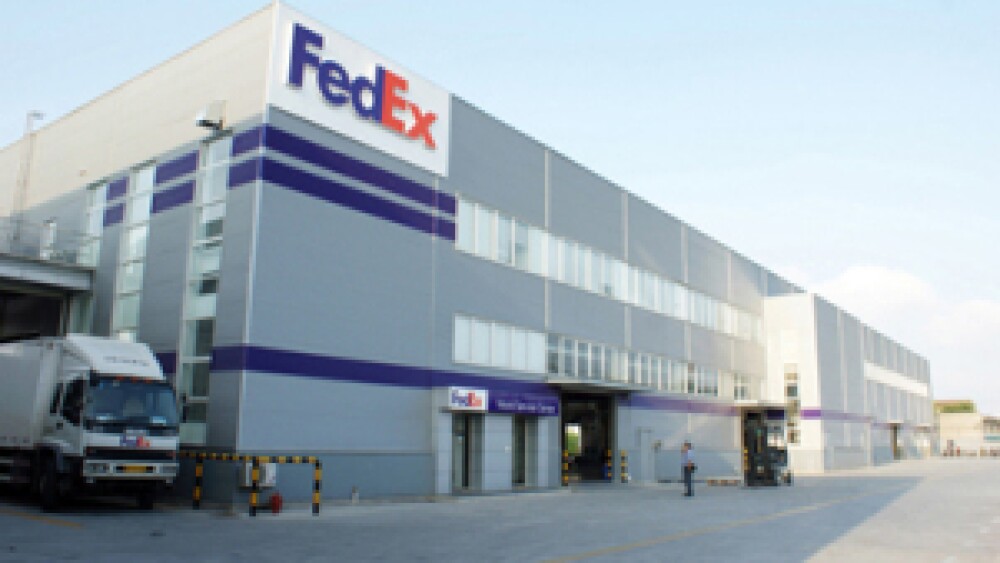 SHANGHAI, August 9, 2010 – Following the introduction of its first Boeing 777 Freighter (777F) service that directly connects Shanghai with the FedEx Super Hub in Memphis, Tennessee, USA, FedEx Express (FedEx), has stepped up its transportation network and facilities investment in the China market.

In order to meet growing customer needs, FedEx recently expanded its largest international express station in China . Located on Suining Road in Shanghai 's Changning District, the expanded station lies within the area of the newly-built Shanghai Hongqiao Transportation Hub and picks up and delivers international express shipments for customers in the Changning, Qingpu and Songjiang districts as well as some parts of the Minghang district.

The two-storied station houses the operation and warehousing areas on the first floor and is equipped with an advanced inbound and outbound shipment sorting system. The office area and dispatch center for all of Shanghai are located on the second floor.

The floor area of the station has increased to more than 4,200 square meters with the operation area growing by nearly 800 square meters. The sorting belt has been extended by approximately 30 meters. The station has nearly 180 employees. It is able to sort up to 2,800 shipments per hour. The facility affords FedEx the ability to expand in order to meet increasing demand for shipping services.

" Shanghai is the center of east China , which is an important part of the FedEx strategy in the Chinese market," said Audrey Cheong , managing director of Operations, International Service, FedEx China . "As the largest FedEx station in China , the expanded Suining Road station will support FedEx business growth in Shanghai and east China . Strengthening our operation facilities and network translates into improved fast and reliable services for our customers."

As the economic powerhouse of east China , Shanghai 's exports and imports during the first half of 2010 totaled US$315.58 billion, an increase of 39.5% from a year earlier. The exports amounted to US$192.05 billion, up 33.5% year-on-year, while the imports rose 49.8% to US$123.53 billion, bringing imports and exports back to their 2008 levels[1].

FedEx is benefiting from the growth in exports from and imports to Shanghai and has been continuously improving and strengthening its operation facilities and network to support the volume growth. The expansion of the FedEx Suining Road station provides additional operation space and capacity for the rapidly growing number of the inbound and outbound shipments.

In January 2010, FedEx introduced its first 777F in Shanghai , directly connecting the city with the FedEx World Hub in Memphis . This direct connection provides customers in Shanghai , Suzhou and Kunshan with a two-hour improvement in cut-off times[2] in select areas. Since its launch, the new 777F service has brought about more U.S. outbound shipments.

The original FedEx Suining Road station was established in 2005. In Shanghai , FedEx currently has one international express gateway at the Pudong International Airport , four international express operation stations, one domestic service distribution center and two domestic service operation stations.

About FedEx Corp.

FedEx Corp. (NYSE: FDX) provides customers and businesses worldwide with a broad portfolio of transportation, e-commerce and business services. With annual revenues of $35 billion, the company offers integrated business applications through operating companies competing collectively and managed collaboratively, under the respected FedEx brand. Consistently ranked among the world's most admired and trusted employers, FedEx inspires its more than 280,000 team members to remain "absolutely, positively" focused on safety, the highest ethical and professional standards and the needs of their customers and communities. For more information, visit news.fedex.com

About FedEx Express

FedEx Express is one of the world's largest express transportation companies, providing fast and reliable delivery to every U.S. address and to more than 220 countries and territories. FedEx Express uses a global air-and-ground network to speed delivery of time-sensitive shipments, by a definite time and date with a money-back guarantee[3].
---
[1]pan> Statistics from Shanghai Customs
[2]span> Selected stations in Shanghai , Suzhou and Kunshan and shipment declared value of RMB5,000 or less.
[3]span> Subject to relevant terms and conditions