FedEx Empowers Japan's Young Entrepreneurs at the 2022 FedEx Express/ JA International Trade Challenge
Six winners from Japan will advance to the Asia Pacific regional finals with a chance to collaborate and compete with students from other nations in August 2022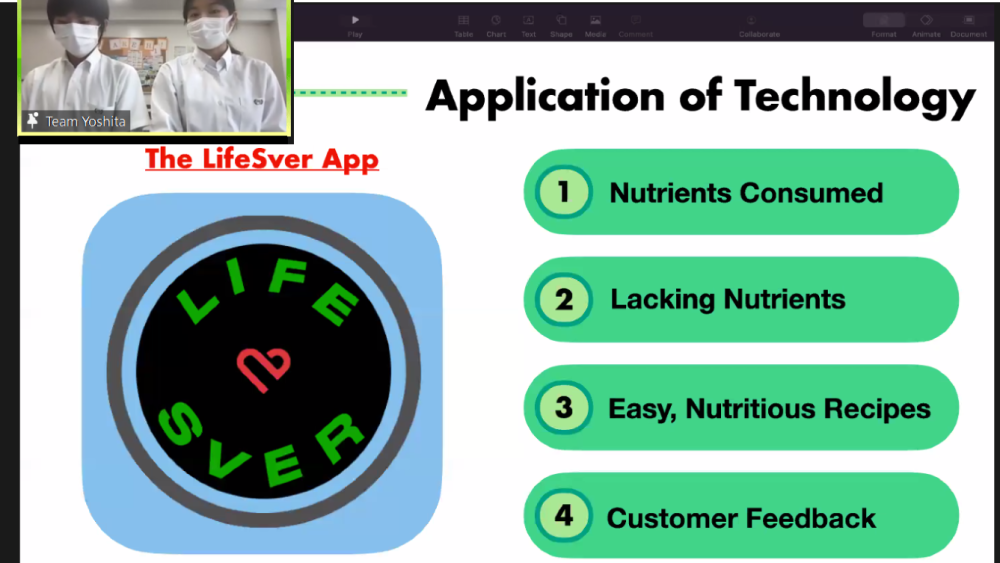 TOKYO JAPAN, July 19, 2022 – FedEx Express (FedEx), a subsidiary of FedEx Corp. (NYSE: FDX) and one of the world's largest express transportation companies, and Junior Achievement (JA) Japan, hosted the Japan finals of the 2022 FedEx Express/Junior Achievement International Trade Challenge (FedEx/JA ITC) on Monday, July 18. Six students from three winning teams were the selected to represent Japan at the FedEx/JA ITC Asia Pacific regional finals, to be held online in August 2022.
Winning Team: Tatsuru Taguchi, Keiko Yoshida (Hiroo Gakuen Senior High School)
Focusing on the high number of diabetics and people with anaemic symptoms due to their dietary habits, the team proposed "LifeSver" (Sver means sphere in Khmer), an iron ball that can be repeatedly used in a pan during home cooking to replenish iron.
Runner up: Rina Konishi (Hiroo Gakuen Senior High School), Kanak Arjunwadkar (Seisen International School)
The team proposed a line of sanitary pads called "Kami," which aim to improve menstrual hygiene for women in Cambodia. The product uses banana fibers and Japanese paper as an alternative to plastic, making it environmentally friendly. It is also expected to contribute to the economy and people of banana-producing areas.
Second runner up: Marika Kikuchi, Ayaha Nakahara (Hiroo Gakuen Koishikawa Senior High School)
The team proposed sanitary wipes to keep the body clean, focusing on women's low awareness of hygiene and the risks associated with infections and other diseases. It uses biodegradable materials and is expected to have a skin-friendly anti-bacterial effect by using chameleon plant ingredients.
This year's FedEx/JA ITC Japan marks the third time that the event has been conducted online, due to COVID-19. The online program gathered more students, especially from areas outside of Tokyo – where the program was normally held in pre-pandemic times. This year, 138 students in teams of two submitted their innovative business ideas to create a market entry strategy for a health product for Cambodia. Out of these, eight teams were selected to participate in the Japan finals and present their ideas to judges from FedEx Express and the education and other industry sectors.
The three winning teams will move on to the Asia Pacific regional finals. Each will then be paired at random with students from nine other countries/territories, including Hong Kong SAR, India, Indonesia, Malaysia, the Philippines, Singapore, South Korea, Thailand and Vietnam. The random pairing of teams is designed to encourage collaboration, innovation, and deliver a richer learning experience through cross-cultural sharing among students of different international backgrounds. FedEx Express employees support students by offering advice and mentorship through online communication throughout the planning and development of their business plan and presentation.
"We are very pleased to announce another successful year for the FedEx Express/Junior Achievement International Trade Challenge in Japan," said Ken McMahon, managing director, Customer Solutions & Special Services, FedEx Express one of the judges for the Japan finals. "Japan has a rich history of innovation, and the level of creativity, passion, and dedication shown by the students this year is truly inspiring. We hope that the program encourages more entrepreneurs in Japan to pursue ideas that will lead them to greater success on the global stage."
Students from the winning teams said, "We did not expect to win a prize, but we did our best. We are thankful for this learning opportunity, especially for the chance to learn about marketing, and are looking forward the regional finals."
Since 2008, FedEx Express has sponsored the FedEx/JA ITC in Japan to educate and inspire young people to better understand entrepreneurship and think globally. This program was designed to foster business knowledge through practical teamwork exercises and classroom learning. The program includes three key activities – the local International Trade workshops, the local International Trade Challenge finals, and the regional International Trade Challenge finals. To date, more than 1,000 students in Japan have benefitted from the program and 84 students have represented the country at the Asia Pacific regional finals.
FedEx is committed to giving back to the local community. FedEx Cares 50 by 50 is our journey to positively impact 50 million people around the world by our 50th anniversary in 2023. More details of FedEx Cares 50 by 50 can be found here. (English only)