FedEx Employees Turn Denim to Donations with Jeans for Dreams and Raises $8,744 for Children's Cancer Foundation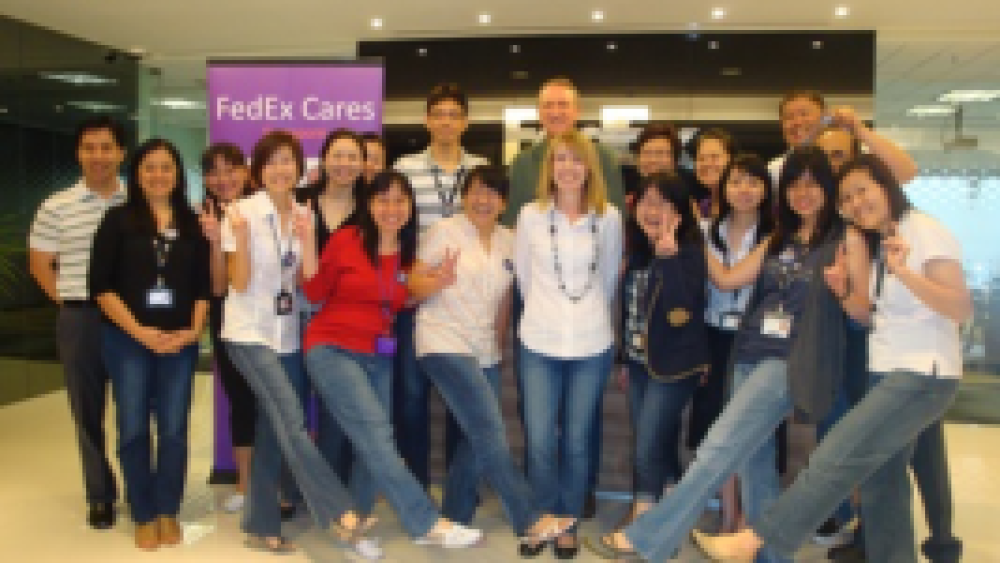 Singapore, Oct. 27, 2011— FedEx Express (FedEx) employees in Singapore took part in Jeans for Dreams, where they raised a total of S$8,744. As part of the program, employees contributed in return for the chance to dress casual every Friday in September.

All donations went to official beneficiary, Children's Cancer Foundation (CCF). FedEx provided the proceeds to CCF in a cheque presentation ceremony on October 17.

The Jeans for Dreams project, an extension of FedEx Cares Week, is aimed at supporting families with children suffering from cancer. FedEx produced badges that highlighted Jeans for Dreams to help spread the word amongst FedEx employees in Singapore. Over 300 FedEx employees in Singapore took part in this project.

"Turning denim into donations shows the creativity of FedEx staff who incorporated elements of fun into their charity drive. On behalf of children with cancer, CCF would like to express our gratitude to FedEx employees for rallying together to make a difference in the lives of children with cancer and their families, " said Chee Wai Yee, Executive Director of CCF.

"FedEx is committed to changing the world for the better, and caring about the local communities where its employees live and work. The Jeans for Dreams project is a direct expression of that commitment, while raising awareness for those in need," said Clifton Chua, managing director, FedEx Express Singapore.

As part of FedEx Cares Week in Singapore, FedEx volunteers and their family members carried out a coastal clean up, removing trash and debris at the beach area in Pasir Ris Park. In addition, local employees were trained as nature guides by Singapore Nature Society experts in preparation to lead upper primary school students on nature appreciation tours at the Pulau Ubin Sensory Trail next year.

For more information about FedEx Cares Week and FedEx commitment to volunteerism and the communities it serves, please visit fedexcares.com.

A heartwarming offer

Jeans for Dreams saw an outpouring of generosity from FedEx employees and a FedEx employee's son was so moved by the initiative that he offered to donate $50 from his savings.

"My five-year-old son, Zephan, found a 50-cent coin during a FedEx Cares Week beach clean-up, and I suggested to him to donate the coin in support of the FedEx Singapore "Jeans for Dreams" project," said Loo Sook Yong, a FedEx Singapore associate account executive.

"I shared with him how mummy donated $25 to help support the needs of families with children suffering from cancer. He then asked if he could donate $50 from his savings to support the cause. I am so proud of Zephan! And I am proud of my company, FedEx, for its commitment to helping the socially needy and providing volunteering opportunities for the FedEx team and our families," she added.

About FedEx Express

FedEx Express is the world's largest express transportation company, providing fast and reliable delivery to every U.S. address and to more than 220 countries and territories. FedEx Express uses a global air-and-ground network to speed delivery of time-sensitive shipments, by a definite time and date with a money-back guarantee[1].

About FedEx

FedEx Corp. (NYSE: FDX) provides customers and businesses worldwide with a broad portfolio of transportation, e-commerce and business services. With annual revenues of $40 billion, the company offers integrated business applications through operating companies competing collectively and managed collaboratively, under the respected FedEx brand. Consistently ranked among the world's most admired and trusted employers, FedEx inspires its more than 290,000 team members to remain "absolutely, positively" focused on safety, the highest ethical and professional standards and the needs of their customers and communities. For more information, visit news.fedex.com.
---

[1] Subject to relevant terms and conditions