FedEx Employees Help Create a Better World through Clean-up in Japan to Celebrate the Company's 50th Anniversary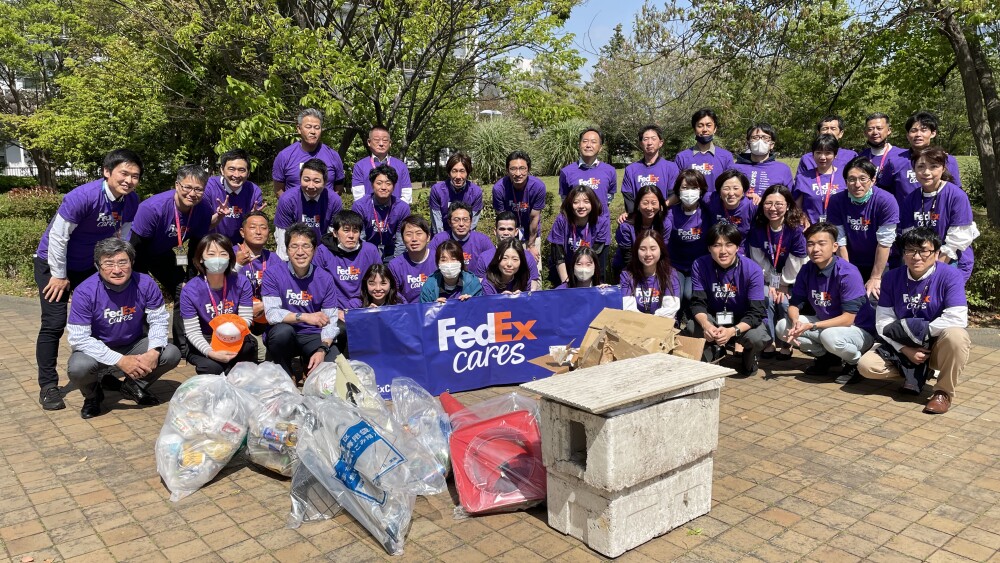 TOKYO, Japan, April 13, 2023 – FedEx Express (FedEx), a subsidiary of FedEx Corp. (NYSE: FDX) and one of the world's largest express transportation companies, conducted a park clean-up in Tokyo to celebrate the company's 50th anniversary globally by doing good for the community. 48 employee volunteers teamed up and collected about 90 kilograms of trash around Tokyo Metro Minamisunamachi station and Shinsuna Ayumi park, near the FedEx Shinsuna Station in Tokyo.
"We are proud to celebrate the 50th birthday of FedEx globally through an employee-led initiative in Tokyo," said Kei Alan Kubota, Managing Director, FedEx Express Japan. "We are committed to creating a better world and there is no better way to do this then by supporting local clean-up efforts. We are grateful for being welcomed as a member of the community for many years and this is part of giving back to those in our communities. We remain committed to connecting customers in Japan with opportunities around the world in responsible and resourceful ways, and to being a good corporate citizen."
The clean-up activity is part of the company's 50 Days of Caring initiative, a 50-day countdown to its 50th anniversary on April 17, 2023 where FedEx team members will be giving back to their communities through service programs around the world, along with its global community engagement initiative FedEx Cares.
In February 2023, FedEx met its 50 by 50 goal of positively impacting 50 million people around the world by its 50th birthday. FedEx worked with more than 900 nonprofit organizations around the world to have a direct and positive impact in the communities that it serves.