FedEx Employees 'Give a little love' with OzHarvest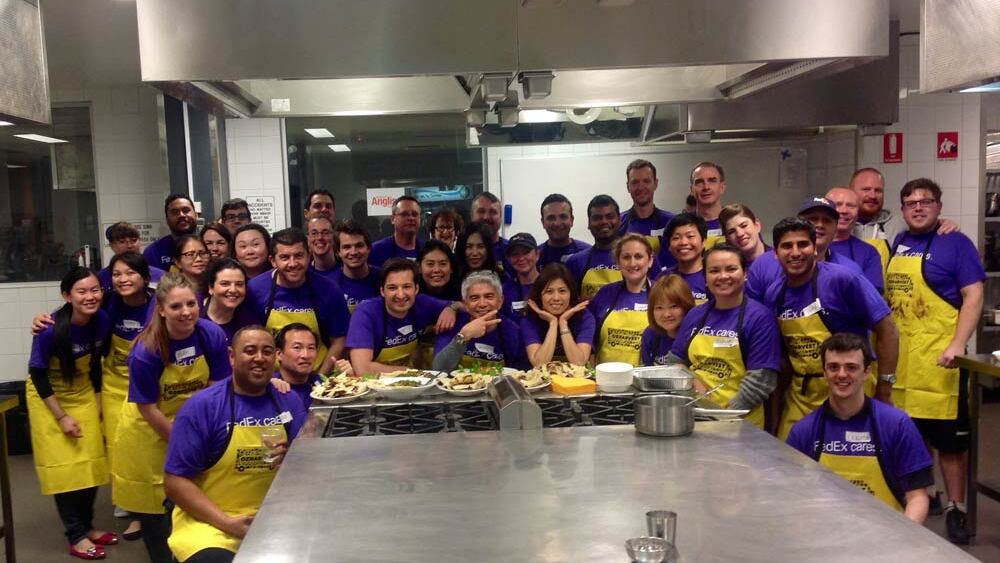 SYDNEY/MELBOURNE/BRISBANE, Sept 26, 2014— Australians waste 4 million tonnes of edible food each year, with the average household discarding the equivalent of the contents of three average-sized refrigerators annually.
To raise awareness, reduce food waste and help support the disadvantaged, FedEx Express (FedEx), (NYSE:FDX), once again joined hands with OzHarvest, Australia's first perishable food rescue organisation, to help prepare and deliver food to those in need.
On September 25, more than 70 employees in Sydney, Melbourne and Brisbane participated in "Cooking for A Cause", an initiative of OzHarvest that enables volunteers to 'give a little love' through different forms of donation. FedEx volunteers opted to donate time and culinary talents, preparing and cooking dishes for distribution to the disadvantaged.
FedEx volunteers in Sydney took part in Mexican and Chocolate Master Classes led by an expert food advisor, the Melbourne team learned about various cooking stations from professional chefs, while the Brisbane team took the role of "Serving for a Cause", distributing meals prepared by OzHarvest.
OzHarvest not only delivers meals to those in need, but turns excess food into a resource, minimising food that is wasted and dumped as landfill each year across the world.
Supporting the "Cooking for a Cause" program is part of the seventh FedEx Cares Week, a worldwide initiative where FedEx employees in 12 Asia Pacific markets join their colleagues around the world to participate in community projects between September 20 and September 28.
"Together FedEx Express and OzHarvest responsibly and resourcefully used excess food to provide meals to the disadvantaged," said Kim Garner, managing director, FedEx Express, Australasia. "We are proud of our efforts to make a positive change to the environmental and social needs of the local communities. All of our dedicated employees take pride in seeing their contribution go a long way to helping the lives of others."
Each week OzHarvest collects more than 42 tonnes of good food that would otherwise end up in a landfill. In 2013, OzHarvest was awarded the United Nations Environment Day Award for Community and selected as an official partner of the United Nations Environment Program's "Think.Eat.Save-Reduce your Foodprint" campaign.
"OzHarvest is a philanthropically-funded charitable organisation and relies on generous corporations to give a little love and generosity so that we can deliver more goodness and continue to Nourish our Country, and that love includes time, money or food," said Lisa Stapleton, volunteer and corporate engagement manager, OzHarvest. "For the fourth year, FedEx volunteers have provided generous support to OzHarvest by giving their time to cook up meals for those who are in need. Meals were distributed to charitable organisations including homeless shelters, soup kitchens, children's hospices and more."
Across the region, FedEx Cares Week activities will have a strong community and sustainability focus. Around 1,000 FedEx volunteers in Asia-Pacific are expected to take part in 36 community activities. This is part of a global FedEx initiative involving employees all around the world. This year's projects include preparing and distributing meals for the needy, providing care for disadvantaged children and the elderly, and promoting environmentally responsible behavior.
For more information about FedEx Cares Week and FedEx commitment to volunteer activities and the communities it serves, please visit fedexcares.com.