FedEx Drawing Competition Promotes Child Traffic Safety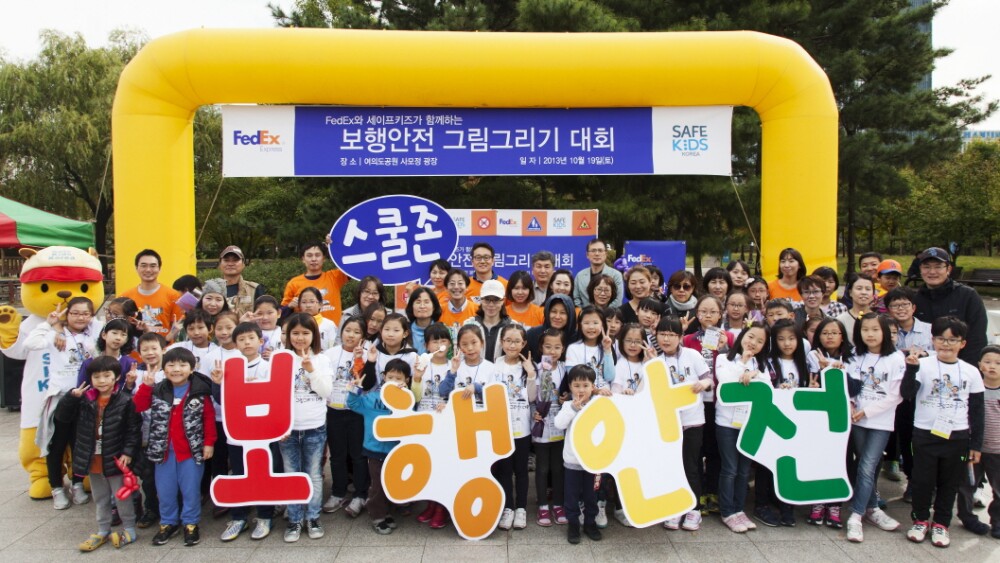 SEOUL, October 21, 2013— FedEx Express, a subsidiary of FedEx Corp. (NYSE: FDX) and the world's largest express transportation company, held a drawing competition for children on October 19 at Yeouido Park in Seoul to promote child pedestrian safety. More than 40 third graders from elementary schools in Seoul participated.
Organized by FedEx Express, Korea and Safe Kids Korea, the competition was held as part of the 'Walk This Way' program that aims to save lives by promoting road safety awareness among children and school communities.
The young artists had all been selected from 1800 elementary schools in Seoul, Incheon, and Gyounggi-do via an on-line pre-recruitment process and were invited to express the importance of child pedestrian safety in their own pictures.
A drawing by Hyung-Joo Kim, a 10-year-old 3rd grade pupil from Gae Bong elementary school, was selected as the winning entry. The competition was judged by a panel made up of FedEx employees, education professionals and representatives from Safe Kids Korea.
"FedEx is proud to be part of this drawing contest which we hope will encourage children to think again about the importance of safe walking habits," said Eun-Mi Chae, managing director of FedEx Express, Korea. "This campaign serves as an opportunity to raise awareness about the importance of child traffic safety and FedEx will continue to promote the importance of safety, which is an important value for us as an express transportation company."
About Safe Kids Worldwide
Safe Kids Worldwide is a global network of organizations whose mission is to prevent childhood injuries inflicted by traffic accidents, the leading cause of death for children aged 14 and under. More than 600 coalitions in 23 countries bring together health and safety experts, educators, corporations, foundations, governments and volunteers to educate and protect families. Safe Kids Worldwide was founded in 1987 as the National SAFEKIDS Campaign by Children's National Medical Center with support from Johnson & Johnson. Safe Kids Worldwide is a non-profit organization and located in Washington, D.C.