FedEx Donates Electronic Devices to Support Online Learning of Thai Youth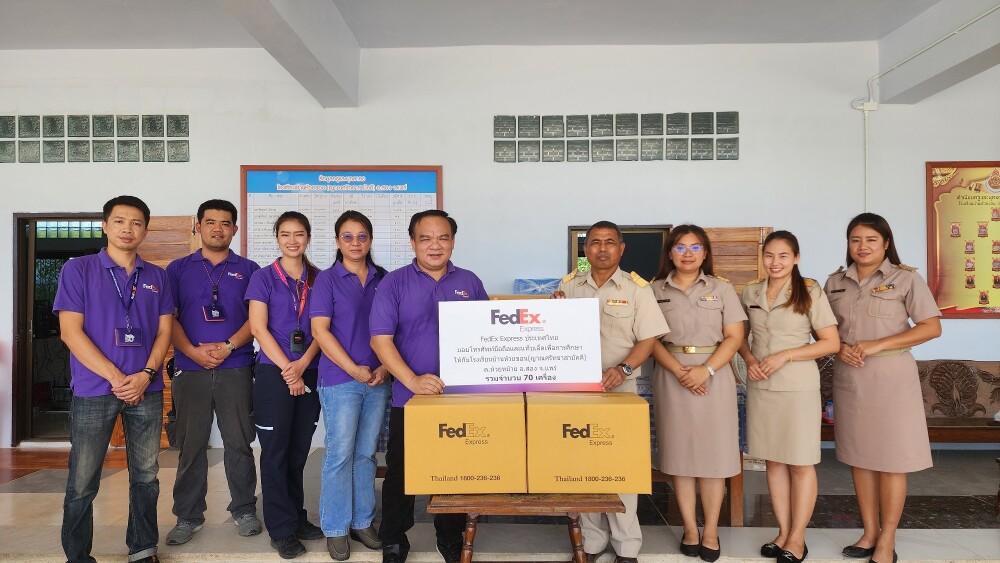 Bangkok, THAILAND, June 20, 2023 – FedEx Express (FedEx), a subsidiary of FedEx Corp. (NYSE: FDX) and one of the world's largest express transportation companies, recently donated FedEx pre-owned electronic devices and supplies to Huaukhon School in Phrae Province, which was devastated by a fire outbreak in February 2023.
FedEx donated 50 smartphones and 20 tablets, to support students in their online learning program. In addition, FedEx team members also conducted a charity drive and donated personal items such as snacks, shoes, sports equipment and books to the school. There are currently 150 students attending Huaukhon School. The fire resulted in damage to classrooms and facilities as well as equipment.
"At FedEx, our purpose is to connect people and possibilities. This work is not only about meeting the needs of business and customers, but as much about bringing hope and opportunity to local communities. That's why delivering for good in the area of youth education is one of our priorities in Thailand," said Tien-Long Woon, Managing Director, FedEx Express Thailand and Malaysia. "We believe having access to online learning for the students through digital tools and connectivity will help secure the future of Thai youth in remote areas by offering them more possibilities. "At the same time, giving a second life to these electronic devices is a prime example of how we serve the communities in which we operate in responsible and resourceful ways."
Delivering for Good has always been part of the FedEx culture. For the past 50 years, FedEx has transformed the world by connecting people and possibilities. The company has exceeded its FedEx Cares 50 by 50 goal of helping 50 million people by the company's 50th birthday on April 17, 2023. Learn more about the FedEx Cares initiative here.