FedEx Delivers Smiles to Disabled Children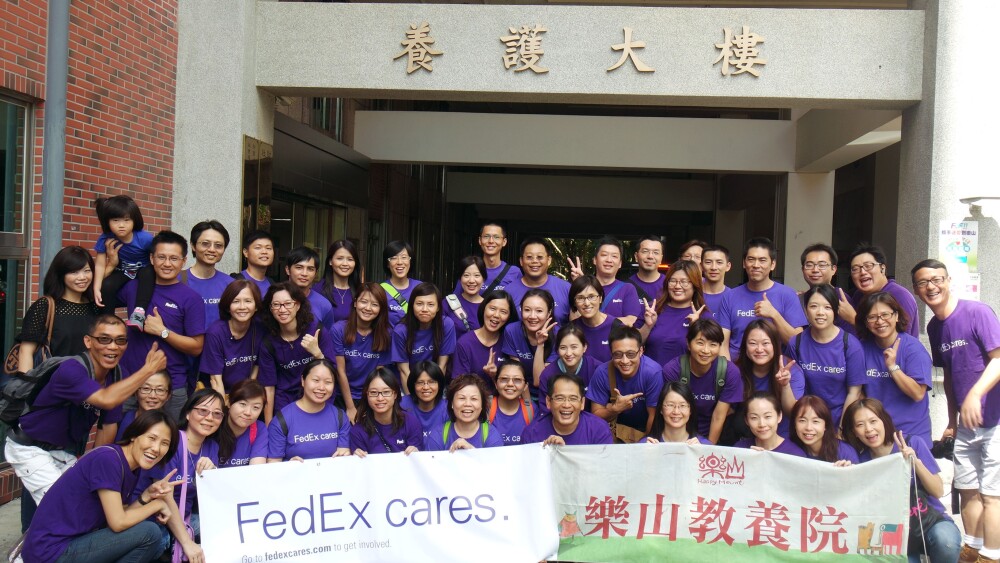 TAIPEI, September 22, 2014 — According to the Ministry of the Interior (MOI), Taiwan has more than 1.2 million people with disabilities, which accounts for nearly five percent of the total population. In the past ten years, the number of disabled children under 18 has increased by almost a third to over 62,000.[1]
To raise awareness about the need for accessibility for the physically- and mentally-challenged, FedEx Express (FedEx) joined hands with the Fubon Charity Foundation to organize a fun day for children at Happy Mount, a home for the disabled. On September 20, 50 FedEx volunteers lit up the ward with laughter and warmth by holding a live song and dance show with Momo Kids TV as well as singing, dancing and having lunch with 50 children. The event was part of the seventh FedEx Cares Week, a worldwide initiative where FedEx team members in 12 Asia Pacific markets[2] give back to their communities between September 20 and 28.
"At FedEx, we aspire to create access that connects the world, both economically and socially," said Michael Chu, managing director, FedEx Express, Taiwan. "While accessibility is something that many of us may take for granted, a few stairs or a threshold can be a large barrier that prevents the physically- and mentally-challenged from access to places and puts constraints on their social life. With the support from our FedEx volunteers, we hope to promote a more access-friendly community."
Across the region, FedEx Cares Week activities will have a strong community and sustainability focus. About 1,000 FedEx volunteers in Asia-Pacific are expected to take part in 36 community activities. This is part of a global FedEx initiative involving team members all around the world.
For more information about FedEx Cares Week and FedEx commitment to volunteerism and the Asia Pacific communities it serves, please visit facebook.com/FedExAPAC or newsroom.fedex.com/newsroom/asia-english/.
---
Ministry of the Interior, Taiwan, 2012

[2] Australia, China, Hong Kong, Japan, Korea, Malaysia, New Zealand, the Philippines, Singapore, Taiwan, Thailand and Vietnam