'FedEx Delivers Heartbeats' Brings Free Cardiac Care to Children with Congenital Heart Disease in Rural Vietnam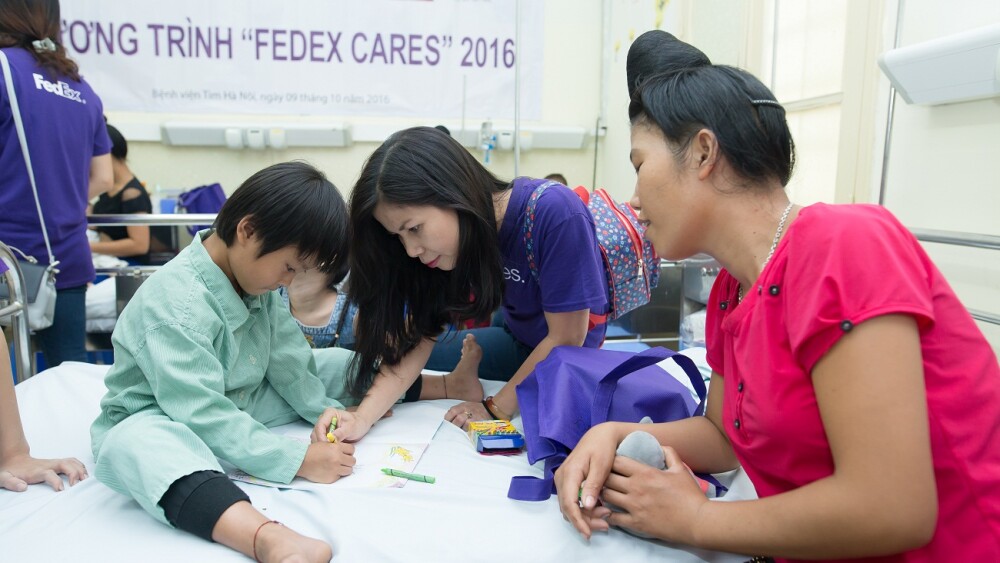 HANOI, November 01, 2016 — FedEx Express, the world's largest express transportation company and a subsidiary of FedEx Corp. (NYSE: FDX), in collaboration with VinaCapital Foundation, recently brought the 'FedEx Delivers Heartbeats' mobile outreach clinics to Hanoi Heart Hospital and Ben Tre province to provide free healthcare for children with congenital heart diseases.
Leading cardiologists and surgeons from Ho Chi Minh City, Hanoi and Da Nang joined the program to diagnose and provide treatment for the child patients. FedEx team members also volunteered manpower assistance during the clinic visits, which included patient registration and post-operative help for the patients and their families.
"Vietnam records 8,000 to 10,000 live births with congenital heart disease annually, but only 5,000 children are able to receive proper care[1]. This motivates us to continue collaborating with VinaCapital Foundation's Heartbeat Vietnam team to bring the clinics to more underserved areas across the country. This is part of our long-term commitment to help address the social needs of the communities where our FedEx team members live and work," said Dao Toan Thang, senior manager of Indochina and country manager of FedEx Vietnam.
This year's FedEx Delivers Heartbeats program aims to provide free cardiac care to 27,526 children in Vietnam, including diagnostic testing, treatment, and placement on the national cardiac surgery waiting list if needed. Children who receive surgeries through Heartbeat Vietnam can also access the free clinics for their post-operative care to avoid costly trips to hospitals in Ho Chi Minh, Da Nang or Hanoi. Since 2011, the program has sent 1,036 medical staff to 43 provinces across Vietnam through 236 mobile clinic visits that provided cardiac care to 60,767 children.
This year's program was part of the ninth annual FedEx Cares campaign, a worldwide initiative where more than 15,000 FedEx team members from around the world dedicate their time and skills to community outreach.
About the VinaCapital Foundation
VinaCapital Foundation (VCF) was established in 2007 as a US-registered 501 (c)(3) not-for-profit, tax-deductible organization, and licensed as an international NGO in Vietnam. The Foundation's strength is its ability to create and implement cutting edge development and humanitarian projects in Vietnam in an effective and transparent manner. The Foundation draws on VinaCapital Group expertise and resources while remaining free and independent to create and implement its own development projects that address children's social, economic, and environmental issues.
VCF's vision is a Vietnam where all children, regardless of health complications or a lack of access to education, can take advantage of the numerous opportunities available so that they may contribute to society and accomplish their dreams. VCF is committed to helping those who cannot help themselves so that they may stand on their own feet and take advantage of all the opportunities provided by Vietnam's bright future. For more information, please visit www.vinacapitalfoundation.org
About FedEx Express
FedEx Express is the world's largest express transportation company, providing fast and reliable delivery to more than 220 countries and territories. FedEx Express uses a global air-and-ground network to speed delivery of time-sensitive shipments, by a definite time and date with a money-back guarantee[2].
About FedEx Corp.
FedEx Corp. (NYSE: FDX) provides customers and businesses worldwide with a broad portfolio of transportation, e-commerce and business services. With annual revenues of $58 billion, the company offers integrated business applications through operating companies competing collectively and managed collaboratively, under the respected FedEx brand. Consistently ranked among the world's most admired and trusted employers, FedEx inspires its more than 400,000 team members to remain "absolutely, positively" focused on safety, the highest ethical and professional standards and the needs of their customers and communities. To learn more about how FedEx connects people and possibilities around the world, please visit about.fedex.com.
[1] Minister of Public Health (2016)
[2] Subject to relevant terms and conditions