FedEx Delivers Care to the Underprivileged Community Through Volunteer and Transportation Support
Collaboration with 'Children Are Us' Foundation to Promote Social Inclusion in Taiwan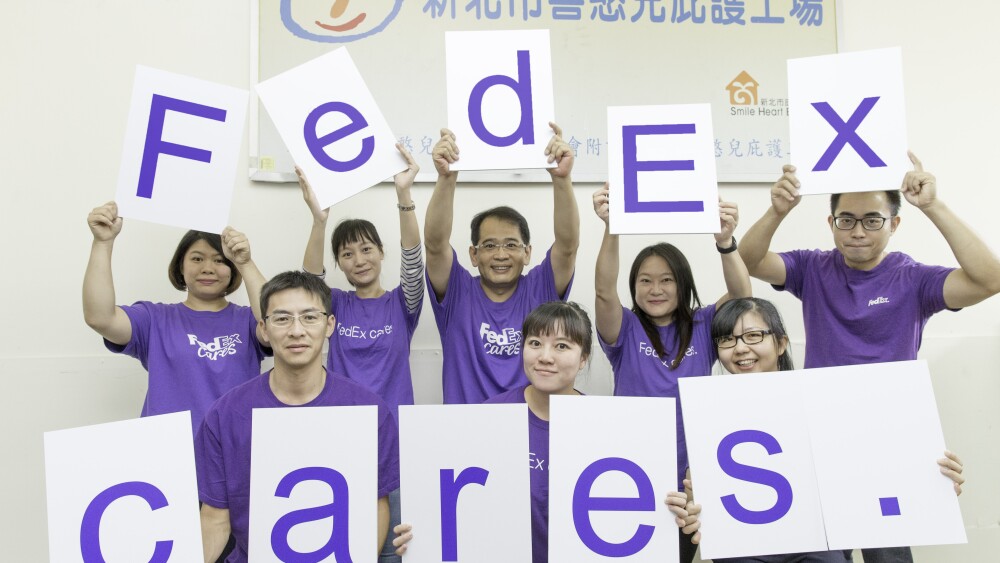 TAIPEI, November 1, 2017 — In celebration of the annual FedEx Cares worldwide campaign, FedEx Express (FedEx), a subsidiary of FedEx Corp. (NYSE: FDX) and one of the world's largest express transportation companies, joined hands with the 'Children Are Us' Foundation to organize a series of workshops last month. During the workshops, 30 FedEx volunteers and mentally-challenged children worked hand in hand to pack baked goods. The effort aims to promote social diversity and inclusion in Taiwan with proceeds from the sale of cookies reinvested into providing training and job opportunities for the mentally-challenged through the 'Children Are Us' Foundation.
In addition, the program reached out to the underprivileged community with FedEx logistics support. FedEx contributed its vehicle and courier resources to deliver baked goods to students at the Shang Lin Elementary School in the remote Shuangxi district of New Taipei City.
"At FedEx, we share the purpose of connecting people and local communities with possibilities," said Michael Chu, managing director, FedEx Express, Taiwan. "Through our collaboration with the 'Children Are Us' Foundation, we are able to promote access to opportunities for the less fortunate. I want to thank our FedEx volunteers for their dedication and enthusiasm; their efforts made a positive impact on our society."
The initiative is part of the FedEx Cares worldwide campaign. Through this global giving platform, FedEx has committed to investing US$200 million in more than 200 communities by 2020 to create opportunities and deliver positive change around the world.
About the 'Children Are Us' Foundation
The 'Children Are Us' Foundation' was founded by a group of parents whose children have intellectual and developmental disabilities. These children's lifelong wellbeing and education is the core mission of the foundation. On June 29, 1995, the founders raised NT$5,000,000 for the 'Children Are Us' of Cultural and Educational Foundation. In May 2001, the foundation was recognized by the Ministry of the Interior and registered as the 'Children Are Us' Foundation for Social Welfare. Service agents are established in Taipei, New Taipei, Hsinchu, Tainan and Kaohsiung.