FedEx Customers Get Near-Real-Time Tracking and Increased Visibility for Their Shipments with SenseAwareTM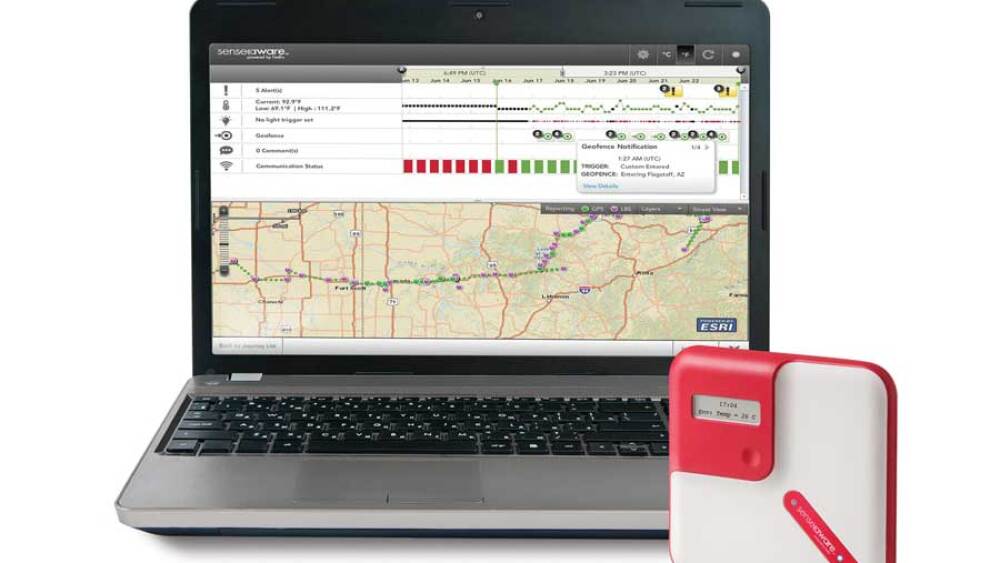 SINGAPORE—FedEx Express (FedEx), a subsidiary of FedEx Corp. (NYSE: FDX) today announced the launch of its SenseAwareSM service in two countries in Asia Pacific. FedEx customers in Australia and Singapore can now better control their supply chain and stay connected to their most critical and time-sensitive shipments in near real-time following the launch of SenseAware 2000, the next-generation information service powered by FedEx.
Developed by the FedEx Innovation team, the award-winning SenseAware is a comprehensive tracking service that provides near-real-time data about customer shipments and the ability to share that information collaboratively with business partners. A multi-sensor device, deeply integrated with a powerful web-based application, enables customers to access vital statistics of a shipment while still in transit, including precise temperature readings, exact location, and be alerted when the shipment has been opened or exposed to light.
"At FedEx, we are focused on delivering significant value to our customers through services and technology that makes international shipping efficient and convenient", said David Cunningham Jr., president, FedEx Express Asia Pacific.
"FedEx is continuously innovating and building its portfolio of specialty services to enhance the customer experience. With the SenseAware expansion into Asia Pacific, customers with the most specific and sensitive requirements can now have more actionable intelligence at their fingertips. This is truly evolutionary for our customers in terms of the way they view and monitor their critically sensitive shipments," said Mr. Cunningham.
Shipments from industries such as healthcare, life sciences, aerospace, the arts and financial institutions are often highly valuable, regulated and/or extremely time sensitive. These industries can benefit from the added level of visibility and monitoring provided by SenseAware.
Initially available in the U.S. only, the SenseAware service can now help customers monitor shipments and inventory in Australia, Singapore, Canada and the U.K., and will be further expanded to other markets in 2013.
The SenseAware service is also available on a growing list of air and ground transportation carriers, delivering more transportation options to customers in order to better fit their specific needs and still benefit from the peace of mind and quality assurance provided by SenseAware. Beyond the FedEx network, the service is now available on the following carriers:
· Delta Air Lines (including Delta Connection Carriers)
· Southwest Airlines
· United Airlines mainline jets
· Third-party ground carriers (when used consistently with their rules and regulations)
· Private fleets
About SenseAware
SenseAware is a first-of-its-kind service that provides near-real-time access to a package's vital statistics within the in-transit supply chain or stationary inventory monitoring. The SenseAware service has the ability to share that information continually across global supply chain stakeholders. A multi-sensor device, deeply integrated with a powerful web-based application, enables customers in a broad range of industries to stay connected to their high-value, critical shipments. The SenseAware service can provide:
· Near-real-time visibility of environmental conditions and location.
· Environmental Data Specification: When setting up a journey or creating a template, customers can now choose which environmental data, such as temperature, humidity or barometric pressure, is collected. This ensures that the device only collects data for specific environments requested, thus streamlining the amount of information the customer receives.
· A powerful vantage point for managing all of your critical shipments and devices.
· Permission-based access to share predetermined data with business partners and other interested parties.
· Customizable triggers and alerts that can be preset before travel and changed while in transit.
· Route Geo-fences: Customers can now create a geo-fence along the actual route a shipment should follow and set up alerts to notify the customer if the shipment deviates from this pre-established route. This feature is available on ground shipments.
· Nonevent Geo-fence Triggers: Triggers can be set up to alert or notify customers when geo-fence events do not occur as expected by a specified time. This helps customers determine if a package has gotten off pace or off track.
SenseAware is a contract-only service but can be easily adopted without infrastructure or large managed-service commitments. The added flexibility of the SenseAware device enables it to be used for monitoring of inventory, single shipments, or large palletized shipments. Customers simply set up a shipment in the SenseAware application and place the activated device in the package before shipping. SenseAware can also be used to conduct targeted experiments for supply chain development. For more information on SenseAware as well as applicable service restrictions, visit www.senseaware.com.
First introduced in the United States in 2009, SenseAware was originally designed to meet the needs of the life science, biotechnology, pharmaceuticals and healthcare industries. Commonly monitored items include unique or rare samples from clinical trials; temperature sensitive pharmaceuticals; light sensitive biological specimens; and highly valuable items such as medical equipment. It won two awards at the 2012 World Mail Awards in the innovation and security category.
About FedEx Express
FedEx Express is the world's largest express transportation company, providing fast and reliable delivery to every U.S. address and more than 220 countries and territories. FedEx Express uses a global air-and-ground network to speed delivery of time-sensitive shipments, usually in one to two business days, backed by a money-back guarantee[1].
About FedEx Corp.
FedEx Corp. (NYSE: FDX) provides customers and businesses worldwide with a broad portfolio of transportation, e-commerce and business services. With annual revenues of $43 billion, the company offers integrated business applications through operating companies competing collectively and managed collaboratively, under the respected FedEx brand. Consistently ranked among the world's most admired and trusted employers, FedEx inspires its more than 300,000 team members to remain "absolutely, positively" focused on safety, the highest ethical and professional standards and the needs of their customers and communities. For more information, visit news.fedex.com
---
[1] Subject to relevant terms and conditions