FedEx Creates More Possibilities and Connectivity for Johor Businesses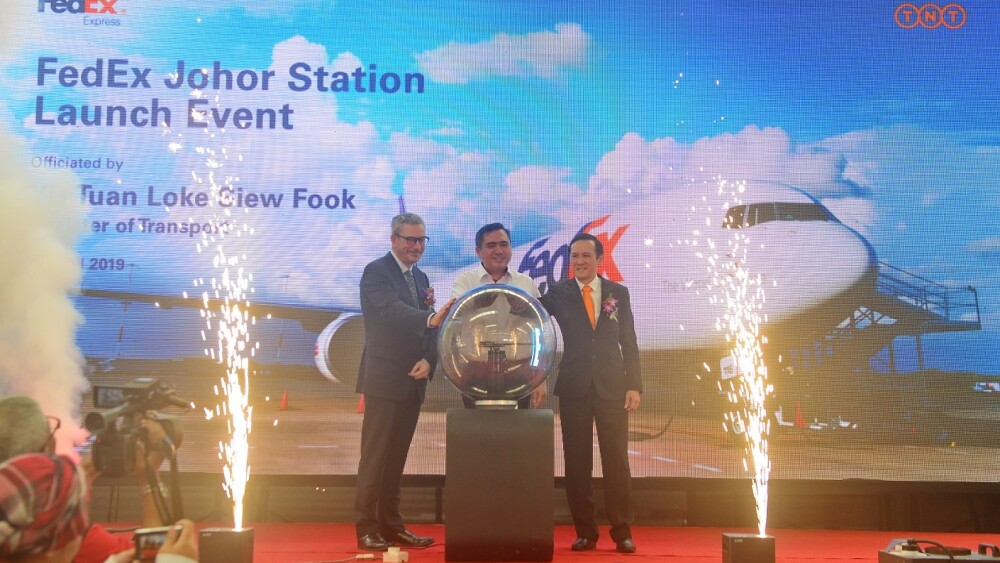 JOHOR, Malaysia, April 18, 2019 — FedEx Express (FedEx), a subsidiary of FedEx Corp. (NYSE: FDX) and the world's largest express transportation company, today officially launched its new Johor Station, a one-stop logistics facility aimed to enhance connectivity of southern Malaysia region to the world.
The warehouse, measuring 2,676 square meters (28,808 square feet), is an integrated warehouse and sorting facility that is more than twice the size of the previous station. Equipped with advanced telescopic conveyor belts and sorting systems, the facility is capable of handling up to 1,100 packages per hour.
The Johor Station will be supported by 51 vehicles (including vans and 40-footer trucks) travelling through over 43 routes in Johor Bahru, Batu Pahat and Kluang. The facility will also be manned by 90 team members focused on facilitating international priority and economy shipments, high-value freight and dangerous goods including electronics and manufactured components for various industries such as automotive and marine.
In line with FedEx commitment to provide global connections while minimizing environmental impact, solar panels that generate up to 2,100 kWh and saving 15 to 18% in energy consumption per month have been installed in the facility to help reduce the station's dependency on traditional power sources. The facility is also equipped with a rainwater harvesting system for vehicle washing, further optimizing water utilization.
The FedEx Johor station is located in Iskandar Malaysia, one of the key economic growth corridors of the country. The state of Johor alone has attracted RM93 billion in investments in the manufacturing sector, the highest generated in the country from 2013 to 2016, while the corridor is expected to attract investments up to RM383 billion upon reaching maturity in 2025.[1]
The launch ceremony was officiated by Yang Berhormat Tuan Loke Siew Fook, Malaysia transport minister, and Mark Shorney, vice president, Operations, South East Asia, FedEx Express.
"The Johor Station reflects another example of our long-term investment and commitment to Malaysia, and enables us to further propel businesses particularly SMEs (small and medium-sized enterprises) in the southern region to grow their exports and imports within the region and worldwide. This station caters to our customers' wide-ranging logistics requirements, delivering both cost and service advantages that leverage our connectivity via air and land through the Asia Road Network," said Shorney.
The implementation of Inland Clearance Depot via the Asia Road Network (ARN) also allows for traditional customs clearance processes to be moved from the road border to FedEx-managed inland locations to help overcome road blocks and optimize shipment delivery times.
"We are excited to introduce our latest investment, which is part of our continuing pledge to provide our customers with increased access to overseas markets. Business of all sizes including micro-SMEs, can benefit from this enhanced and further expand their cross-border footprint," said S.C. Chong, managing director, Operations, FedEx Express Malaysia.
The Asia Road Network (ARN) is a 7,000 km pan-Asian, day-definite road network with door-to-door import and export road express services that provides access to over 125 cities connecting all key markets in South East Asia and China, from Singapore to Guangzhou. Additionally, ARN trucks are equipped with the latest technologies and safety features which are monitored by the Regional Security Command Centre, a 24-hour operation based in Singapore.
With the inclusion of Johor, FedEx now has 13 stations across Malaysia in the states of Negeri Sembilan, Perak, Pahang, Penang, Sabah, Sarawak, Selangor and the federal territory of Kuala Lumpur.
[1] http://gbs-iskandar.my/johor-poised-to-become-economic-powerhouse/