FedEx Commits to Road Safety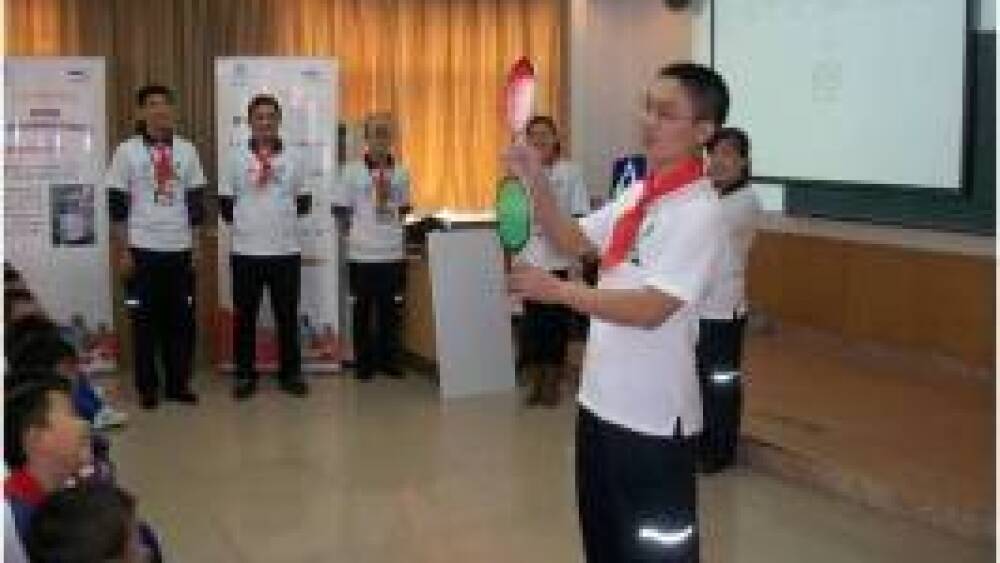 GUANGZHOU, November 9, 2010 – After holding the annual "FedEx Cares Week" in September, FedEx Express (FedEx) teamed up with Safe Kids for Walk This Way month, held October 8 through November 8. The Walk This Way program encourages children to practice the "Stop, Look, and Cross" habit when walking to school and around their communities. On October 25 in Shanghai, an award ceremony for "My Favorite Crossing Guard" was held to recognize the people who promote child pedestrian safety every school day.

"Safety education is a priority for FedEx," said Eddy Chan, head of FedEx China. "To increase awareness of road safety, we need to educate children. When children have the knowledge, not only do they share what they learn with their families, but they will grow up to be both a responsible driver and pedestrian."

With Safe Kids, FedEx has continuously held the Walk This Way program to serve our communities in China since 2004. This year, more than 100 FedEx employees in 11 cities held child pedestrian safety activities for Walk This Way month. The cities include Chengdu, Zibo, Shanghai, Dongguan, Shenzhen, Wuhan, Haikou,Xiamen, Beijing, Guangzhou and Tianjin.

Trained by Safe Kids, FedEx employees led the road safety training for children through hands on activities. "Educating children about pedestrian safety raises their road safety awareness at a young age, and the children can have a positive effect on the adults," said Dan Luo, team leader for the Chengdu project. "FedEx emphasizes safety above all. And, as FedEx employees, we hope to pass this information to our next generation."

During Walk This Way month, to show appreciation for the contributions of the crossing guards, who are dedicated to enhanced road safety, FedEx joined with Safe Kids and the Shanghai Municipal School Zone Safety Office to host the "My Favorite Crossing Guard" award ceremony at the Xu Hui Youth Center. The ceremony honored the 20 best traffic guards and 40 assistants in the eyes of Shanghai middle and primary school students. Participants learned about the winners' outstanding contributions to ensure road safety around primary and middle schools in Shanghai.

This year marked the second "My Favorite Crossing Guard" program in Shanghai. The program encourages Shanghai students to choose their favorite traffic policemen and assistants by submitting essays explaining why their crossing guard is their favorite. This year's program covered all of Shanghai. Nearly 3,000 essays from students in 234 primary and middle schools in 18 Shanghai district were submitted over the five-month campaign.

Road traffic accident injures is a key factor that affect our children's health and quality of life. According to a report released by Safe Kids, road accidents have become the second-largest killer of children aged 14 and under in China. An average of more than 35,000 children are injured or killed in traffic accidents every year.

Over these years, FedEx and Safe Kids have been working together to promote road safety among children. Since the partnership with Safe Kids China in 2004, FedEx has expanded the Walk This Way programs in 19 cities, and has taught pedestrian safety knowledge to over 2,400,000 children.
-End-

About FedEx Corp.

FedEx Corp. (NYSE: FDX) provides customers and businesses worldwide with a broad portfolio of transportation, e-commerce and business services. With annual revenues of $36 billion, the company offers integrated business applications through operating companies competing collectively and managed collaboratively, under the respected FedEx brand. Consistently ranked among the world's most admired and trusted employers, FedEx inspires its more than 285,000 team members to remain "absolutely, positively" focused on safety, the highest ethical and professional standards and the needs of their customers and communities. For more information, visit news.fedex.com

About FedEx Express

FedEx Express is one of the world's largest express transportation companies, providing fast and reliable delivery to every U.S. address and to more than 220 countries and territories. FedEx Express uses a global air-and-ground network to speed delivery of time-sensitive shipments, by a definite time and date with a money-back guarantee [1].

About Safe Kids Worldwide
Safe Kids Worldwide is a global network of organization, whose mission is to prevent unintentional childhood injury, a leading killer of children ages 14 and under. Based on the U.S. model, which has contributed to a 45 percent decline in the rate of unintentional childhood injury deaths since its inception in 1987, more than 450 Safe Kids coalitions in 17 countries promote child safety by bringing together health and safety experts, educators, corporations, governments and volunteers to educate and protect families. For more information, visit http://www.safekidsworldwide.org

NOTE TO EDITORS: FedEx Express press releases are available on the World Wide Web at http://news.fedex.com.

-------------------------------------------

1Subject to relevant terms and conditions