FedEx and Christian Action Join Hands to Support the Underprivileged and Promote Waste Reduction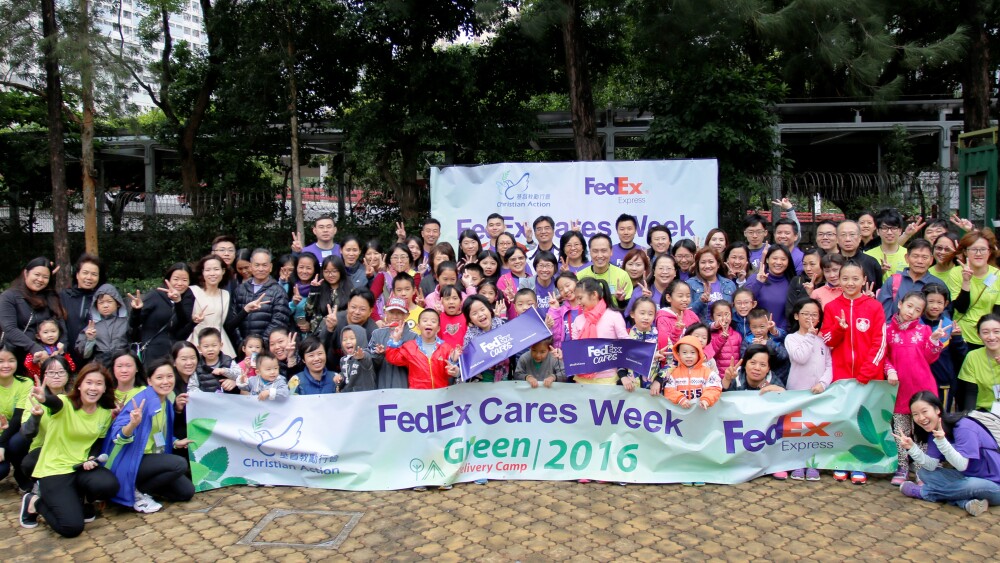 HONG KONG, November 28, 2016 — Solid waste going into landfills in Hong Kong stands at a staggering 15,000 tonnes a day – equivalent to nearly five Olympic swimming pools[1]. While the consumption-intensive lifestyle of many people in Hong Kong is part of the reason for this striking amount of waste, more than 1.3 million[2] of the city's population live in poverty.
To support the underprivileged community while also reducing waste, FedEx Express (FedEx) team members volunteered with Christian Action to organize a month-long recycling program for the second year in a row. The program was part of the annual FedEx Cares Fall Campaign, a worldwide initiative where FedEx team members give back to their communities.
FedEx dedicated its vehicle fleet to collect books, toys and electrical appliances donated by FedEx team members and the public. FedEx volunteers assisted in turning the donated goods into gift packs, which were given to families in need at a half-day camp on November 26. At the camp, the FedEx volunteers also facilitated a series of activities, including games and workshops aiming to promote green living.
The FedEx team in Hong Kong joins more than 15,000 FedEx team members from around the world who will dedicate their skills and nearly 60,000 hours to community services in celebration of the annual FedEx Cares Fall Campaign.
FedEx Cares is the company's global giving platform through which FedEx will invest US$200 million in more than 200 global communities by 2020 to create opportunities and deliver positive change around the world. Local volunteers supplement and enrich these community investments.
About FedEx Express
FedEx Express is the world's largest express transportation company, providing fast and reliable delivery to more than 220 countries and territories. FedEx Express uses a global air-and-ground network to speed delivery of time-sensitive shipments, by a definite time and date supported by a money-back guarantee[3].
About Christian Action
Christian Action was established in 1985 as a Hong Kong registered charitable organisation. Its mission is to serve those who are poor, disadvantaged, marginalised, displaced or abandoned, aiming to give them hope, dignity and self-reliance. Its service recipients include underprivileged children and youth, the unemployed, new arrivals, ethnic minorities, refugees, migrant domestic workers, also orphans and abandoned children in Qinghai; it also develops social enterprise services. The organization bases on the example of Jesus Christ to serve all people regardless of their age, gender, nationality and religion.
[1] 2014 Waste Statistics, Environmental Protection Department, HKSAR, October 2015
[2] Hong Kong Poverty Situation Report 2014, October 2015
[3] Subject to relevant terms and conditions