FedEx Boosts China-EU Lane with Two More Boeing 777 Flights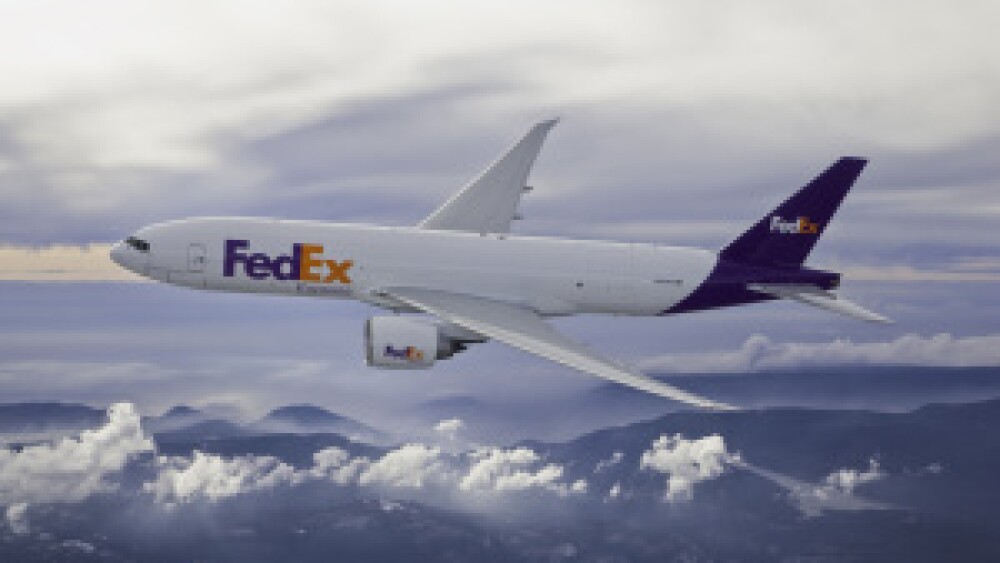 SHANGHAI – FedEx Express (FedEx), a subsidiary of FedEx Corp. (NYSE: FDX) and one of the world's largest express transportation companies, announced it has launched one Boeing 777 Freighter (777F) route in Shanghai and Guangzhou respectively. Both 777F routes have five weekly flights from Tuesday through Saturday, connecting Shanghai and Guangzhou to the FedEx Hub in Cologne, Germany. It is also the first time that FedEx has launched a 777F direct flight from its Asia Pacific Hub in Guangzhou Baiyu International Airport to Europe.
The two new 777Fs meet the growing demand for capacity between China and Europe, and once again embody the FedEx commitment to environmental sustainability by using fuel-efficient aircraft with lower carbon emissions.
"FedEx is committed to China. We strive to deliver convenient and high-quality service to our customers in an innovative way to strengthen their access to the world." said Wilson Chung, vice president, international express, FedEx Express China. "We now offer a direct flight from Shanghai and Guangzhou respectively to Cologne of Germany in Europe. It provides more capacity for our international express services from China to Europe and helps promote international trade between the two economies."
According to the trade data published by the Statistical Office of the European Communities [1], China is the second largest trading partner of Europe. In the first quarter of 2012, the total foreign trade value between China and Europe is Euro 105.6 billion, which is about RMB 844.8 billion. China is Europe's second largest export market, and the largest import country of Europe.
Shanghai and Guangzhou are FedEx's two major gateway cities in China. FedEx strategically places two 777F with larger cargo transportation capacity from these two cities
FedEx is committed to provide unparalleled connectivity and delivery services in China through investing in local facilities and global network to enhance the customer experience. FedEx has expanded its Shanghai Gateway located in the Shanghai Putong International Airport in June. The launch of two more 777F routes in China once again demonstrates the company's unweaving commitment to Chinese customers. <
FedEx is the first U.S.-based, global, all-cargo freight airline to add the 777F to its fleet. Its first 777F service was introduced to Shanghai in early 2010, connecting with the FedEx Super Hub in Memphis, U.S. Later that year, another 777F route connecting Shenzhen with Memphis was launched. Currently, FedEx has 777Fs routes connecting China mainland to the U.S and Europe.
777F Background

The 777F is the world's largest twin-engine cargo aircraft. In typical FedEx operations, the 777 Freighter has a revenue payload capacity of 178,000 pounds (81 metric tons), and can fly 5,800 nautical miles, the equivalent of about 6,675 land miles or nearly three times the approximate distance between the east and west coasts of the U.S. This represents a payload improvement of 14,000 pounds and range improvement of 2,100 nautical miles as well as 18 % less fuel consumed over similarly arranged MD-11Fs, which until now has been the primary long-haul aircraft in the company's fleet. Over shorter ranges, the 777F has the capability of payloads up to 215,000 pounds. Investing in the more environment-friendly and economical 777Fs, FedEx commits to reduce its CO2 aircraft emissions by 20% by 2020.
About FedEx Express

FedEx Express is one of the world's largest express transportation companies, providing fast and reliable delivery to more than 220 countries and territories. FedEx Express uses a global air-and-ground network to speed delivery of time-sensitive shipments, by a definite time and date with a money-back guarantee[3]
About FedEx Corp.

FedEx Corp. (NYSE: FDX) provides customers and businesses worldwide with a broad portfolio of transportation, e-commerce and business services. With annual revenues of $43 billion, the company offers integrated business applications through operating companies competing collectively and managed collaboratively, under the respected FedEx brand. Consistently ranked among the world's most admired and trusted employers, FedEx inspires its more than 300,000 team members to remain "absolutely, positively" focused on safety, the highest ethical and professional standards and the needs of their customers and communities. For more information, visit newsroom.fedex.com/newsroom/.
[1] Source from the website of the Ministry of Commerce of the People's Republic of China.
[2] Carbon dioxide emissions on a pound per ATM basis, or Available Ton Mile, which is defined as one ton of cargo capacity transported one mile.
[3] Subject to relevant terms and conditions