FedEx and SafeKids Complete Reflective Bracelet Distribution Campaign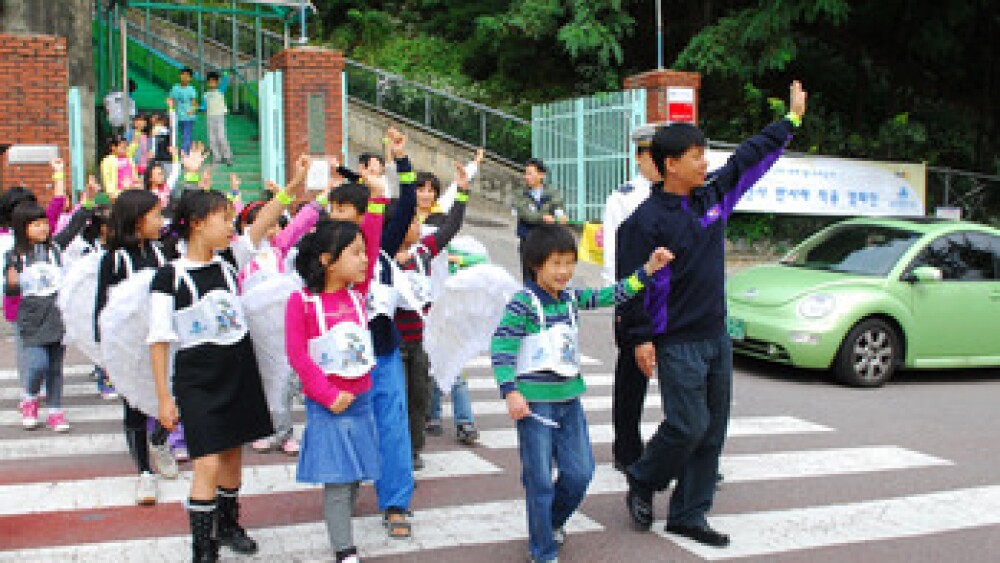 FedEx Express, a subsidiary of FedEx Corp. (NYSE: FDX) and the world's largest express transportation company, and SafeKids Korea, recently held a "Safe Reflective Bracelet Distribution Campaign" at 14 primary schools in Sujeong-gu, Sungnam.

The event, in which 6,000 safe reflective bracelets were distributed, was part of FedEx Korea's ongoing child pedestrian safety program, which began in 2004.

Children who participated were taught how to wear the safe reflective bracelets. Song Ja, chairperson of SafeKids Korea, said the reflectors help prevent accidents, which were more common in the evening. He noted that all children should wear reflectors, especially in the winter, when visibility was reduced.

"Safety is a top priority for FedEx. We have been supporting the 'Walk-This-Way' campaign with SafeKids for children since 2004. It has reached 227,000 children in 302 schools nationwide and aims to make safe zones around schools for children," said Eun-Mi Chae, managing director, FedEx Korea.

According to the SafeKids Pedestrian Behavioral Survey of 558 primary school students in Seoul, Suwon and Busan, 91% of students go to school on foot and 95% go home from school on foot. Among these, 199 students (35%) had seen accidents when walking, highlighting the importance of taking safety measures such as wearing reflective bracelets.

About FedEx Express
FedEx Express is the world's largest express transportation company, providing fast and reliable delivery to every U.S. address and to more than 220 countries and territories. FedEx Express uses a global air-and-ground network to speed delivery of time-sensitive shipments, by a definite time and date with a money-back guarantee.

About FedEx Corp.
FedEx Corp. (NYSE: FDX) provides customers and businesses worldwide with a broad portfolio of transportation, e-commerce and business services. With annual revenues of $36 billion, the company offers integrated business applications through operating companies competing collectively and managed collaboratively, under the respected FedEx brand. Consistently ranked among the world's most admired and trusted employers, FedEx inspires its more than 280,000 employees and contractors to remain "absolutely, positively" focused on safety, the highest ethical and professional standards and the needs of their customers and communities. For more information, visit http://news.fedex.com.

About Safe Kids Worldwide
SafeKids Worldwide is a global network of organizations whose mission is to prevent accidental childhood injury, a leading killer of children 14 and under. More than 450 coalitions in 16 countries bring together health and safety experts, educators, corporations, foundations, governments and volunteers to educate and protect families. Safe Kids Worldwide was founded in 1987 as the National SAFEKIDS Campaign by Children's National Medical Center with support from Johnson & Johnson. SafeKids Worldwide is anon-profit organization located in Washington, D.C.