FedEx and Safe Kids Launch Moment of Silence Campaign to Deliver Road Safety Awareness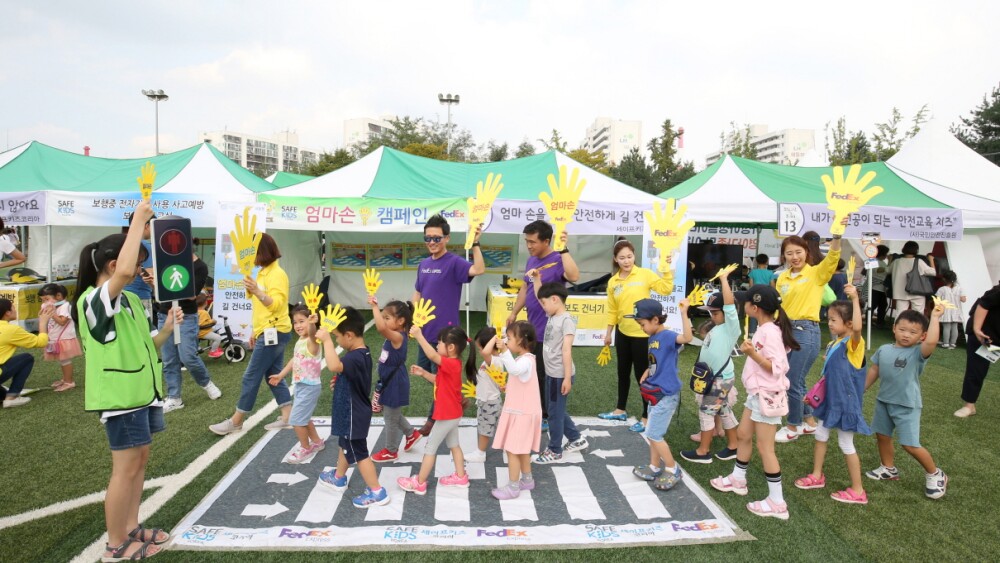 SEOUL, September 30, 2019 — FedEx Express (FedEx), a subsidiary of FedEx Corp. (NYSE: FDX) and the world's largest express transportation company, held Moment of Silence together with Safe Kids Korea on September 28, which asks both parents and children to pledge to put their devices down while crossing the street. The campaign is part of the Walk This Way program that aims to teach children safe pedestrian habits and enhance their knowledge about road hazards.
Hosted by the Dobong District to promote a healthy childhood culture, the event which is now in its eighth year, took place at Changol Soccer Field in the Choahn Mountain Neighborhood Park. In addition to the Moment of Silence, the event included the Mom's Hand Campaign which is a program that promotes safe road-crossing habits among child pedestrians. The campaign included in-class lessons and experiential learning sessions where children cross a mock-up road holding a yellow Mom's Hand sign. To raise awareness about the dangers of using electronic devices while walking, a program comprised of a theoretical lesson and experiential session was also held.
The Walk This Way was launched in 2000 across the US by FedEx and Safe Kids Worldwide aiming to raise awareness about pedestrian safety among children. The program was introduced in South Korea in 2004 and has engaged 453,532 students and 1,760 schools. It is part of the FedEx Cares global charitable giving program, where FedEx team members from around the world volunteer their time and talents to support local communities. The company has launched the FedEx Cares 50 by 50 goal, which is to positively impact 50 million people around the world by the company's 50th anniversary in 2023.