FedEx and Safe Kids Kick off "Slow Down for Kids" Campaign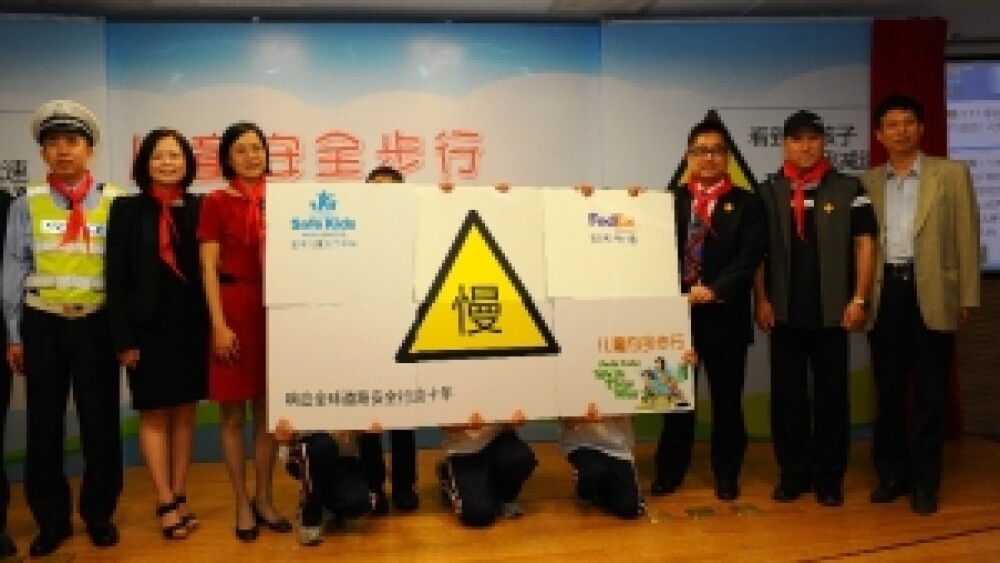 BEIJING, May 10, 2011—FedEx Express today teamed up with Safe Kids China to kick off the "Slow Down for Kids" campaign. This campaign is part of the United Nations (UN) Decade of Action for Road Safety, which has the goal of increasing public awareness to prevent child pedestrian-related injuries and to create safer, walkable communities in China.

Since March, FedEx has been rolling out activities to raise awareness about the UN campaign, including the distribution of 100,000 "Slow Down for Kids" cards to its customers in China, development of a campaign video and promotion of the video through its social media platform with active feedback.

In its operations, FedEx emphasizes safety above all. For the past seven years, through the Safe Kids Walk to This Way program, FedEx has focused on educating children about pedestrian safety throughout China. To date, Walk This Way programs have been launched in 20 cities and more than 1,220 FedEx volunteers have helped share road safety tips with students.

"FedEx is committed to increasing children's awareness of road safety," said Eddy Chan, senior vice president, FedEx China. "Traffic-related injuries are a leading cause of death among children in China, and we take it very seriously. Today we are delighted to be part of the global initiatives on the launch of the Decade of Action for Road Safety in China. We are confident this campaign will raise awareness of the importance of road safety, and thereby improve child pedestrian safety."

According to Monica Cui, chief representative of Safe Kids Worldwide, "The Safe Kids Walk This Way program has worked with FedEx for more than seven years in China. Our mission is to increase road safety for child pedestrians. To respond to the UN call for road safety, we launched the 'Slow Down for Kids' campaign in China". As reported, with an average increase in speed of one kilo/per hour nationwide, the road injury incident rate increases 3%, while the death rate from road injury increases 4%-5%.

FedEx and Safe Kids look forward to collaborating on road safety education in order to save many children's lives and prevent many injuries.

About FedEx Express
FedEx Express is one of the world's largest express transportation company, providing fast and reliable delivery to more than 220 countries and territories. FedEx Express uses a global air-and-ground network to speed delivery of time-sensitive shipments, by a definite time and date with a money-back guarantee.*
*Subject to relevant conditions and regulations
About FedEx Corp.
FedEx Corp. (NYSE: FDX) provides customers and businesses worldwide with a broad portfolio of transportation, e-commerce and business services. With annual revenues of $38 billion, the company offers integrated business applications through operating companies competing collectively and managed collaboratively, under the respected FedEx brand. Consistently ranked among the world's most admired and trusted employers, FedEx inspires its more than 290,000 employees and contractors to remain "absolutely, positively" focused on safety, the highest ethical and professional standards and the needs of their customers and communities. For more information, visit news.fedex.com.
About Safe Kids China
Safe Kids China is a network of Safe Kids Worldwide, the first and only non-profit organization dedicated to childhood accidental injury prevention for children aged 0-14.Safe Kids China brings together public health experts, corporations, foundations and government agencies to address this foremost killer of children in China through research, education, and environment and regulation promotion. The education program such as Safe Kids Weekand the Walk This Way campaign will reach over 1000,000 each year in China. For more information, visit
www.safekidschina.org