FedEx and Safe Kids Conduct a 'Pedestrian Safety Training Program' for Children and Parents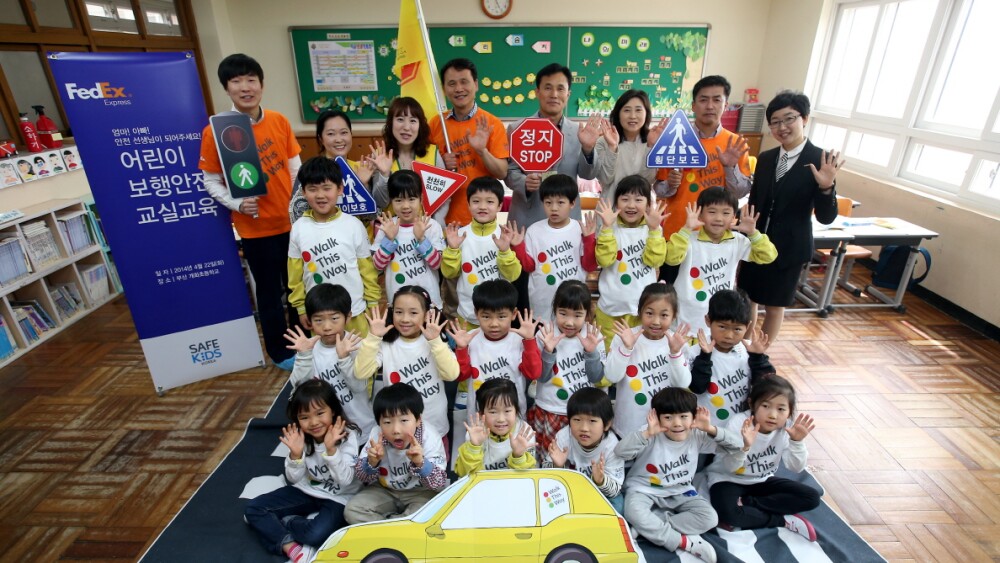 SEOUL, April 23, 2014— FedEx Express (FedEx), a subsidiary of FedEx Corp. (NYSE: FDX) and the world's largest express transportation company, held a pedestrian safety training program titled, 'Hi! Mom and Dad! Be a safety teacher', for children and parents at Gae-Hwa elementary school in Busan on April 22, in collaboration with Safe Kids, the world's only international organization promoting child safety.
The program involves giving 115 children various lectures and training sessions about pedestrian safety precautions including 'the way to go to school safely', 'the way to walk on rainy, snowy, and dark days', '5 principles for crossing the roads safely', giving a 'traffic safety quiz' as well as 'crossing a crosswalk training' and 'teaching the traffic safety song'.
This year, FedEx Express Korea invited parents who had completed the special safety session beforehand as instructors in order to create a pedestrian-friendly environment.
"FedEx has a critical role to play in actively promoting a culture of safety around the world, nation, and local communities as a global express transportation company," said Eun-Mi Chae, managing director of FedEx Express Korea, "We will continue to work with Safe Kids through our long-running Walk This Way campaign to convey this value and help keep our communities safe and healthy for children."
"According to the Korea National Police Agency, 65% of casualties from children traffic accidents in 2012 occurred while they were walking," said Ja Song Co-representative of Safe Kids Korea, "We hope parents who participated in trainings on pedestrian safety actively play a role as safety keepers at schools and homes to establish safe pedestrian environments."
This pedestrian safety training session was initiated by FedEx Express Korea and Safe Kids Korea as part of Walk This Way, the global program to promote the safety of young pedestrians worldwide. Since 2003, Safe Kids Korea and FedEx Express Korea have conducted a number of safety activities including child education sessions, distribution of teaching materials for community centers and schools, and special initiatives such as the 'Drive Under the 30km/h Speed Limit in School Zones' program.