FedEx and Junior Achievement Held International Trade Challenge 2014, A Business Ideas Contest for High School Students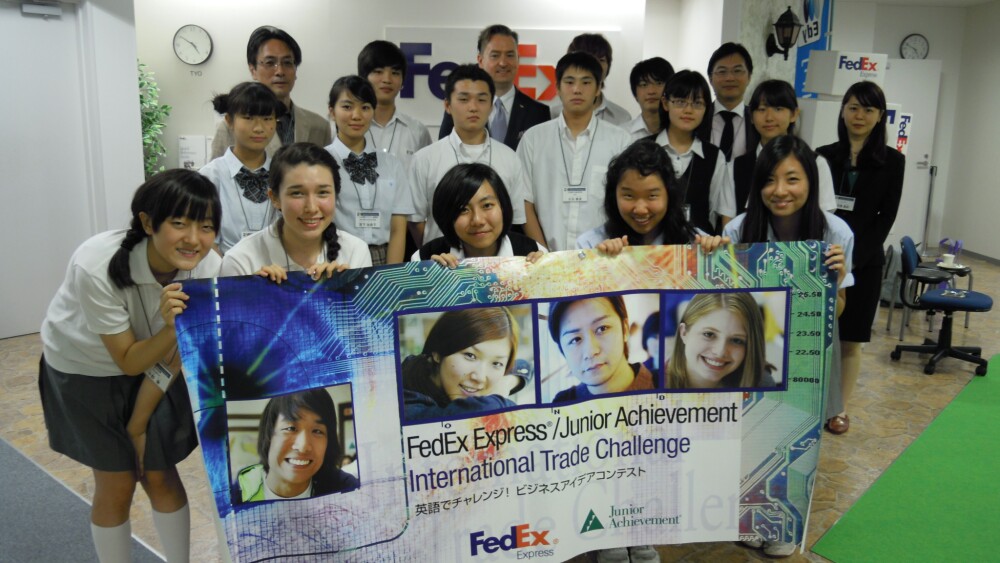 FedEx Express, a subsidiary of FedEx Corp. (NYSE: FDX), and JA Worldwide® (Junior Achievement™), an organization dedicated to inspiring and preparing young people to succeed in a global economy, hosted the local competition of the FedEx Express/Junior Achievement International Trade Challenge (FedEx/JA ITC) 2014 in Tokyo on July 20.
This year, 68 students on 34 teams in Japan submitted an International Market Entry Strategy paper with the theme of introducing a product or service to reduce the level of social or personal safety risk for people in Brazil. Seven teams were shortlisted to participate in the local competition where they presented various aspects of their strategy, including market research, marketing methods and sales targets. Three winning teams will now move on to represent Japan at the regional finals to be held in Hong Kong, August 17-21.
The three selected teams include the winners from Shibuya Kyouiku Gakuen Makuhari Senior High School, the runner-up team from Hiroo Gakuen Senor High School, and third place team from Keimei Gakuen Senior High School.
"At FedEx, we are committed to providing greater global access, connecting more of the world's economy, and enriching lives everywhere. Through our collaboration with Junior Achievement on the International Trade Challenge, we want to connect people-specifically young entrepreneurs from across Asia-Pacific-and help them build their ability to think, communicate, and collaborate beyond borders," said Ken McMahon, managing director, Global Account Management, FedEx Express, who served as a judge at the local competition. "In this year's competition, the student teams demonstrated exceptional creativity combined with energetic presentation skills. We are very proud to support the development of these future business leaders from Japan."
"Through the experience of creating and giving a presentation in English and tackling an issue with no single straight solution, I hope that all the young people who participate in this competition can appreciate the essential nature of such skills in the global business world," said Yoshihiro Nakamoto, Junior Achievement Japan.
Held annually since 2007, the FedEx/JA ITC program aims to help young people in Asia Pacific understand how entrepreneurship can improve the quality of their lives and the communities where they live. Nine Asia-Pacific markets, namely Japan, Hong Kong, Korea, Malaysia, New Zealand, the Philippines, Singapore, Thailand and Vietnam, will have participants attend the FedEx/JA ITC Regional Finals.