FedEx and Jane Goodall Institute Encourage Hong Kong Students to Adopt an Eco Lifestyle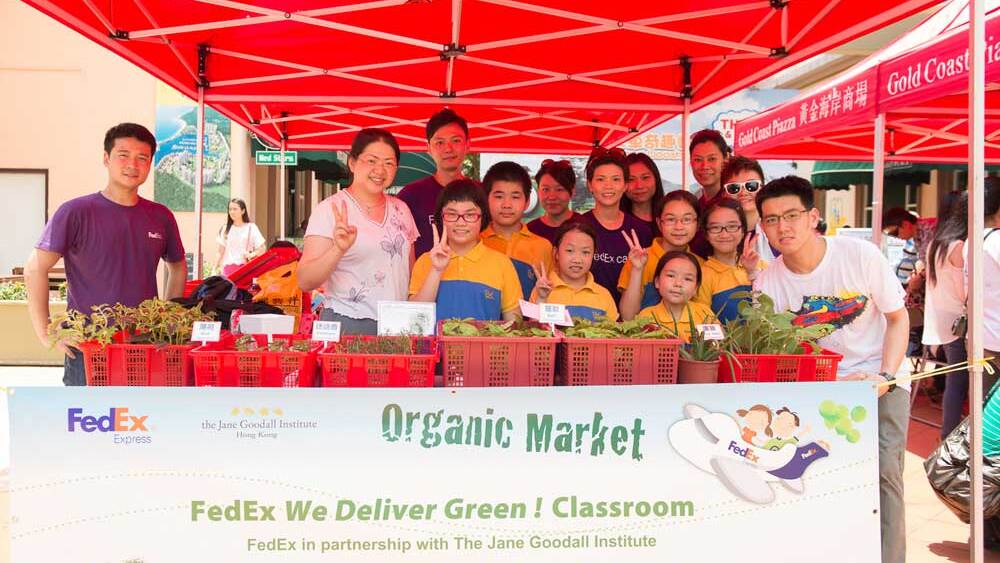 HONG KONG, June 29, 2013—In partnership for the second year, FedEx Express ("FedEx") and the Jane Goodall Institute Hong Kong ("JGI") mobilized 22 FedEx volunteers and 26 students from four primary and secondary schools to harvest and sell more than 30 kilograms of organic fruits and vegetables and 100 pots of herbs from their school gardens at the "FedEx We Deliver Green! Classroom" Organic Marketplace in Gold Coast on June 29. The event marks the culmination of an innovative education program sponsored by FedEx to promote a low carbon lifestyle and make Hong Kong a greener place to live and work. In support of the program, FedEx donated its logistics expertise to transport the crops to the marketplace using one of its ten zero-emission all-electric vehicles, which have been in use since March this year.
"Tomorrow is in the hands of our next generation. That's why we believe environmental education should start with children," said Anthony Leung, managing director, FedEx Express Hong Kong and Macau. "It is exciting to see how the students – our future leaders, truly benefit from the program and actively put their eco-learnings into practice in their daily lives. I'm confident that our future society will be more eco-friendly than ever."
"Growing crops at our school garden has been an interesting and rewarding experience for me," remarked Hoi-ching Kwan, a grade 4 student at SRBCEPSA Lee Yat Ngok Memorial School. "We need to read the weather, touch the soil and put so much more hard work than expected to maintain our crops. It is all very new to me! I also enjoyed FedEx volunteers' visit and games in my class. I'm sharing what I have learnt with my classmates and family."
"We are very excited to work with FedEx again this year," stated Michael Neugebauer, director of the Jane Goodall Institute Hong Kong. "FedEx volunteers are heavily involved in educating the students about the environment and have built a strong rapport with the students through various activities. We see participants and volunteers coming together to share ideas and implement successful environmental initiatives, which is exactly what Jane Goodall's Roots & Shoots is about."
The "FedEx We Deliver Green! Classroom" program aims at promoting environmental awareness and sustainability among students in Hong Kong. Over the past nine months, students, between ages 10 and 15, studied a series of FedEx-developed classroom tutorials and participated in practical exercises under the guidance of their teachers, FedEx volunteers and JGI staff. The students learnt how to put into actions low carbon behaviors in their day-to-day lives and understand the origins of food, global trade, and the impact of modernization on the environment. In addition, with help from FedEx volunteers and JGI staff, the students made use of their learnings to establish and maintain organic gardens at their respective schools. The crops were then harvested and sold at the recent Organic Marketplace.
For more photos of the "FedEx We Deliver Green! Classroom" Organic Marketplace, please visit: http://ketchum.com.hk/knprhk/FedEx/JGI_Organic_Marketplace/photos.zip.
NOTES TO EDITORS:
The "FedEx We Live To Deliver Green! Classroom" program kicked off this January and was conducted in three phases:
Phase 1 (January – February 2013) – Students learnt from farmers about organic farming techniques, and practiced sowing seeds and harvesting crops at organic farms.
Phase 2 (March – May 2013) – Students learnt from FedEx volunteers and JGI staff about environmental protection and ways to mitigate pollution through changes in day-to-day behavior and smarter food selection. They also began growing crops at FedEx-sponsored organic gardens at their schools.
Phase 3 (June 29, 2012) – Students operated a FedEx-sponsored Organic Marketplace to sell their harvested crops and promote a low carbon lifestyle to the public. All proceeds will go to environmental education of the schools.
The four schools participating this year are Jordan Valley St. Joseph's Catholic Primary School, Po Leung Kuk Chan Yat Primary School, Law Ting Pong Secondary School and SRBCEPSA Lee Yat Ngok Memorial School.

About Jane Goodall Institute
The Jane Goodall Institute is a global organization dedicated to wildlife research, education and conservation. Founded in 1977 by world famous primatologist, Jane Goodall, the Institute is guided by its core values:
To respect, nourish and protect all living things; people, animals and the environment are all interconnected
Knowledge leads to understanding, and that understanding will encourage us to take action
Every individual has the ability to make a positive difference
Flexibility and open-mindedness are essential to enable us to respond to a changing world
Integrity and compassion in all that we do and say
"Jane Goodall's Roots & Shoots" (JGRS) is the Institute's youth education program, which has worked successfully in over 100 countries worldwide. The "FedEx We Live To Deliver Green! Classroom" is a groundbreaking program of JGRS in Hong Kong. JGRS is about making positive change happen in local communities, for the benefit of people, animals and the environment. The program is dedicated to environmental education, action and leadership.