Chinese Pandas Touch Down in Scotland on the "FedEx Panda Express"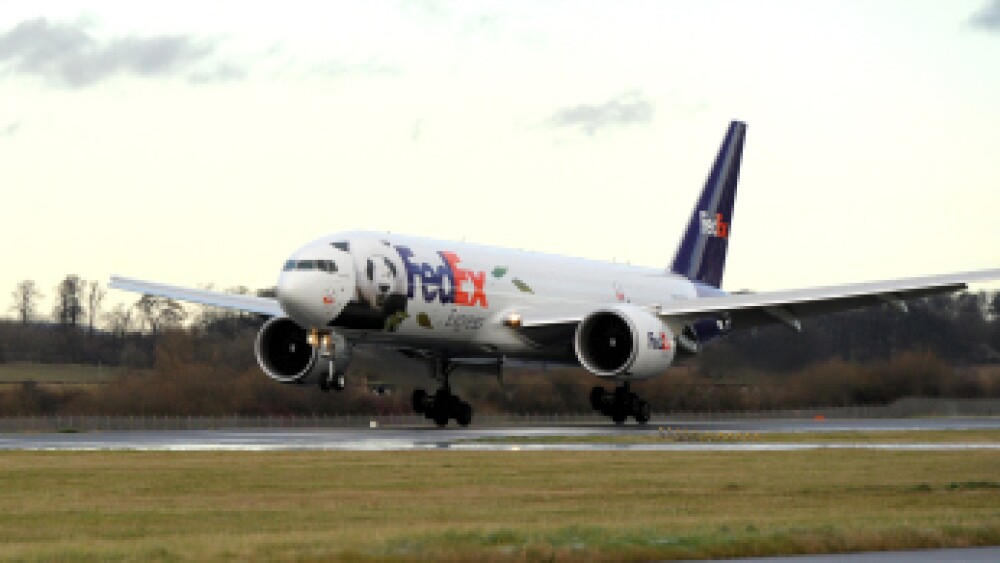 LONDON, December 4, 2011–-FedEx Express, a subsidiary of FedEx Corp. (NYSE: FDX) and the world's largest express transportation company, has today announced the safe arrival of two giant pandas, Tian Tian (甜甜, aka Sweetie), an eight year-old female panda, and Yang Guang (阳光, aka Sunshine), an eight year-old male panda from Chengdu's Bifengxia Panda Base to Edinburgh Airport in Scotland.
Working in conjunction with the Royal Zoological Society of Scotland (RZSS) and the China Wildlife Conservation Association (CWCA) in China, the specially chartered Boeing 777F flight known as the "FedEx Panda Express" landed in Scotland on December 4, 2011 at 1:00 p.m. The arrival of the pandas marks the first time in more than 17 years that giant pandas will reside in the UK.
The non-stop flight was chartered especially for the VIPs—Very Important Pandas—and the pair travelled in custom-built enclosures provided by FedEx Express. The in-flight meals of bamboo, apples, carrots, a special panda cake and mineral water were served to the pandas who spent the journey eating snacks and snoozing. Tian Tian and Yang Guang were accompanied by a veterinarian and two animal handlers from Edinburgh Zoo and the Bifengxia Panda Base to look after their needs throughout the journey.
FedEx Express donated its logistical services for the transportation, providing an expert team to ensure the rare animals' safety. During the flight, the pandas were in the safe hands of seasoned pilots Captain Paul Cassel, Captain Bob Gasko, Captain James Gorman and Captain Bill McDonald, who all have extensive experience in transporting some of the world's most precious cargo, ranging from white rhinos to penguins.
"I am delighted to confirm that the FedEx Panda Express has safely touched down at Edinburgh International Airport," said Captain Paul Cassell, FedEx Express. "It was an absolute privilege and honor to fly Tian Tian and Yang Guang, and to be part of this significant moment to bring the pandas to their new home in the UK. Although every flight is unique, this flight has been particularly special—carrying such rare animals made the journey very exciting for all of us."
The pandas continued their journey in specially-decaled FedEx Express vehicles to deliver them to their new home at Edinburgh Zoo. Lothian and Borders Police Force were also on hand to ensure a smooth ride. Upon arrival, the pandas will reside together in Edinburgh Zoo's specially-built giant panda enclosure.
People can follow the final leg of the pandas' journey at http://blog.fedex.com/panda-express
For b-roll and extensive images of the pandas departure, arrival and handling please contact the FedEx Media team: LON-fedexpandas@ketchumpleon.com / +44 (0) 207 611 3500.
FedEx Express Transports Many Unusual Shipments
FedEx Express has a long history of transporting rare and delicate cargo. In February 2010, FedEx Express transported Tai Shan, a male panda born at the National Zoo in Washington, D.C., U.S., and Mei Lan, a male panda born at Zoo Atlanta in Atlanta, Georgia, U.S., back to China. In 2003, FedEx Express transported two giant pandas from China to the Memphis Zoo in Memphis, Tennessee, U.S. In 2000, FedEx Express transported Tai Shan's parents from China to Washington, D.C.'s National Zoo.
Exotic cargo transported by FedEx Express has included polar bears, white tigers, elephants, penguins, mountain lions, gorillas, eagles and even a 13-foot tiger shark used in filming the movie "Jaws."
Other unusual international cargo transported by FedEx Express includes a windmill from Denmark, the Ryder Cup and a vintage Jaguar Le Mans car worth over £1 million.
About FedEx Express
FedEx Express is the world's largest express transportation company, providing fast and reliable delivery to more than 220 countries and territories. FedEx Express uses a global air-and-ground network to speed delivery of time-sensitive shipments, by a definite time and date with a money-back guarantee.
About FedEx Corp.
FedEx Corp. (NYSE: FDX) provides customers and businesses worldwide with a broad portfolio of transportation, e-commerce and business services. With annual revenues of $40 billion, the company offers integrated business applications through operating companies competing collectively and managed collaboratively, under the respected FedEx brand. Consistently ranked among the world's most admired and trusted employers, FedEx inspires its more than 290,000 team members to remain "absolutely, positively" focused on safety, the highest ethical and professional standards and the needs of their customers and communities. For more information, visit news.fedex.com.
About the Boeing 777 Freighter
The Boeing Company produces a complete line of commercial freighter airplanes, including the 777 Freighter. The Boeing 777 Freighter is the world's largest and most capable twin-engine freighter. The unsurpassed efficiency and flexibility of the 777 Freighter has resulted in a significant number of customer orders, with FedEx Express as the largest customer. FedEx Express has taken delivery of 14 Boeing 777 Freighters and has orders for 31 more.
Note to Editors
For further information or to arrange media attendance at the Edinburgh arrival of the pandas, contact the FedEx Media team:
LON-fedexpandas@ketchumpleon.com
/ +44 (0) 207 611 3500.
For more information about Tian Tian, Yang Guang or the Edinburgh Zoo / RZSS please contact the Panda Team at Weber Shandwick on:
• Telephone: + 44 (0) 131 556 6649
• Mobiles: +44 (0) 7809 665 773 / +44 (0) 7770 886 901 /
+44 (0) 7770 886 937 / +44 (0) 7770 886 914.
• email: pandamedia@webershandwick.com