Best of Thai Creativity Showcased at FedEx / Junior Achievement Student Entrepreneur Competition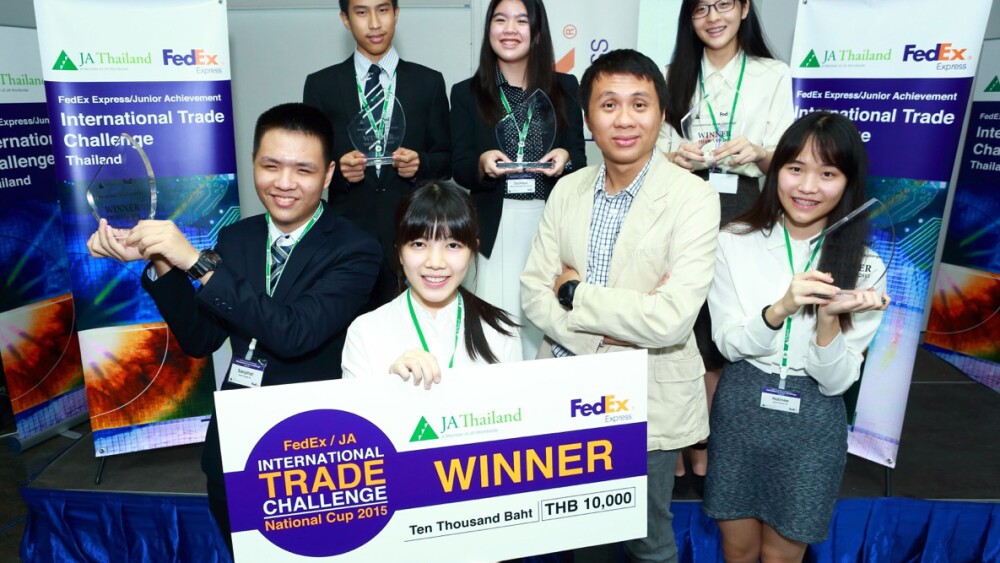 BANGKOK, July 28, 2015 – FedEx Express (FedEx), a subsidiary of FedEx Corp. (NYSE: FDX), and Junior Achievement (JA) are pleased to announce the top three student teams from Thailand who will compete at the FedEx Express/Junior Achievement International Trade Challenge (FedEx/JA ITC) Asia Pacific Finals. The six finalists won the chance to represent their country after being judged the top-three teams of the FedEx / JA ITC Thailand Finals held in Bangkok on July 25.
The Thailand Finals was contested by sixteen students from eight shortlisted teams, who each presented an innovative business plan to the challenge topic of choosing a beauty product that has a social impact for the Kenyan market.
The judging panel selected the following three winning teams, based on their understanding of market research, creativity, planning, and entrepreneurial skills.
The three winning teams are:



Suchaya Nuntnarumit and Kusalin Thayakulsajia from Harrow International School developed a natural moisturizing gel to help relieve and maintain skin beauty.

Yossuda Leelapanyalert and Nalinee Vipavasupahkorn from Kasetsart University Laboratory School proposed a lifesaving water filter for better water consumption.

Sanphot Thiewprasertkul and Sornmanee Chokthienanun from Kasetsart University Laboratory School proposed a mouth spray to put a smile back on people's face.
"The students wowed the judges with their innovation and business smarts. Their impressive efforts reinforce why FedEx is a passionate supporter of youth education around the world. We believe 'active learning' programs—which integrate real life business scenarios—are great ways to inspire a new generation of Asian entrepreneurs to succeed in the global economy," said David Carden, managing director of FedEx Express Thailand and Indochina.
He added, "Thailand's reputation for creativity and entrepreneurial flair will be well represented by our winning student teams at the FedEx / JA ITC Asia Pacific Finals next month."
The six students will compete against 48 representatives from eight other markets at the 2015 FedEx / JA ITC Asia Pacific Finals in Singapore on August 11-13.
Now in its ninth year, the FedEx / JA ITC has inspired more than 12,000 students in Asia Pacific to understand entrepreneurship from a global perspective by providing an opportunity to set up a mock business and develop a plan to export a product or service to an overseas market.