Best of Hong Kong Youth Entrepreneurship Showcased at the 2020-21 FedEx Express/Junior Achievement International Trade Challenge
Three winning teams will represent Hong Kong in the FedEx Express/JA International Trade Challenge (FedEx/JA ITC) Asia Pacific finals.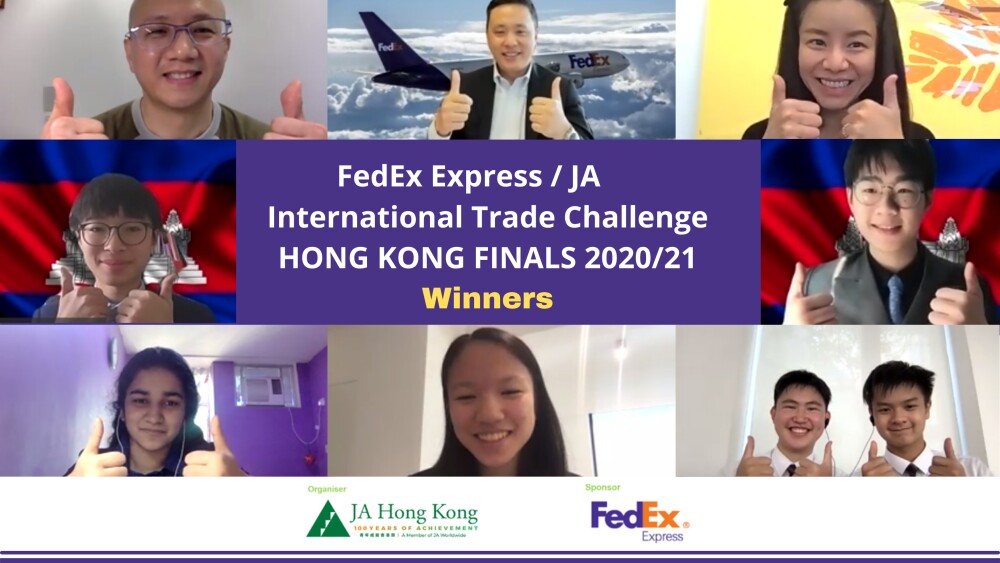 HONG KONG SAR, China, Feb . 1, 2021 — FedEx Express, a subsidiary of FedEx Corp. (NYSE: FDX) and one of the world's largest express transportation companies, together with Junior Achievement (JA), today announced the winners of the Hong Kong FedEx Express/JA International Trade Challenge (FedEx/JA ITC) 2020. Three teams – each team of two students - won the judges over with their bold business ideas and entrepreneurial spirit. The six winners will go on to represent Hong Kong in the FedEx/JA ITC Asia Pacific finals which will take place in March 2021.
Due to the COVID-19 pandemic, the FedEx/JA ITC Hong Kong finals was held virtually for the very first time since the program began more than a decade ago. Nonetheless, the pandemic has not hindered the students' interest in pursuing their passion for international trade. This year, 315 students participated in virtual workshops, led by volunteers from JA and FedEx, between October and November in 2020 to create a winning market entry strategy.
At the FedEx/JA ITC Hong Kong finals, 10 shortlisted teams were challenged to develop a market entry strategy for a travel product with Cambodia as the target market. Applying the insights and knowledge gained from the virtual workshops, students presented their business plans with value proposition, pricing strategies, identified market opportunities, and distribution channels to a panel of judges including Anthony Leung, managing director, FedEx Express, Hong Kong and Macau, Donny Siu, acting director cum head (entrepreneurship programs), Entrepreneurship Center at the Hong Kong University of Science & Technology and Esther Wong, managing director of strategic investment at SenseTime. The teams were evaluated based on the comprehensiveness of their business plans, market analysis and creativity.
The three winning teams who will advance to the finals are:



Team Alcus, Marcus Yau and Alex Chan from La Salle College, developed Safety MTB (Meant-to-be) Backpack, a safe and reliable backpack for travelers. The backpack features anti-cutting fabric, Kevlar straps, fingerprint zip lock and an alarming system with wristband.

Team Justice Leaders, Chloe Lau and Aiswarya Rambhatla from South Island School, developed AquaVenture, an innovative filtration straw for adventure lovers. Made of bio-based materials, the straw removes pathogens from contaminated water and provides on-the-go access to clean drinking water.

Team VECTOR, Isaac Yan and Oscar Tam from Diocesan Boys' School, developed waterGO, a BPA-free plastic bottle with an internationally certified reusable ceramic filter. The filter can remove bacteria, providing clean and safe water.
"I am really proud of the performance of our Hong Kong students – especially the fact that they embraced a new normal and showed resilience in the wake of a pandemic. FedEx is committed to connecting possibilities around the world, especially the young generation who are the backbone of our future. We have been collaborating with JA for 14 consecutive years to contribute to youth development by offering a platform for young people to promote their knowledge in global trade and entrepreneurial skills," Anthony Leung, managing director, FedEx Express, Hong Kong and Macau said, "Our collaboration with Junior Achievement creates an opportunity to connect Hong Kong students with other brilliant young minds in other parts of the world. I am excited and eager to see our Hong Kong team excel at the Asia Pacific finals."
"We are grateful for the continued support from FedEx and we are proud to see the continued success of the FedEx/JA ITC program despite the pandemic limitations. The program offers invaluable opportunities for young people to build new skillsets and prepare themselves for their careers," said Vivian Choi, chief executive officer of JA Hong Kong.
At the Asia Pacific finals, finalists will be randomly grouped into new teams consisting of participants from different markets such as Australia, Mainland China, Japan, the Philippines, South Korea, Malaysia, Singapore, Thailand, and Vietnam, in order to promote collaboration and sharing across cultures.
This year marks the 14th year of FedEx support to JA in the FedEx/JA ITC program. Since the program began in 2007, more than 3,000 students in Hong Kong have benefited from this program and over 70 students in Hong Kong have taken part in the Asia Pacific finals.