"Be Seen Be Safe" – FedEx joins Safe Kids and Huamu Community to Promote Safety Uniforms for Children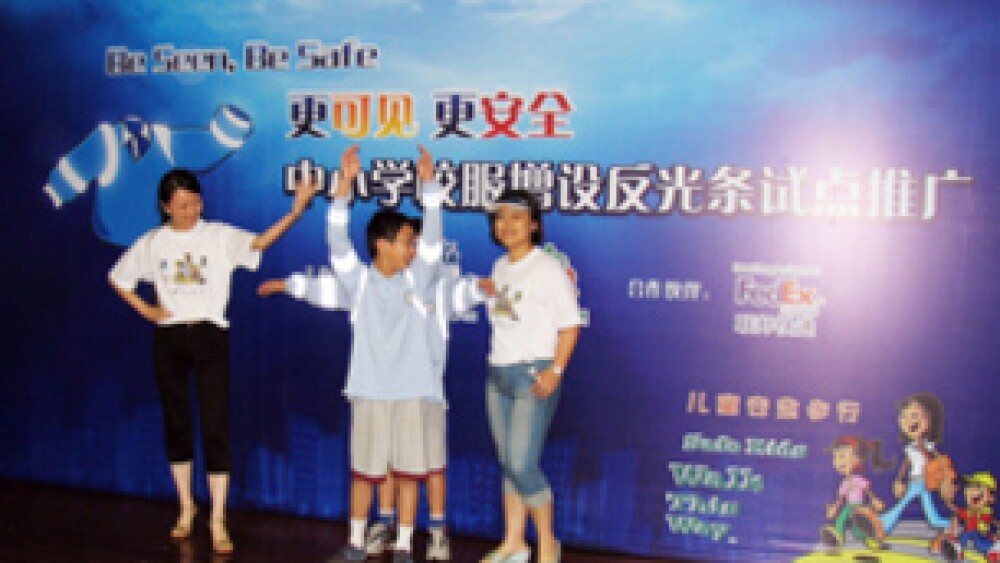 SHANGHAI, June 29, 2009 – FedEx Express (FedEx), a subsidiary of FedEx Corp. (NYSE: FDX) and one of the world's largest express transportation companies, today joined hands with Safe Kids Worldwide, a global non-profit organization, and Huamu Community, in a "Be Seen, Be Safe" program to promote safety uniforms for school children in Shanghai. The new uniform, which features reflective stripes, was unveiled at the Shanghai Experimental School , in an effort to increase public awareness of child pedestrian safety.

One of the Safe Kids Walk This Way programs, "Be Seen, Be Safe" is being introduced for the first time in China to improve the visibility of children walking on the road by using reflective materials on their uniforms, which will help reduce the chance of getting injured in traffic accidents. Reflective materials have been added to the new uniforms in six places (including shoulders, elbows and wrists) to ensure children are more noticeable under poor lighting conditions and vehicles can keep their distance.

"In China , 4 out of 10 traffic incidents are associated with children," said Monica Cui, executive director, Safe Kids China. "Improving the visibility of child pedestrians can help protect them from traffic incidents. We hope more people will realize the positive effect of using reflective materials and that more schools will choose uniforms using reflective materials."

Accidents involving children usually happen in the early evening, when they are less likely to be seen by drivers on the road. For drivers who exceed 60 km/h, the poor visibility at this time makes it difficult for them to keep their distance and avoid traffic incidents. When children wear the reflective uniforms, the visible distance rises up to 152.4 meters, which gives drivers enough time to stop their cars once they notice a child walking on the road.

"FedEx not only delivers fast and reliable service in China , but also cares for the community where we live and work," said Audrey Cheong, managing director of operations, international service, FedEx China . "As a corporate citizen, FedEx has long been committed to supporting child pedestrian safety initiatives. We hope this program will help prevent children from being injured on the road. We will continue to cooperate with Safe Kids Worldwide and relevant government agencies to seek and support children safety programs."

FedEx has worked closely with Safe Kids Worldwide over the past years to promote safety awareness for children all over the world. Since the company began its relationship with Safe Kids China in April 2004, it has sponsored safety education for more than 1.4 million students through in-school programs throughout the country. More than 700 FedEx employees have volunteered their time to work with teachers to educate students about road safety through interesting games and demonstrations in order to create a safer environment for child pedestrians around schools.